10 Best Beaches in Sydney
Which Sydney Beach is Right For You?
There are dozens of beaches in and around Sydney, a city that's blessed with stunning coastlines beloved by surfers and beach lovers. From the crowds of sun-bronzed bodies strutting Bondi Beach to surf-spectacular Manly Beach to remote stretches of sand found along the rugged coastlines of protected national parks, the beaches of Sydney really do offer something for everyone.
Sydney's best beaches are treasured by locals needing a quick escape from hectic city life and are a must-see for anyone visiting the city. Here are 10 of the best beaches to discover in Sydney.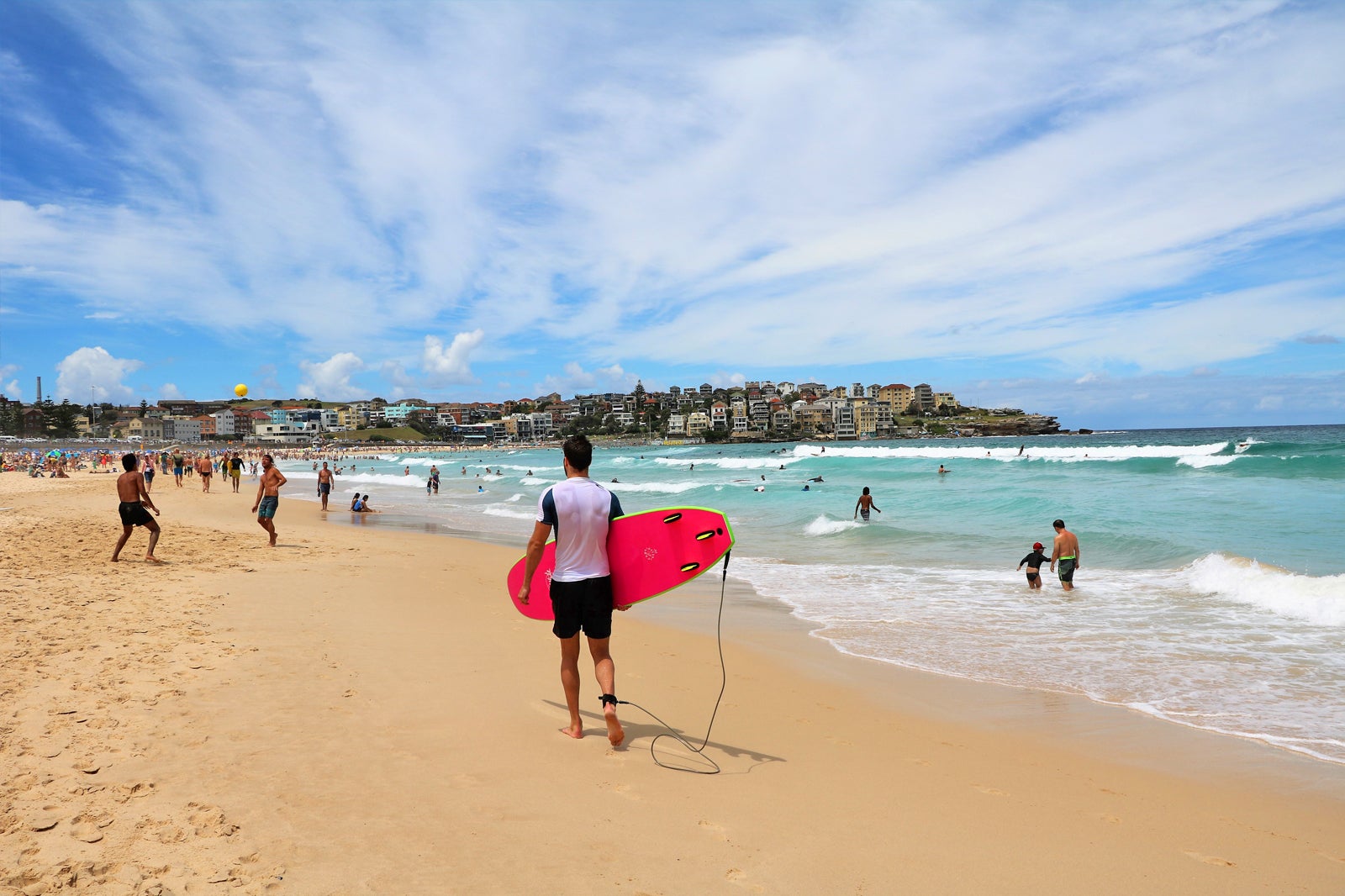 Bondi Beach
See and be seen
With soft golden sands stretching for a kilometre between 2 headlands, Bondi is a busy beach with plenty to see and do. Found 8 km from Sydney's central business district, Bondi's a haven for surfing, swimming and sunbathing … and capturing that perfect Instagram selfie on the sand.
Go for a dip in the photogenic Icebergs pool that hovers over the beach (entry fee $6.50). Stop by the Bondi Market on Sunday to find local crafts, handmade jewellery, art and vintage pieces. There's no shortage of tasty eats at Bondi, with everything from trendy cafes like Rocker to burger shacks and bakeries, and places like Panama House doing decadent brunches and cocktails.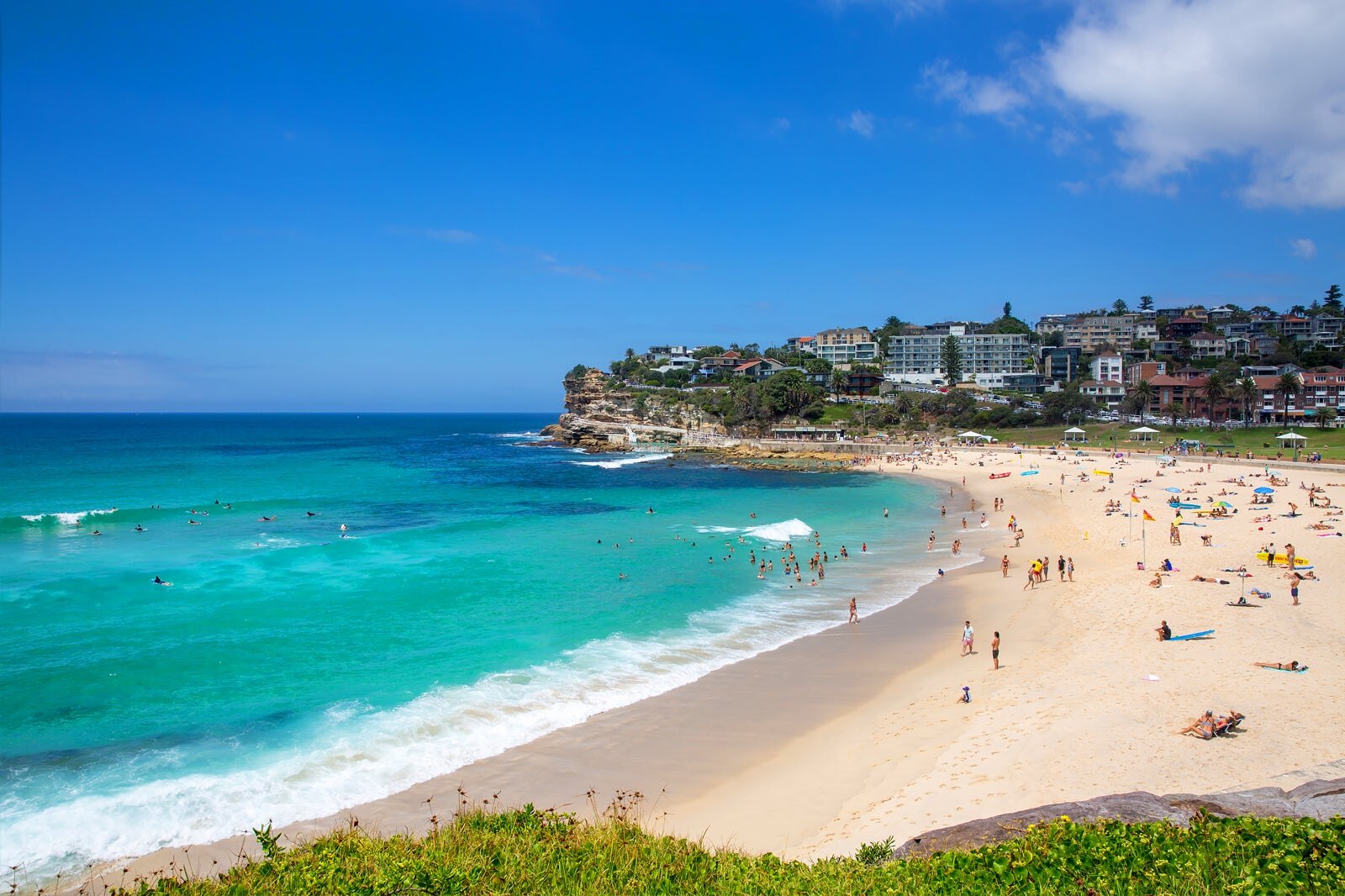 Bronte Beach
Go for a family picnic in the park
Found about 3km from Bondi Beach in Sydney's eastern suburbs, Bronte Beach is ideal for a family outing with its soft sands and adjacent park with barbecue facilities, a playground and shaded areas to relax. There's no charge to use the spectacular seafront rock pools on the southern headland. Surfing here is less crowded than Bondi, but the stronger swells are best left to more experienced surfers.
Wander to Bronte Road to find a string of cafes and restaurants including Bogey Hole Café with its homemade cakes and veggie burgers and Three Blue Ducks serving modern Australian breakfasts and lunches.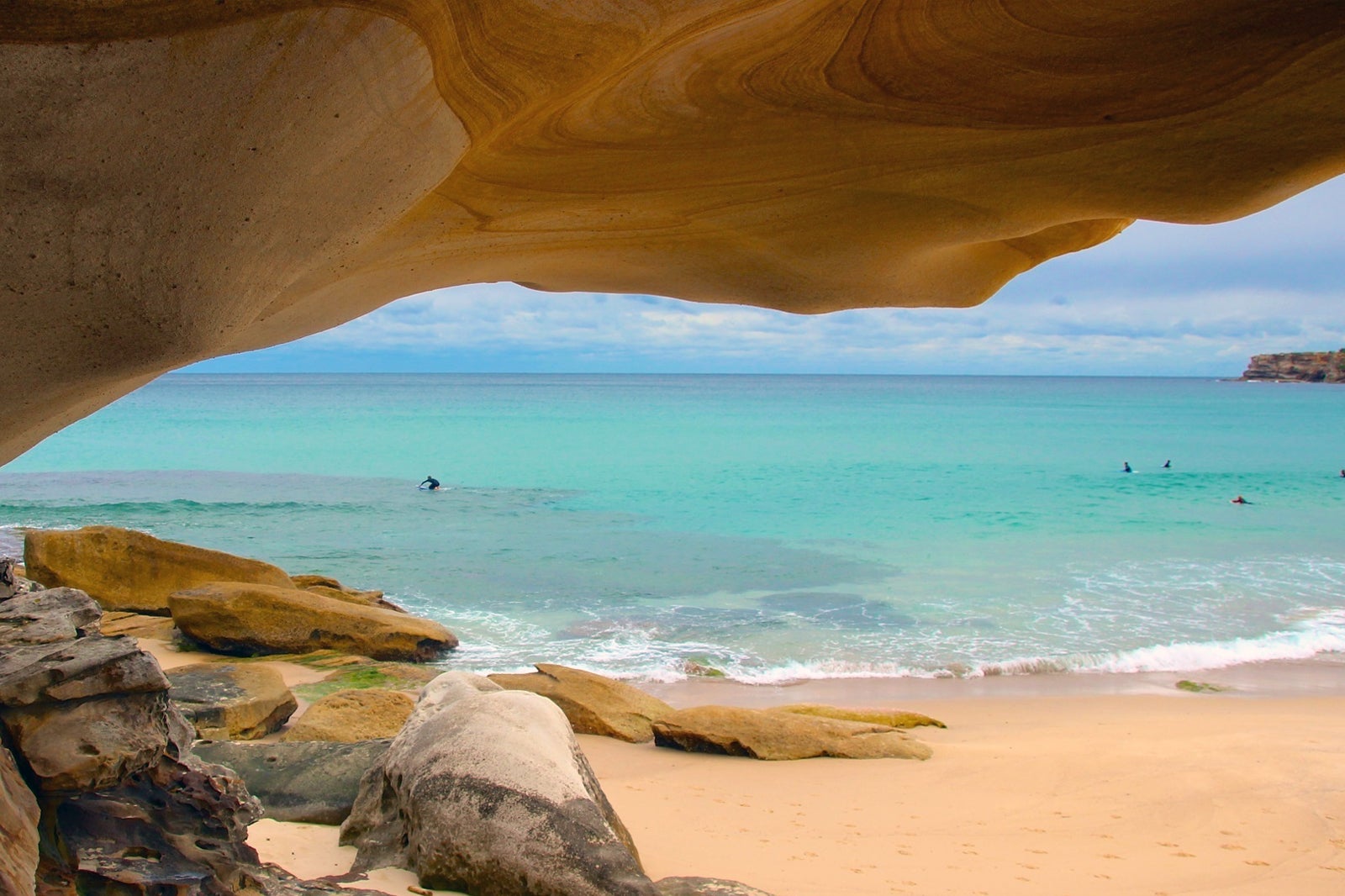 Tamarama Beach
Visit late-October for the Sculpture by the Sea festival
Take the coastal path just a few hundred metres from Bronte Beach to find this tiny gem of a beach. Tamarama's just 80 metres long, but the sands are silky soft, and the waves are great for surfing. The surrounding park has a café, barbecue areas and a playground.
Tamarama's earned a reputation as a hot spot for beautiful people, hence its nickname, "Glamarama". Those looking across Tamarama's pristine shoreline might be surprised to learn that in the late 1800s it was home to an amusement park with a roller coaster and elephant rides. Tamarama can be dangerous for swimming at times so be sure to heed the lifeguard warnings.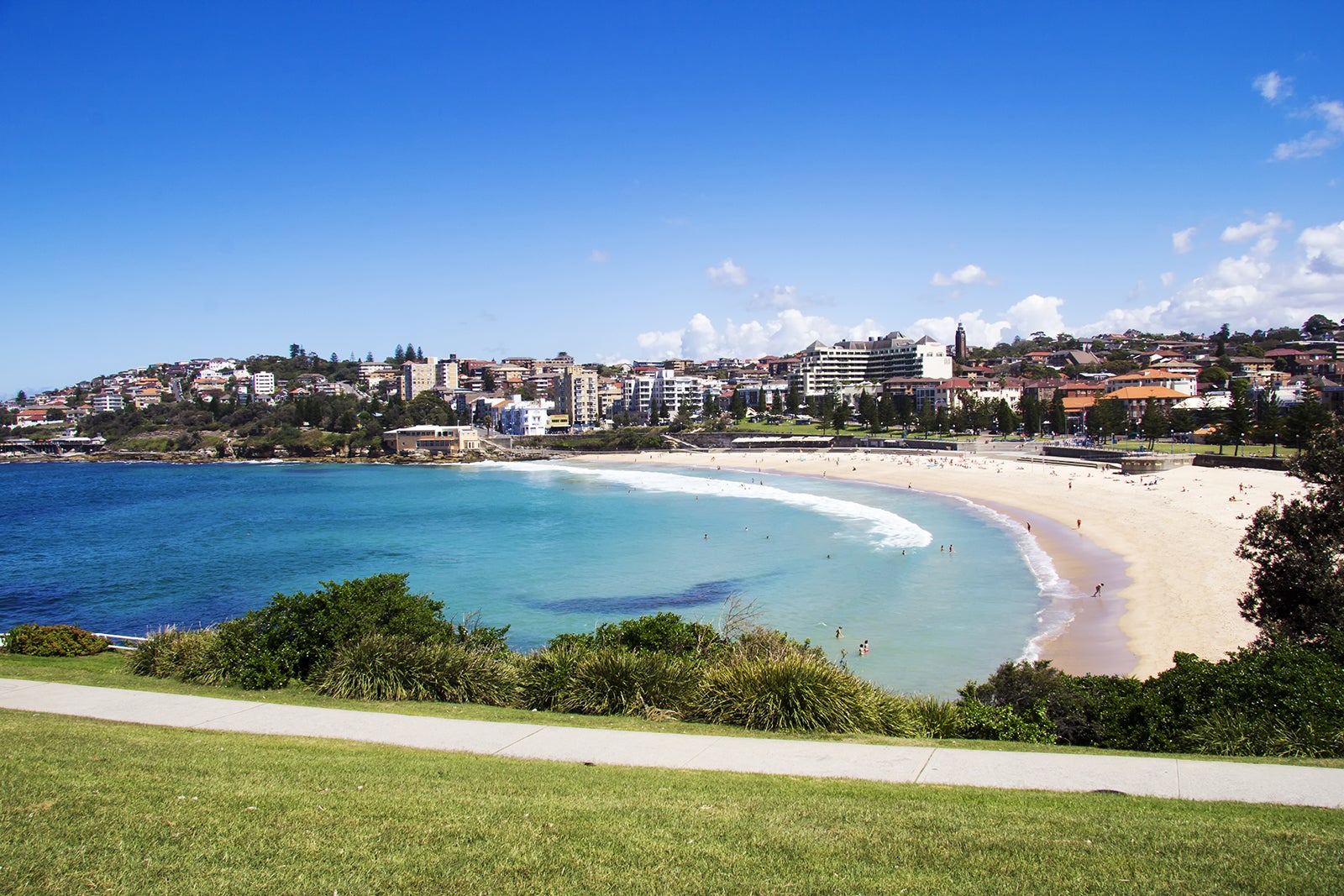 Coogee Beach
A fine place to swim and snorkel
Coogee is a 400-metre length of soft sand with calm surf and a lovely promenade with historic buildings and parks to explore. A scenic way to travel here is by walking the Bondi to Coogee trail that runs 6km up the coast. Find rock pools at each end of the beach, including Wylies Baths with its wooden platform and the Ladies Baths to the south.
The beach is popular for families, with plenty of space for the kids to run on the playground and lawns at adjacent Grant Reserve. Arden Street running parallel to the beach is lined with cafes where you can grab some fish and chips or an ice cream before browsing the boutique shops.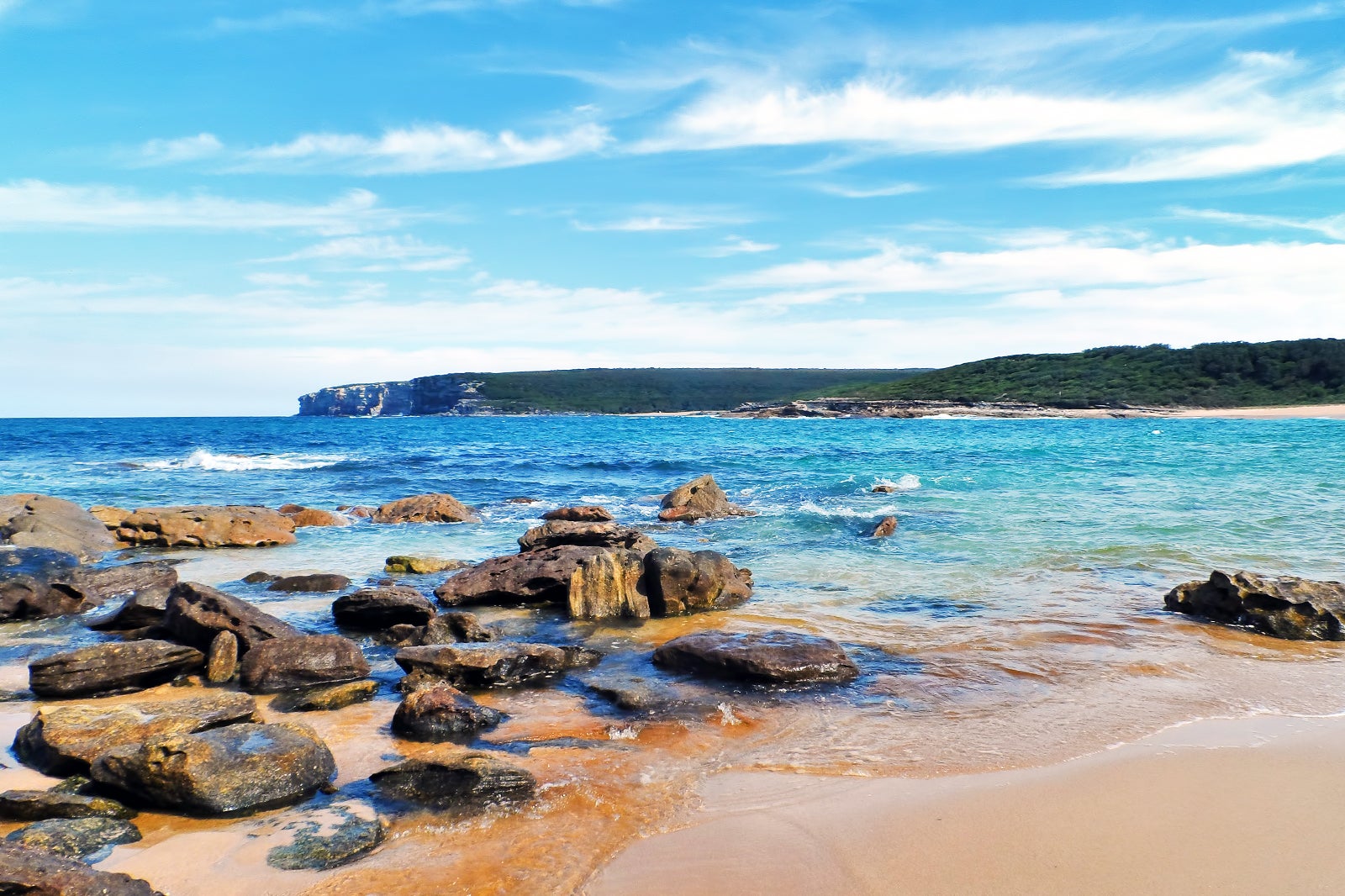 Marley Beach
Get away from it all
For those who dream of strolling the sands in solitude, a trip to Marley Beach is well worth the effort. Found in Royal National Park less than an hour's drive south of Sydney, Marley Beach is a vision of wild beauty with its crystal-clear waters, steep cliffs and rolling sand dunes.
To get here, take the trail from Bundeena then walk along the scenic coastal path for about 4.5 kilometres. Little Marley Beach is a further 20-minute walk. The beach is not patrolled and there are strong currents, so it's not ideal for swimming.
照片来源:Isaiah Soriano (CC BY-SA 2.0) 已修改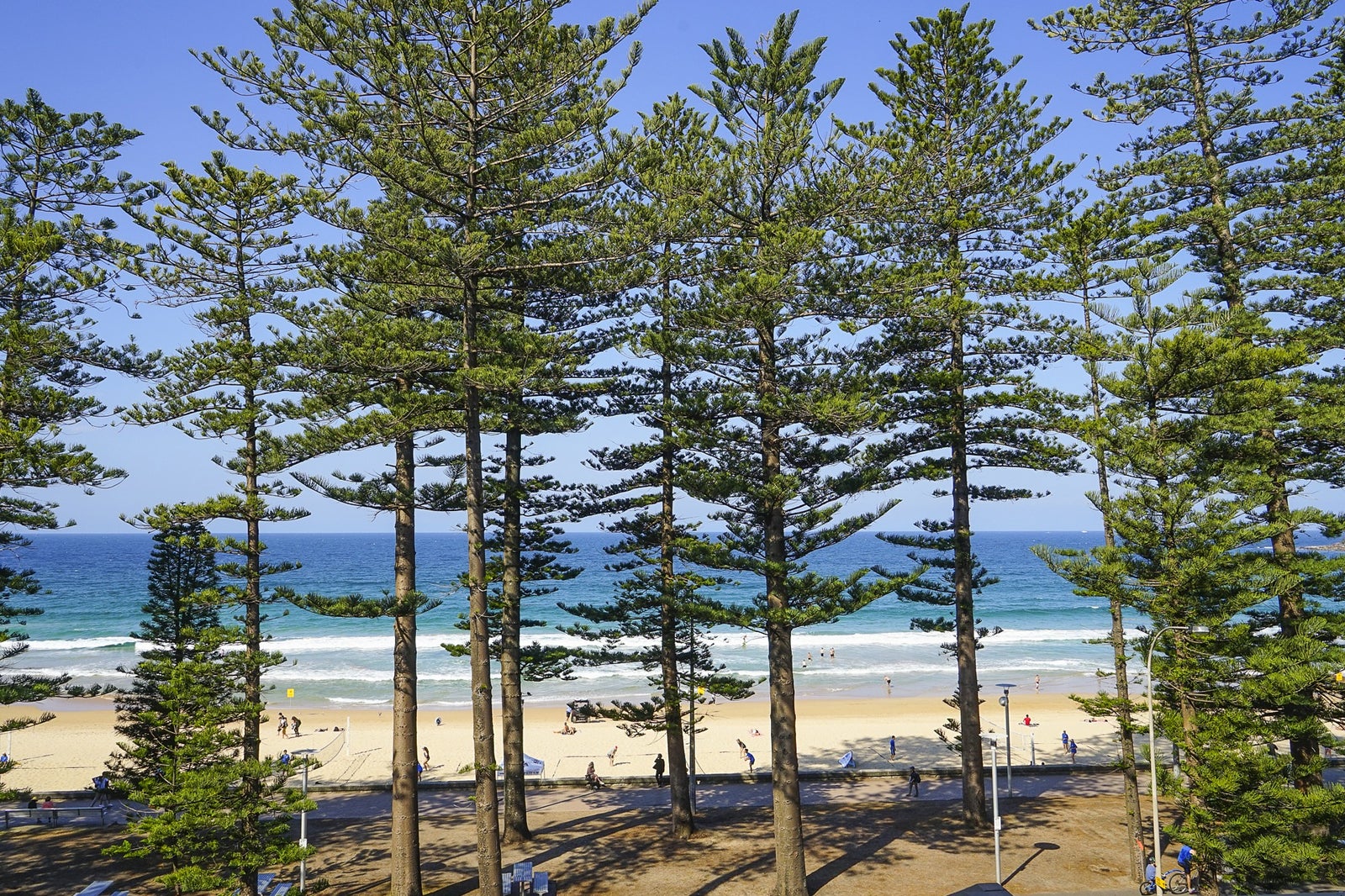 Manly Beach
The heart of Sydney's surfing scene
Just a 30-minute ferry ride from Sydney's Circular Quay, Manly is a fine spot to soak up some friendly beach vibes and mingle with the locals. One of the top surfing beaches in the city, Manly is host to the Australian Open of Surfing competition every February. Relax on the sands and watch the surfing action or take lessons from one the local surf shops to hone your wave riding skills.
For a break from the beach, walk to The Corso strip, a bustling walking street lined with dozens of shops, alfresco dining spots, pubs and art galleries.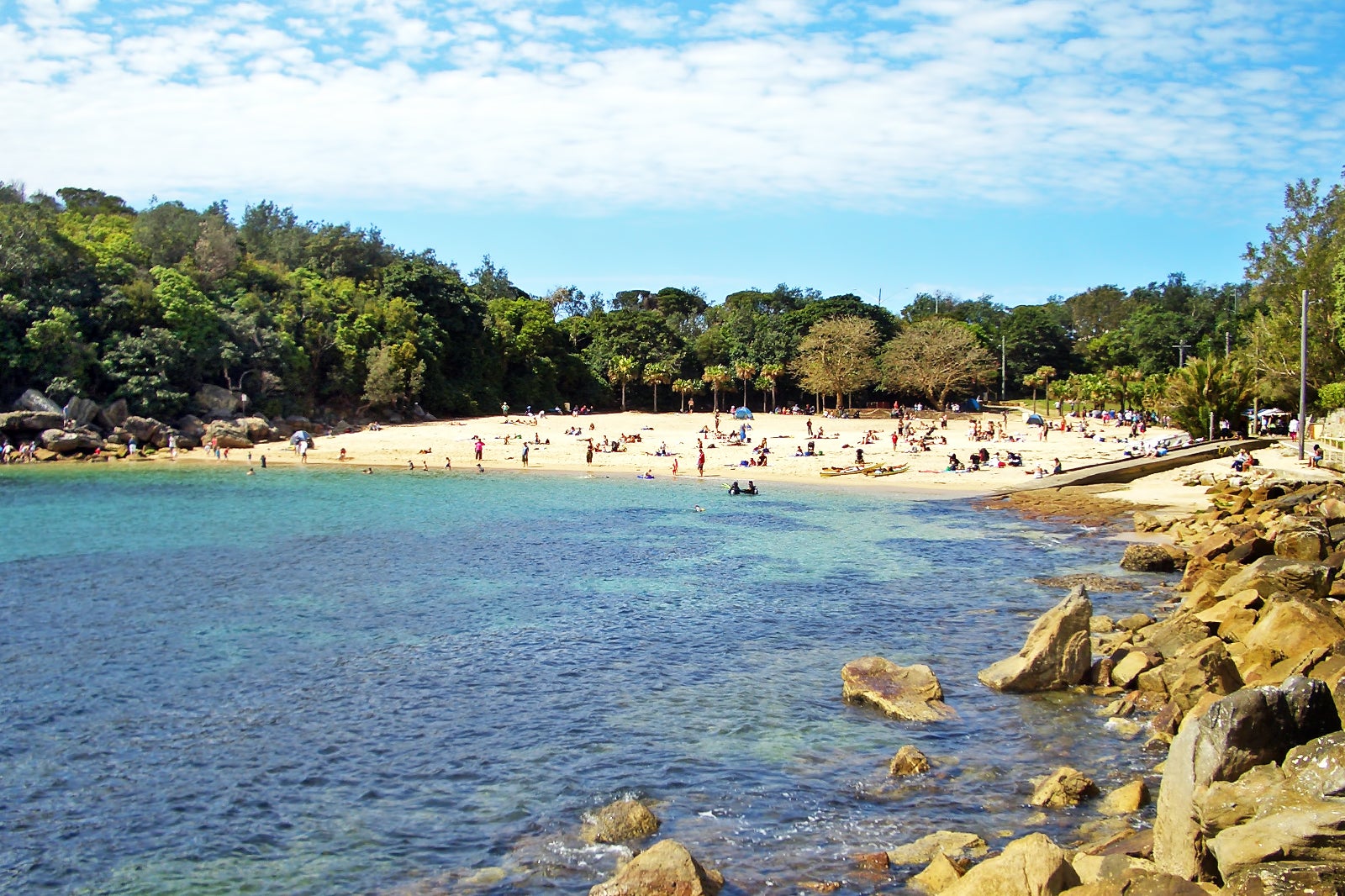 Shelly Beach
Top spot for snorkelling and diving
Found near Manly, Shelly Beach is a small but gorgeous beach in Sydney's Northern Beaches region. You'll be rewarded with spectacular views if you travel here by walking from the surf club at the south end of Manly and follow the coastline for about 15 minutes. Bring your snorkelling gear to explore the clear waters of this shallow cove, which sits within the protected marine reserve of Cabbage Tree Bay.
Surfers usually make their way to the western side of the beach to ride the famous shallow-breaking surf wave called "The Bower". There are barbecue facilities at the beach, as well as a restaurant called Le Kiosk.
照片来源:J Bar (CC BY-SA 3.0) 已修改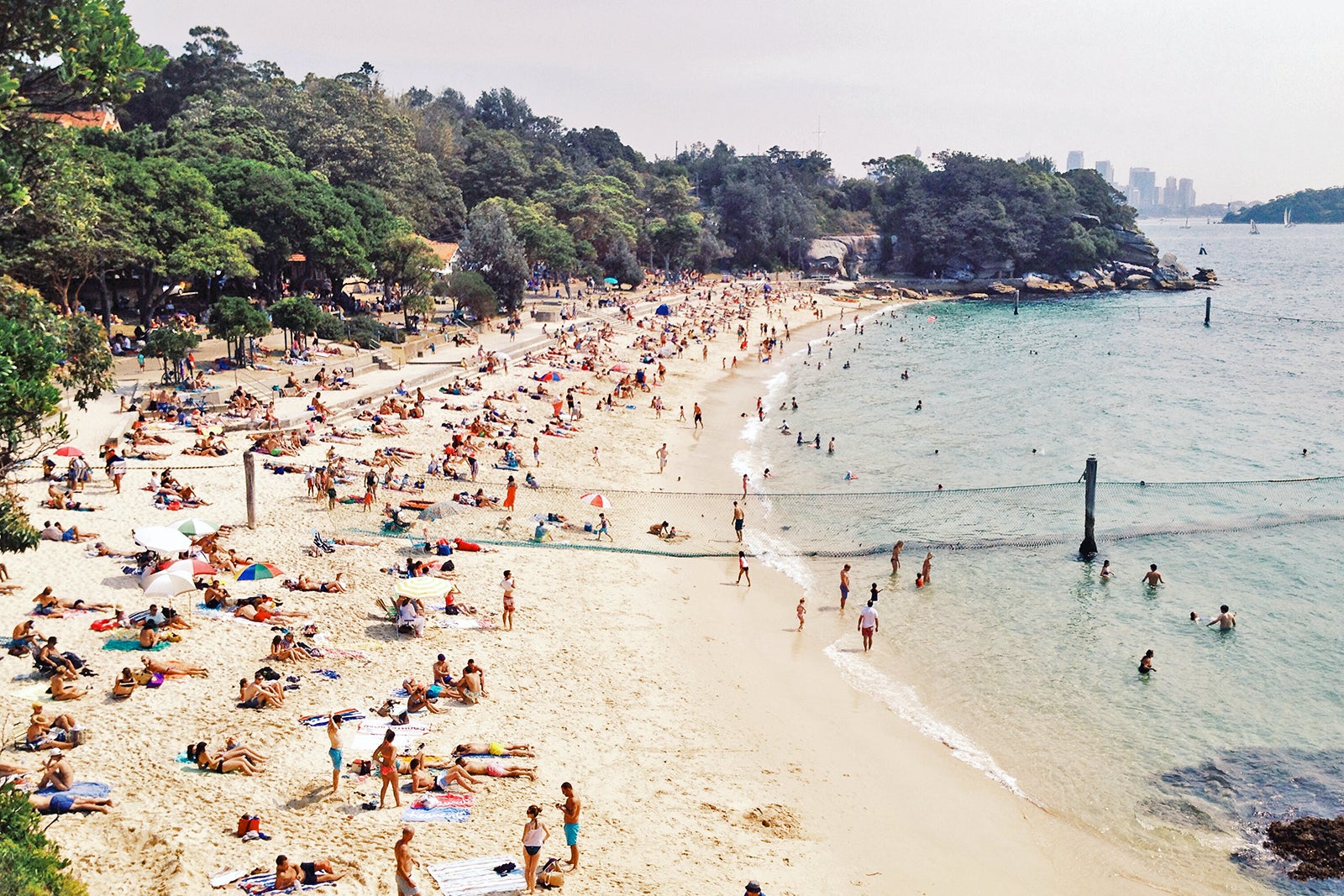 Nielsen Park
Build sandcastles at Shark Beach
Found in the Vaucluse neighbourhood in Sydney's eastern suburbs, Nielsen Park is a relaxing beach escape with a great range of facilities. Fronted by Shark Beach, the park has shaded picnic areas and a scenic walking trail along the foreshore.
The waters here are shallow and generally calm, perfect for a swim or exploring by kayak. Stop by the Nielsen Park Cafe to enjoy a meal, then head up to Bottle and Glass Point to find a patch of grass in the shade and take in the lovely views across Vaucluse Bay.
照片来源:Eddy Milfort (CC BY-SA 2.0) 已修改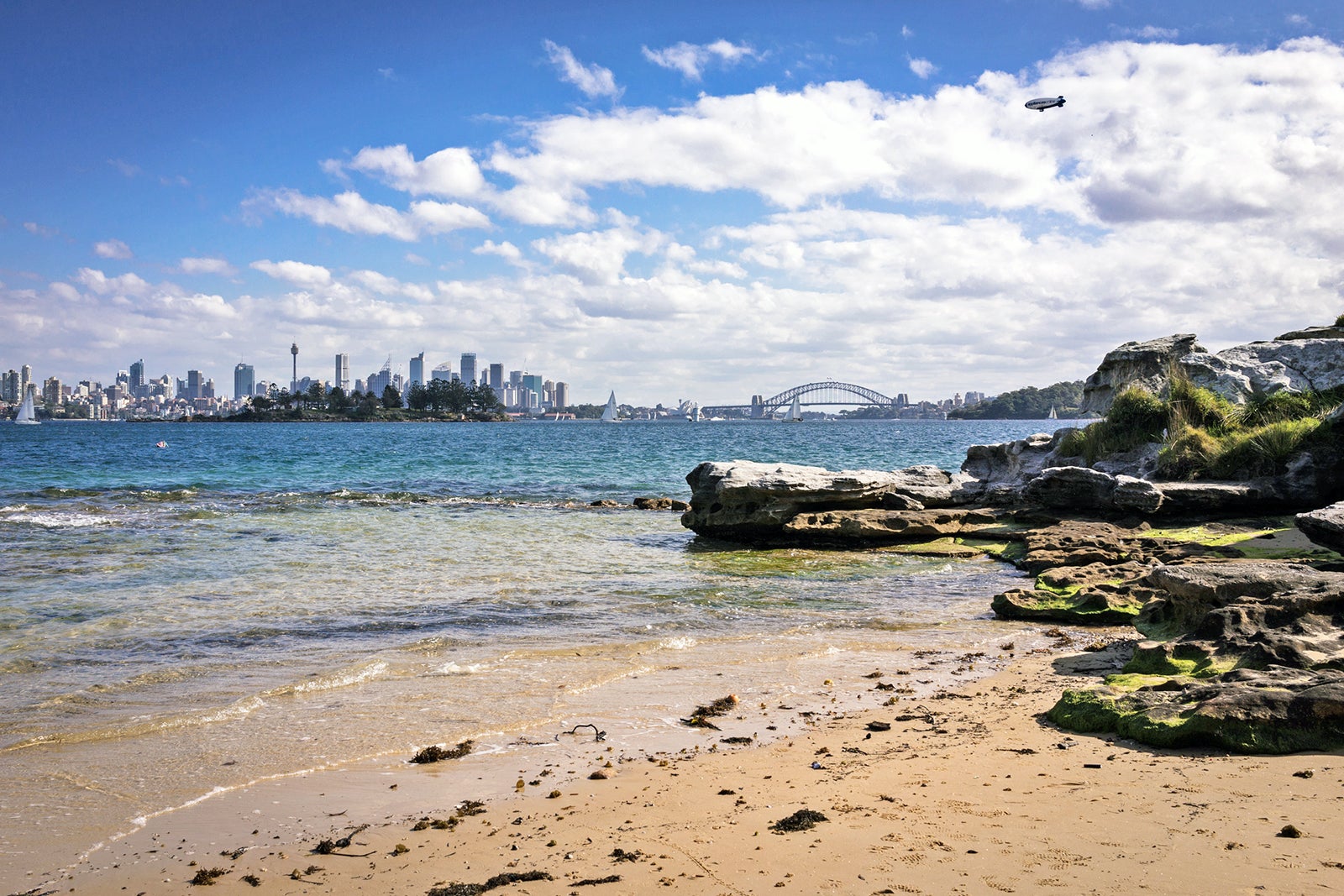 Milk Beach
Great views of Sydney Harbour
Found in Sydney's eastern suburbs, Milk Beach is a small beach that's perfect for a quiet getaway. Fronting the grounds of the heritage-listed Strickland House in Hermit Bay, Milk Beach is a fun spot for swimming, snorkelling, fishing, and exploring the rock formations at the edge of the beach. Linger on into the evening to enjoy the sunset views over the Sydney skyline.
There are no facilities here, but the beach is just a 15-minute walk from Shark Beach in Nielsen Park, which has picnic areas and toilets. Take the Hermitage Foreshore trail and soak up the stunning coastal views along the way.
照片来源:Jayphen (CC BY-SA 2.0) 已修改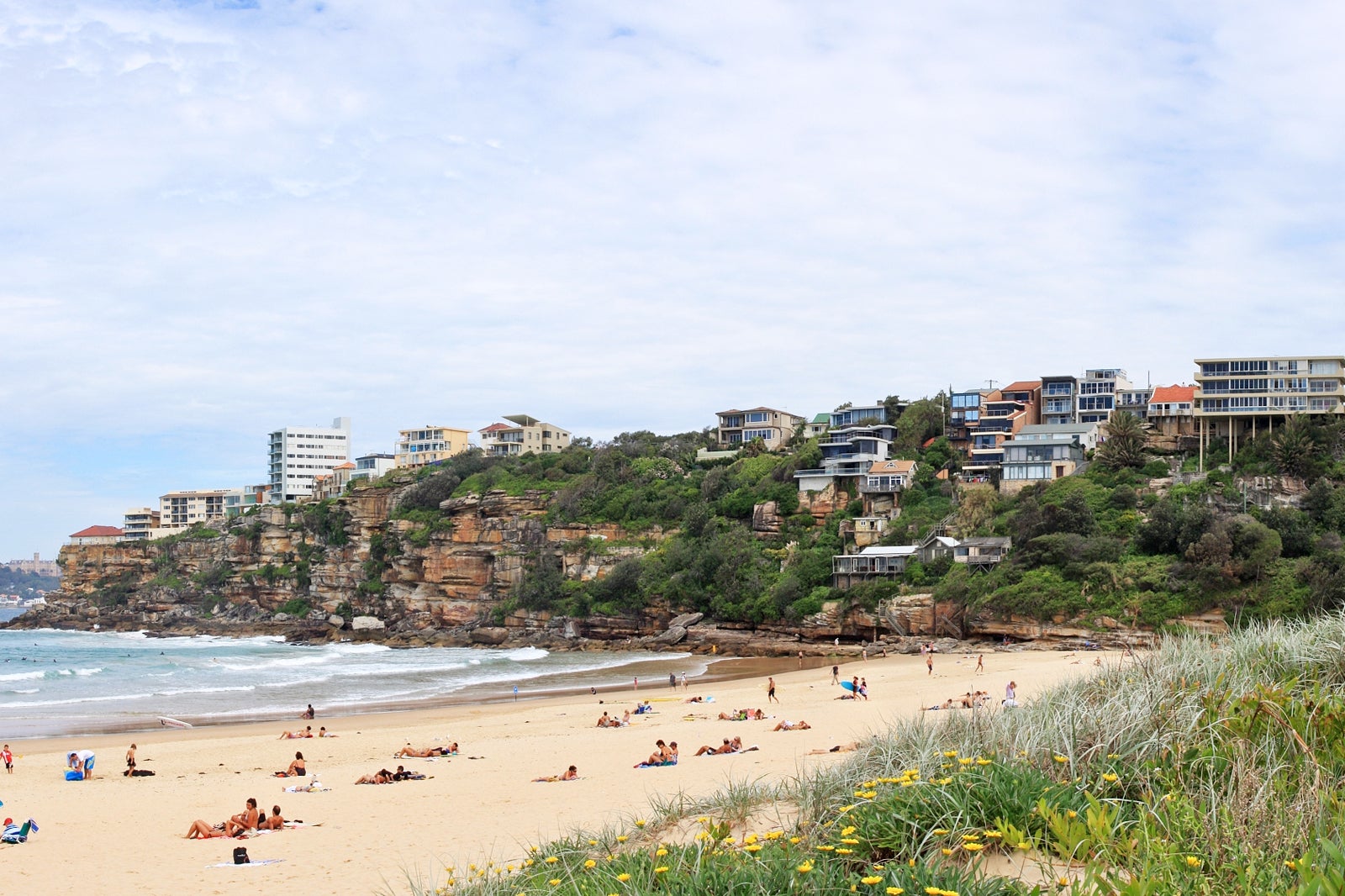 Freshwater Beach
The birthplace of surfing in Australia
Found north of Manly Beach in Sydney's Northern Beaches region, Freshwater is a hub of beach activity with swimmers, surfers and families playing on the sands. Back in 1915, the beach was host to famed Hawaiian surfer "Duke" Kahanamoku, who ignited the Australian passion for surfing when he demonstrated his board riding skills to the awe and delight of onlookers.
There's a rock pool for swimming laps at the north end of the beach, and you'll find barbecue and picnic facilities and a playground at the nearby reserve. The beach is busiest on Sunday mornings through the summer when the Surf Life Saving Club runs its "nippers" beach safety program.
照片来源:Adam.J.W.C. (CC BY-SA 2.0) 已修改