20 Best Things to Do in Hong Kong
What is Hong Kong Most Famous For?
Our list of best things to do in Hong Kong is so varied that it could take more than one trip to fit them all in your itinerary. From early morning hikes and temple visits to frantic shopping trips and the excitement of theme park rides, Hong Kong stays busy and exciting year-round.
Hong Kong is an endlessly fascinating destination due to its rich history and cultural diversity. Modern skyscrapers and centuries-old temples dot the vibrant Central district of Hong Kong, resulting in unique scenery that's unlike most cities in Asia.
What are the best things to do in Hong Kong?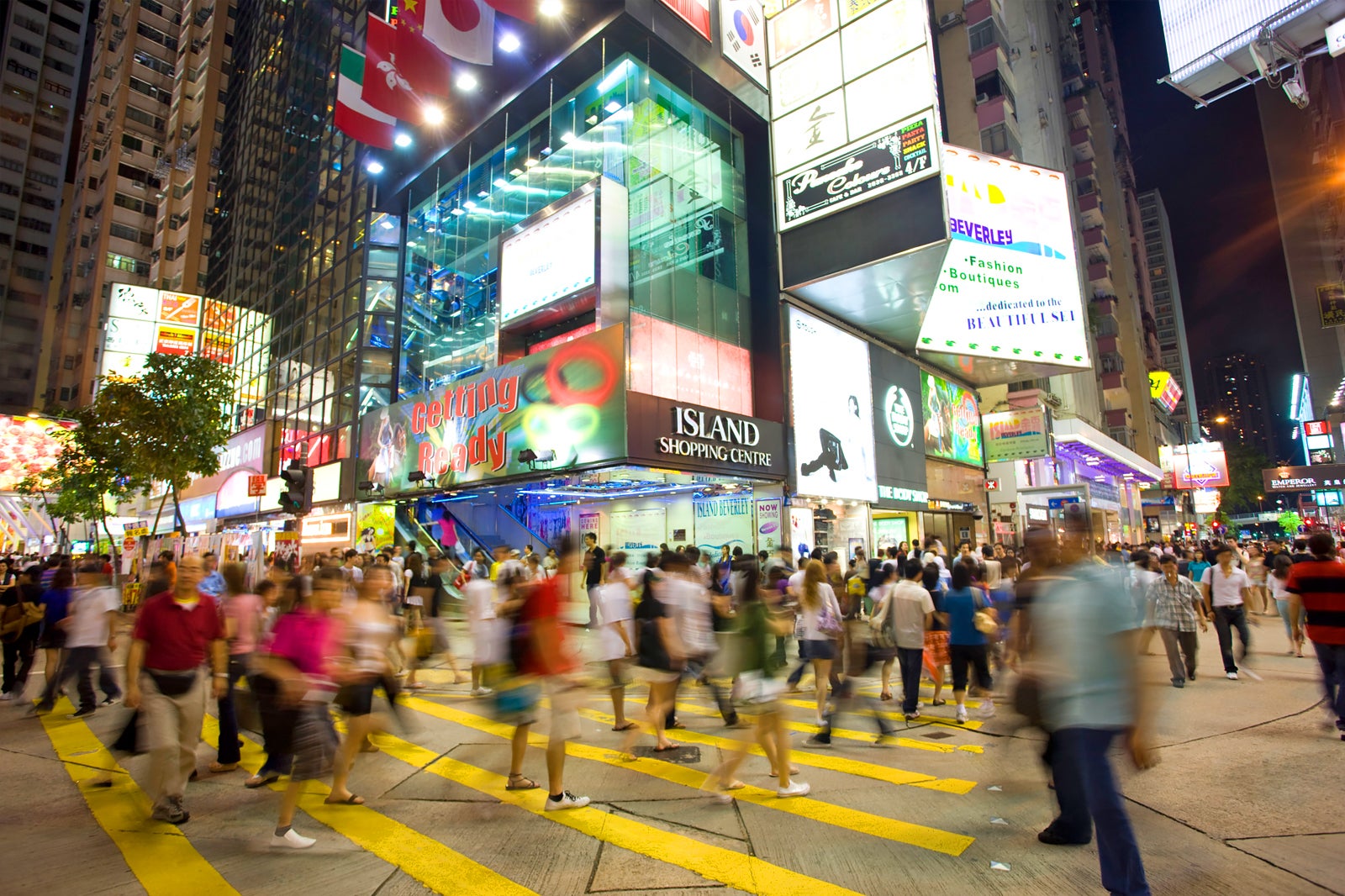 If it's your first time in Hong Kong, head to the neighbourhood of shopping streets around Causeway Bay, where you can immerse yourself in Hong Kong's iconic street scenes – busy, bustling, and always on the go.
The streets around Jardine's Crescent are packed throughout the day and night – they're also popular spots for acquainting yourself with the city. Get a first glimpse of the trams rattling along Hennessy Road, with huge flashing billboards, street hawkers, and flagship designer stores catching your attention at every turn.
地点: Causeway Bay, Hong Kong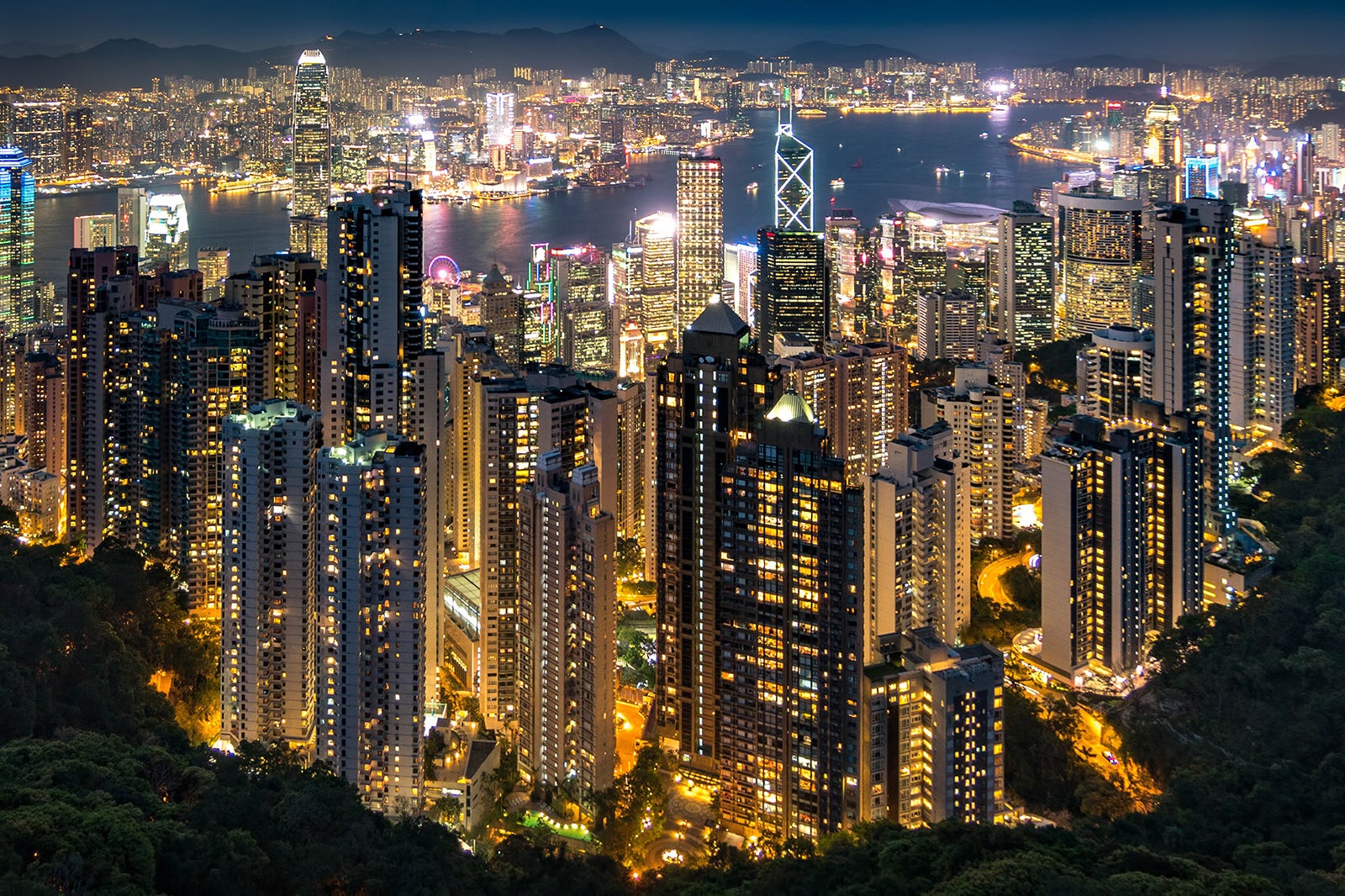 The Peak Hong Kong not only has tremendous views out over the harbour and neighbouring islands, but it's also a foodie destination and a place of historical interest.
This Hong Kong attraction is very popular among first-time visitors. You can either take the tram or hike your way to the summit, which stands at 552 metres above sea level. Don't forget your camera – The Peak Hong Kong boasts panoramic views of Hong Kong and the South China Sea.
地点: Hong Kong Island, Hong Kong
开放时间: Monday–Friday from 10am to 11pm, Saturday–Sunday from 8am to 11pm
电话: +852 2849 0668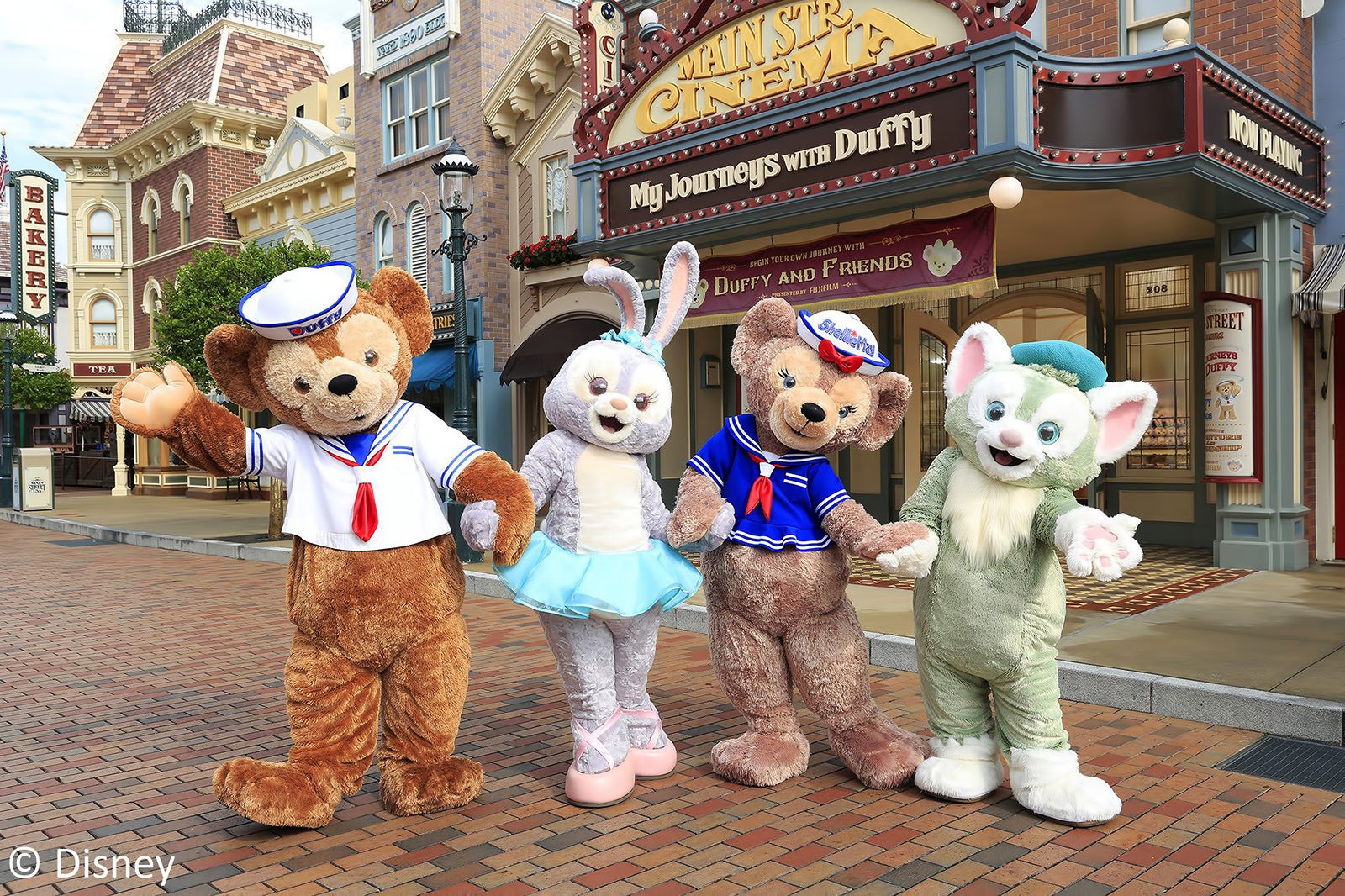 Hong Kong Disneyland
Lantau Island
Hong Kong Disneyland is one of the largest theme parks in Hong Kong. This is where you'll find your favourite Disney characters parading the streets of the expansive theme park, as well as a wide range of fun rides for all ages.
There's something for just about everyone at this world-renowned attraction, from romantic boat rides and live shows to indoor rollercoasters and space adventures. Read more...
地点: Lantau Island, Hong Kong
开放时间: Daily from 10am to 8pm
电话: +852 3550 3388
Tian Tan Buddha (Big Buddha)
Lantau Island
Tian Tan Buddha, one of the world's tallest statues of a seated Buddha, is a sight to behold. Located in Po Lin Monastery on Lantau Island, the structure is 34 metres in height and sits on top of a 3-level base platform.
It was built to symbolise the harmonious relationship between man and nature, people and religion. Po Lin Monastery has many other interesting things to see, including a lotus pond, several prayer halls, a teahouse, a tea plantation, an orchid garden, and many restaurants
地点: Po Lin Monastery, Ngong Ping Plateau, Tung Chung Town, Lantau Island, Hong Kong
开放时间: Daily from 8am to 6pm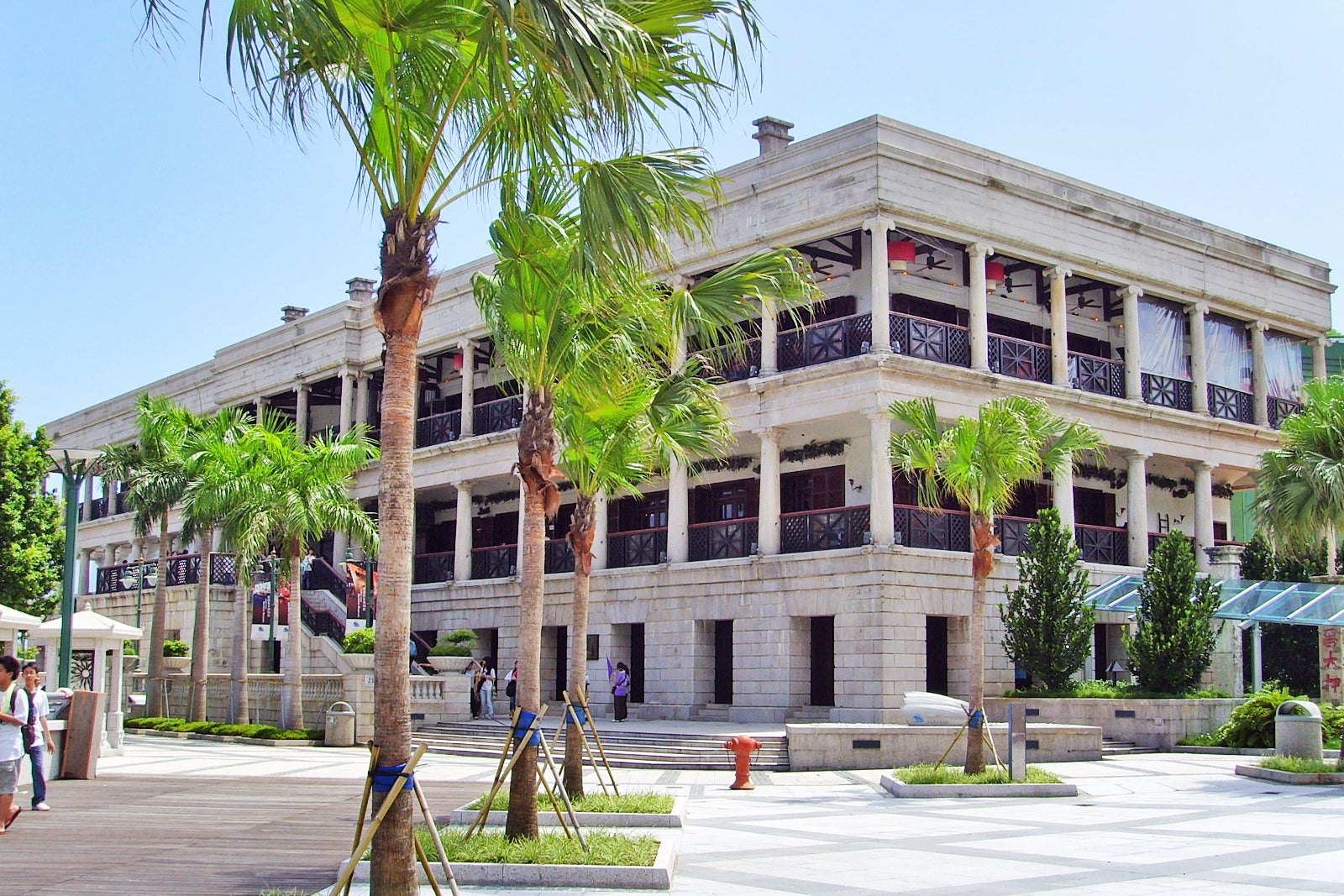 Stanley Market and Murray House
Stanley
Stanley Market and Murray House are situated in the town of Stanley next to Chung Hom Kong and Repulse Bay, on the southern coast of Hong Kong. The market is made up of winding lanes stocking an assortment of gifts, clothes, antiques, and watches.
Less than 5 minutes away from this open-air marketplace is Murray House, a restored colonial building that was relocated from Central. It has several restaurants on the 1st floor, all of which overlook Blake Pier and the South China Sea.
地点: Stanley Municipal Services Building, 6 Stanley Market Rd, Stanley, Hong Kong
开放时间: Daily from 10am to 7pm
照片来源:A52ljgh89 (CC BY-SA 4.0) 已修改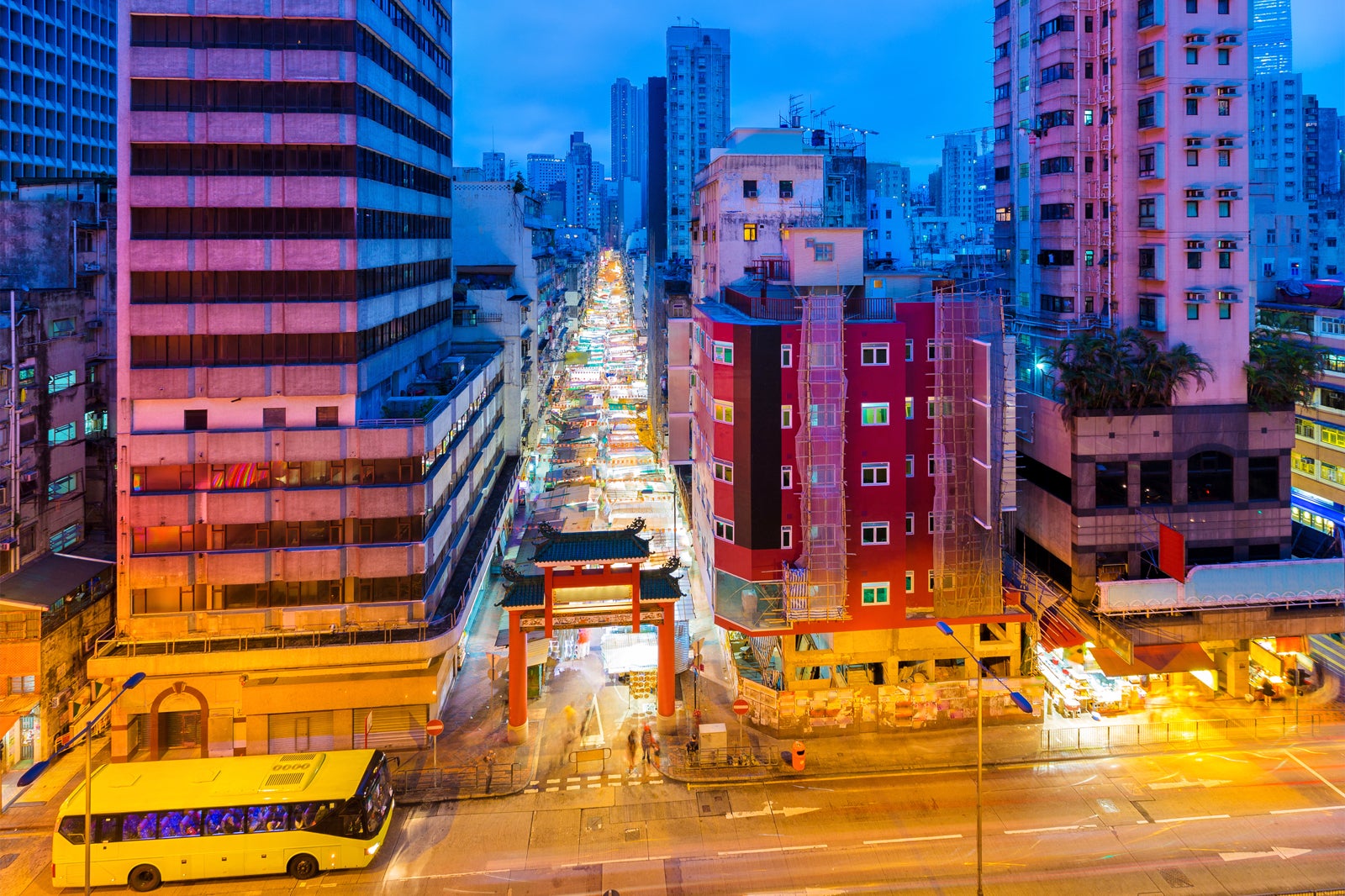 Temple Street Night Market
Jordan (Kowloon)
Temple Street Night Market is a busy and bustling market that will boggle the mind with its diversity. It usually opens at 5pm, but really gets going past dark, when it's a barrage of brightly lit stalls selling cheap souvenirs, fashion, and electronics. Most items are sourced directly from factories in mainland China.
You'll also find many fortune-tellers and herbalists, as well as the occasional free open-air Cantonese opera. Snacks stalls and restaurants surround Temple Street Night Market, which adds to its already colourful and noisy spectacle.
地点: Temple Street, Jordan, Hong Kong
开放时间: Daily from 5pm to 11pm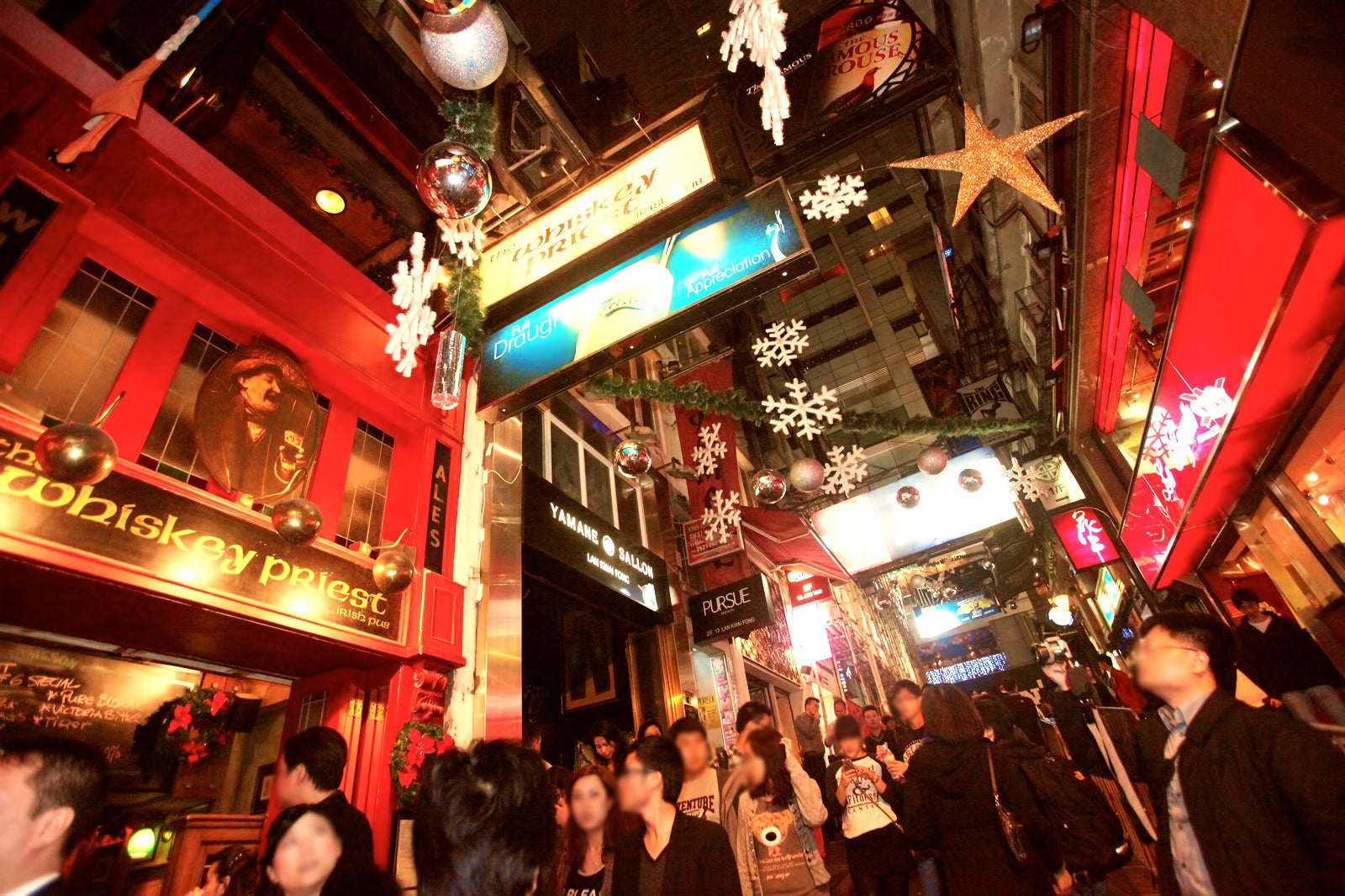 Lan Kwai Fong and SoHo
Central
Lan Kwai Fong and Soho are usually buzzing with fashionable locals and trendy tourists seeking a cool place to hang out and enjoy a few drinks once the sun goes down. These areas are arguably Hong Kong's busiest nightlife districts.
Lan Kwai Fong is a cobble-stoned maze of restaurants, bars and nightclubs in the middle of Central in Hong Kong. SoHo caters mostly Hong Kong's elites, thanks to its extensive range of high-end multicultural restaurants and chic bars.
地点: Central, Hong Kong Island, Hong Kong
照片来源:Wiki.lkfa (CC BY-SA 3.0) 已修改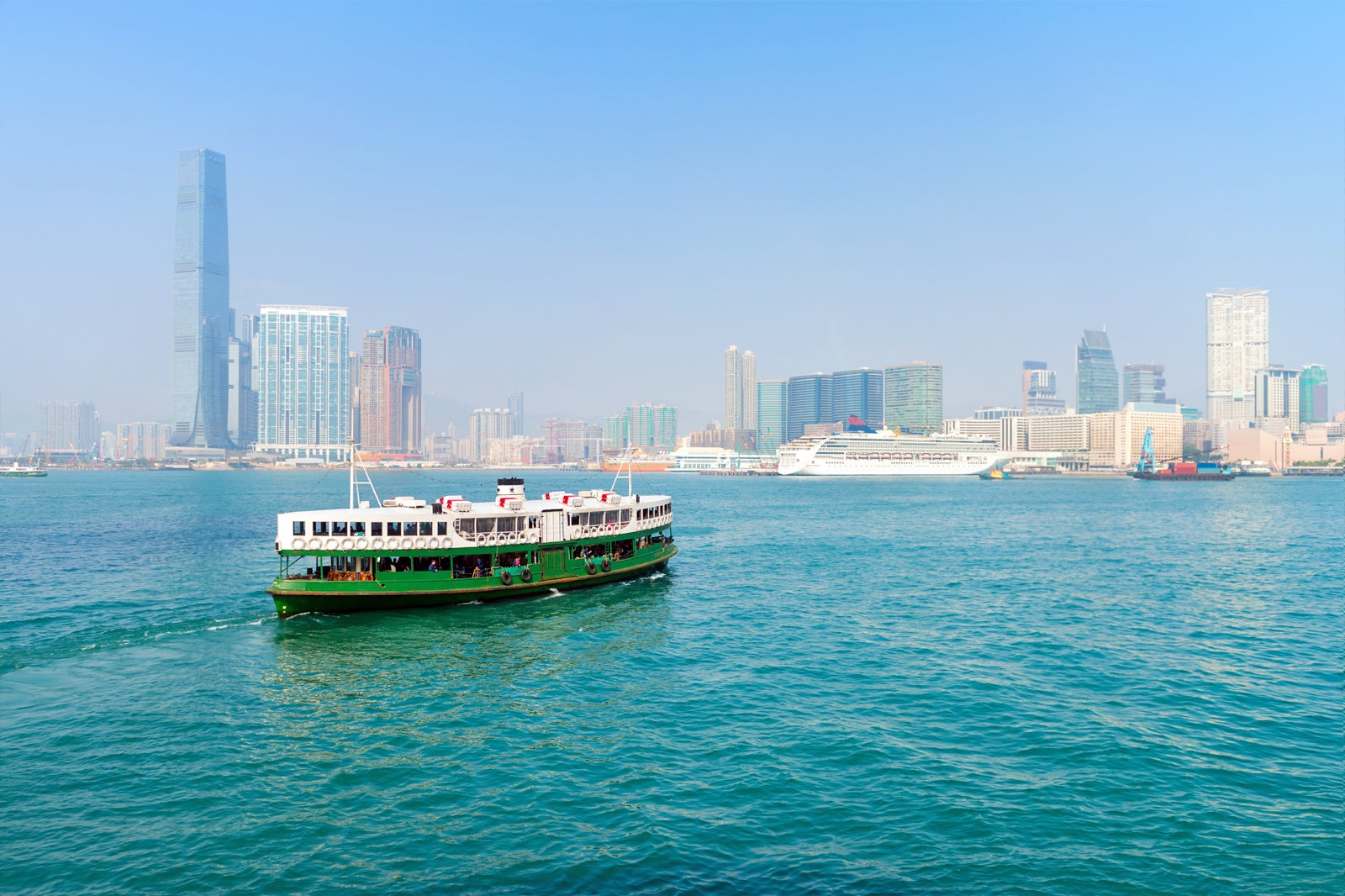 Star Ferry Hong Kong is one of the best spots for a sense of the city's living history. Founded in 1880, it's also a symbol of the city and often featured in local films and TV shows.
There are 2 ferry crossings across the bay, though the most popular route is from Central Ferry Pier to Kowloon. Fares for Star Ferry start from HK$2.70 (HK$3.70 on weekends) per adult and HK$1.60 (HK$2.20 on weekends) per child between 3 and 12 years old. Ferries leave every 10 to 15 minutes, depending on the time of day.
地点: Tsim Sha Tsui, Hong Kong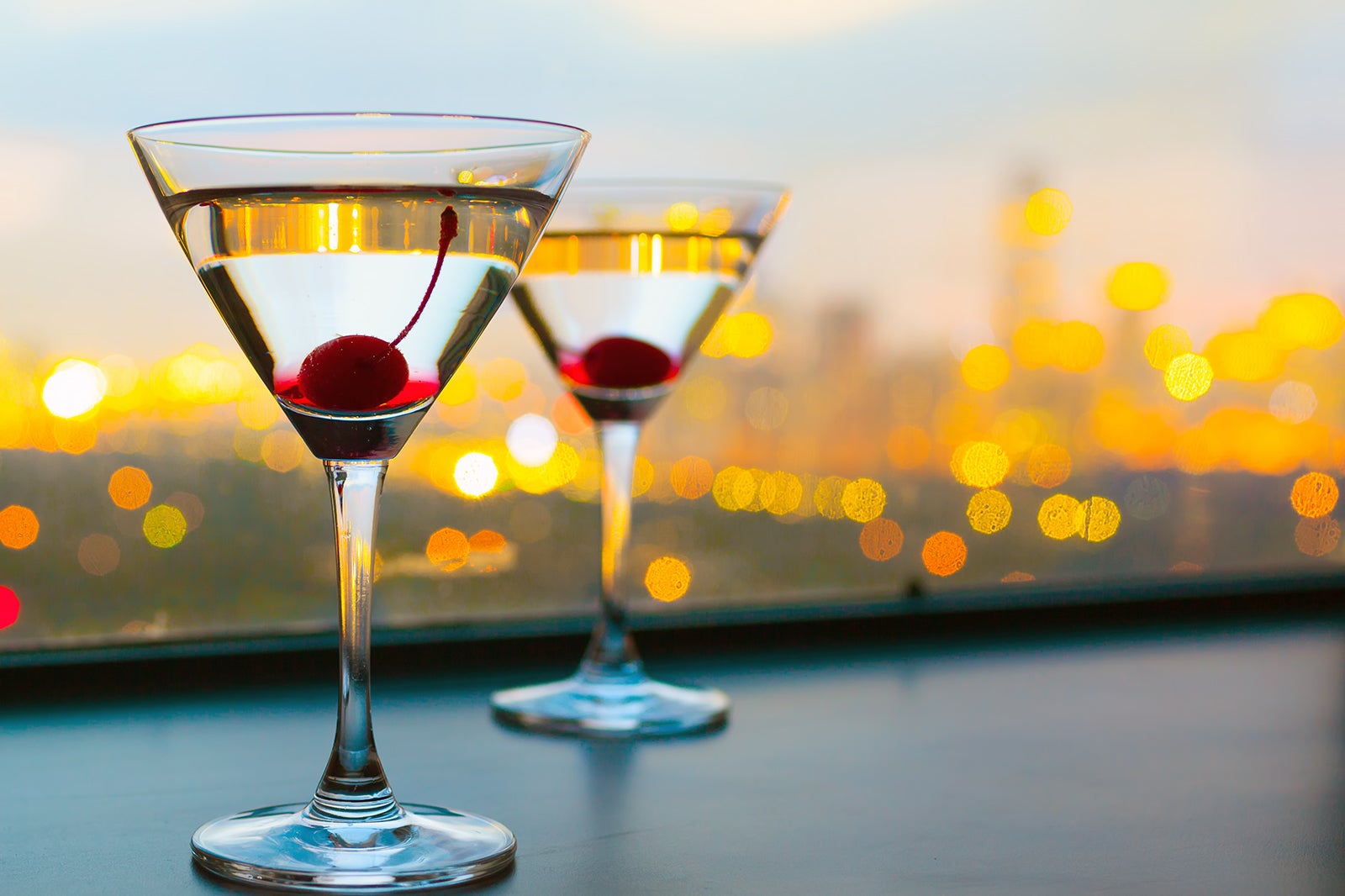 Lounging at a rooftop bar in Hong Kong is definitely one of the best ways to spend your evenings, soaking up the incredible cityscape while sipping on a cocktail in the cooling breeze. What's more, there are rooftop bars and restaurants to enjoy spread out all over the city – on both sides of Victoria Harbour – so you are never that far away from getting a privileged vantage point over Hong Kong.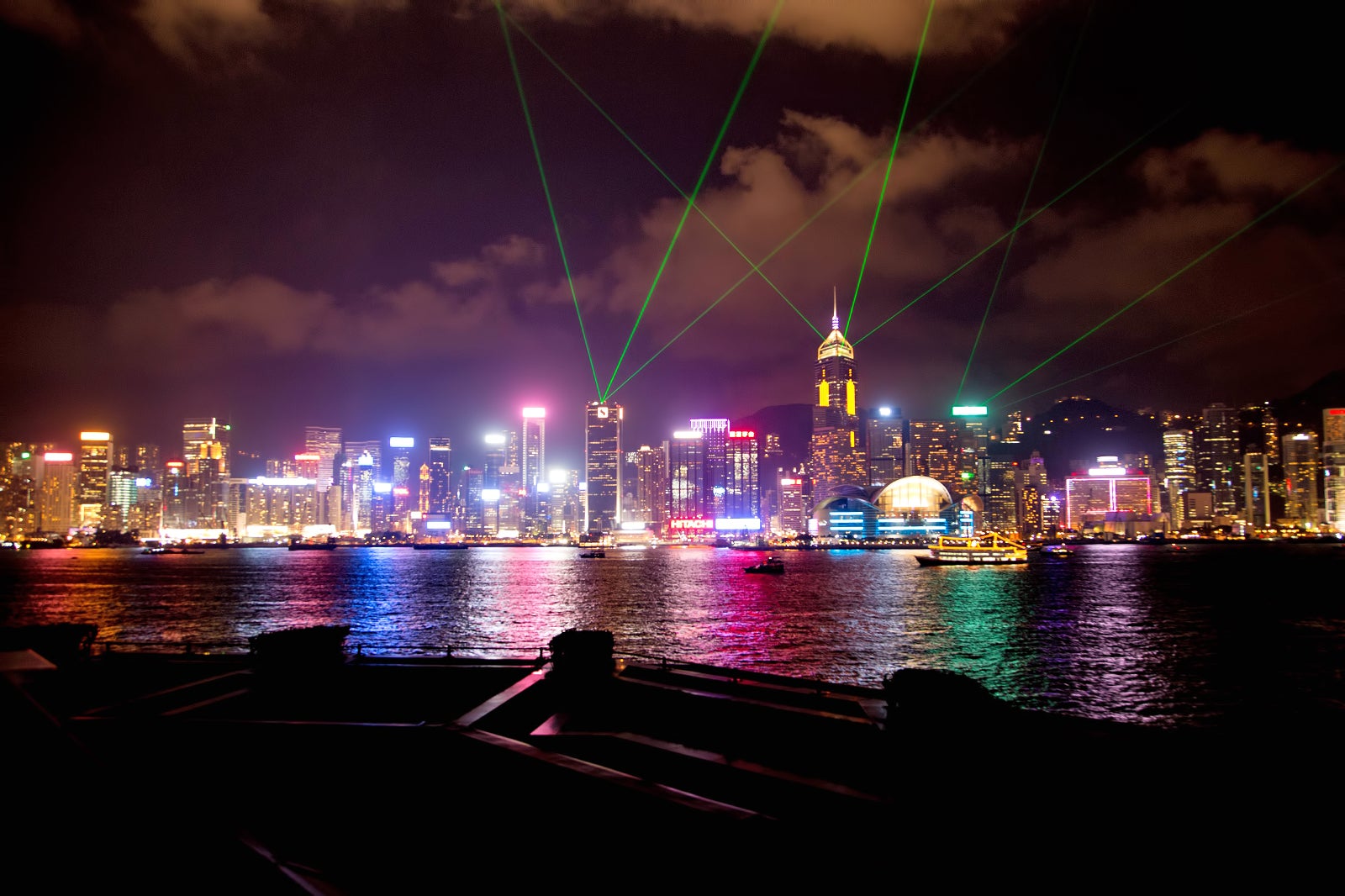 Avenue of Stars and Symphony of Lights Hong Kong
The Avenue of Stars is a promenade overlooking Victoria Bay in Kowloon. It's just a short walk from the Tsim Sha Tsui MTR station and is popular for soaking up the sweeping scene of Hong Kong Island. You'll also see over 100 stars dotting the walkway, which honours legends of the Hong Kong film industry, much like the Hollywood Walk of Fame.
This waterfront promenade also happens to be one of the best spots for watching the famous light show called the Symphony of Lights. The nightly laser show starts at 8pm and is set against one of the most incredible cityscapes in the world.
照片来源:Chris Hoare (CC BY 2.0) 已修改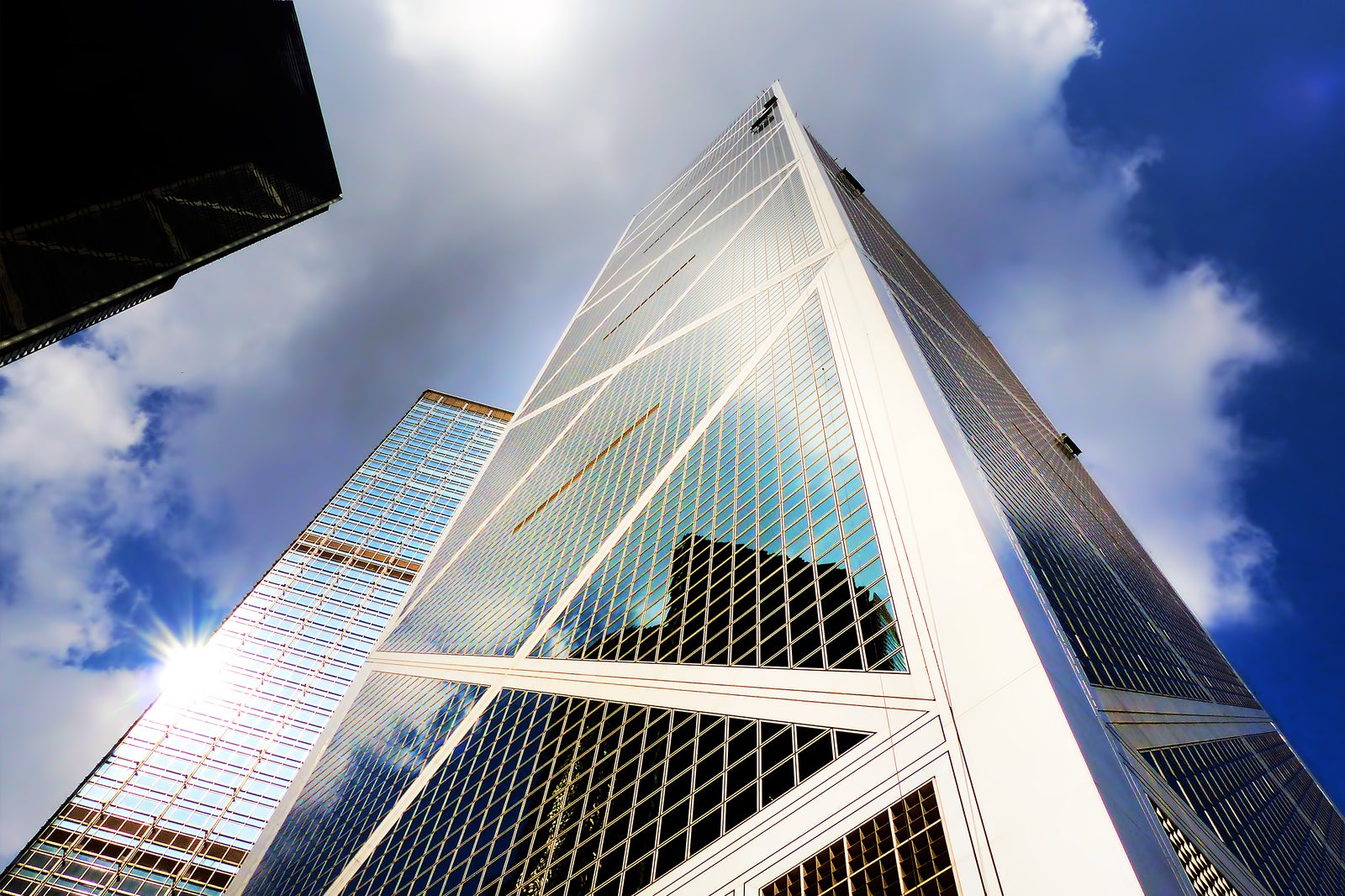 The soaring 70-storey Bank of China Tower is one of Hong Kong Island's most stunning landmarks. Designed by acclaimed architect I M Pei and completed in 1990, the design was inspired by the elegance of bamboo and symbolises vitality, strength and growth.
The 367-metre-tall building's geometric glass façade has been featured in many Hollywood films, including Transformers and Star Trek. The public viewing deck on the 43rd floor is free of charge – bring your ID for registration and access into the building.
开放时间: Monday–Friday from 9am to 5pm, Saturday from 9am to 1pm (closed on Sundays)
电话: +852 2826 6888
照片来源:Bernard Spragg (CC0 1.0) 已修改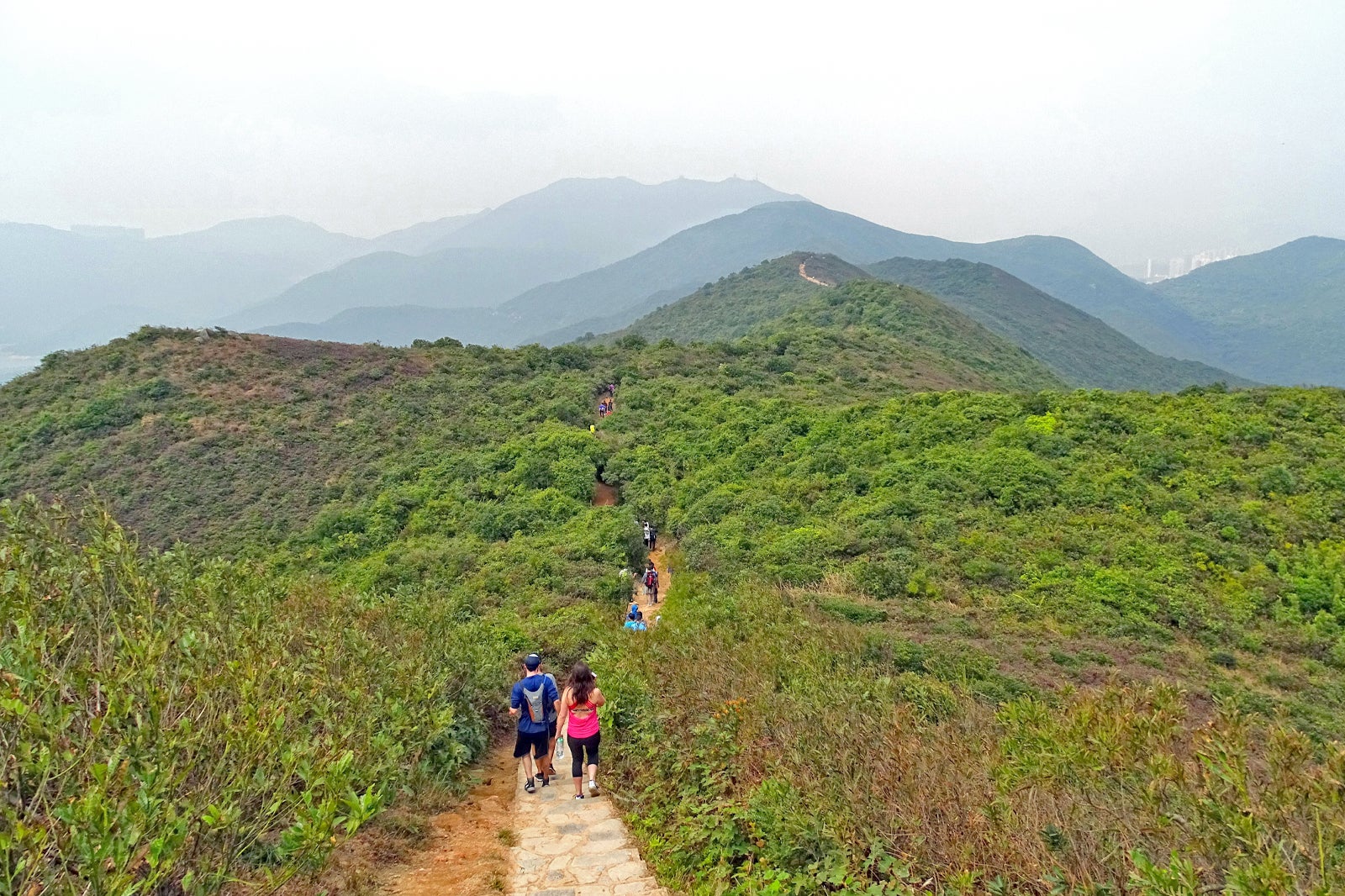 Dragon's Back Hike Hong Kong
The Dragon's Back Hike takes you up to Shek O Peak, and back down the other side. Located in Shek O Country Park, the trail is popular among those looking to enjoy the outdoors on Hong Kong Island. It takes less than 1 hour to reach the start of the trail from Central Hong Kong.
The 8.5-km-long trail takes between 2 and 5 hours to complete. It can get quite steep in parts, so wear a sturdy and comfortable pair of trainers or walking boots. The Dragon's Back Trail is listed as Section 8 of the Hong Kong Trail, meaning it's well signposted throughout.
地点: Shek-O Country Park, Hong Kong
照片来源:Bjørn Christian Tørrissen (CC BY-SA 4.0) 已修改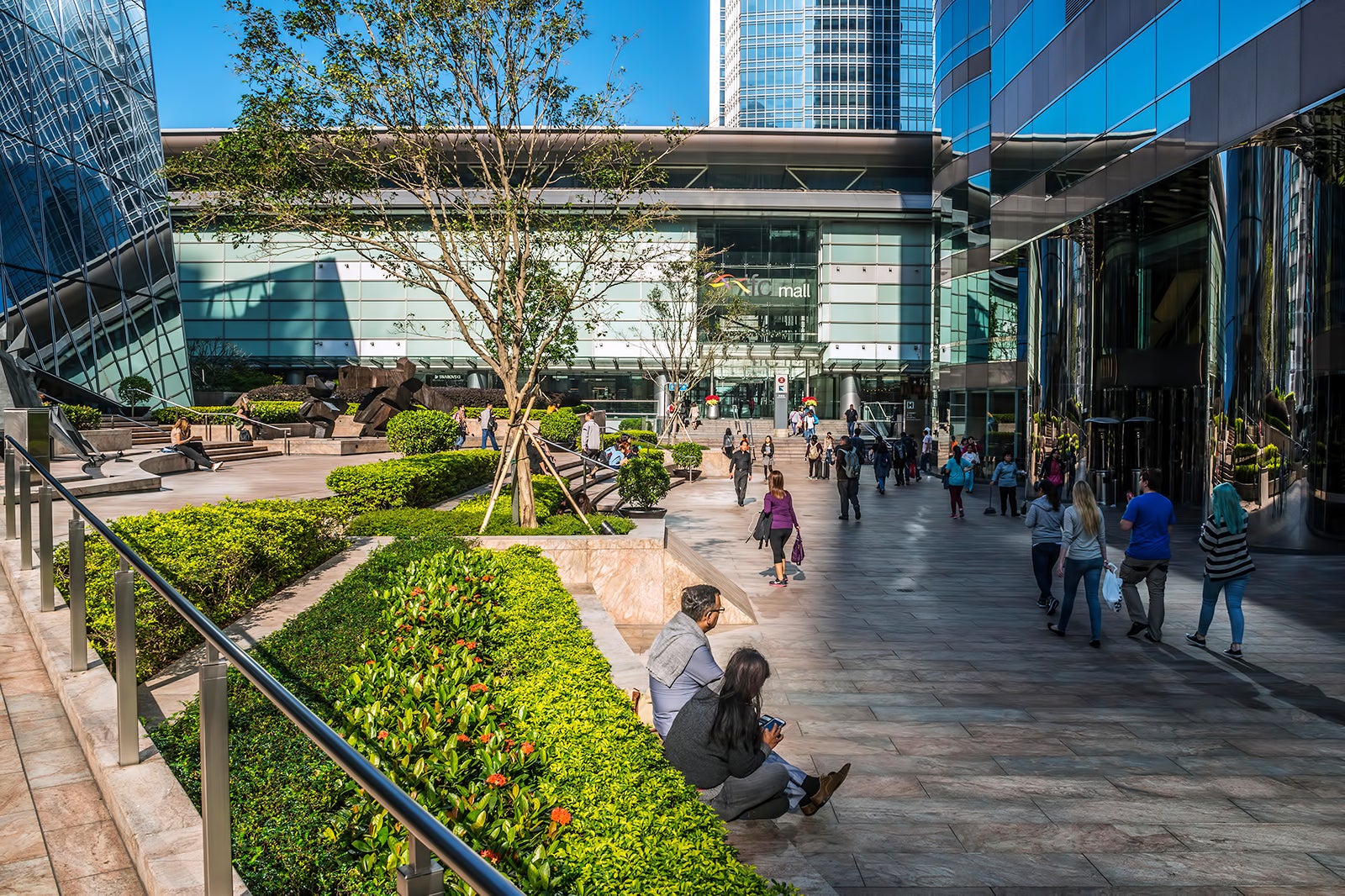 Exchange Square Hong Kong
Exchange Square, home to the Hong Kong Stock Exchange, is formed by the One, Two and Three Exchange Square buildings. This spectacular complex has been recognised as an important achievement in architecture. Featuring 3 towers of rose-coloured granite and silver glass, it's an aesthetic forum where some of the most important financial transactions take place.
Exchange Square Hong Kong is connected to IFC Mall – and the Airport Express Line's Hong Kong Station directly underneath – by a network of walkways. The shopping mall features trendy restaurants, fashion, beauty, and jewellery shops, as well as a cinema.
地点: 8 Connaught Place, Central, Hong Kong Island, Hong Kong
电话: +852 2500 0500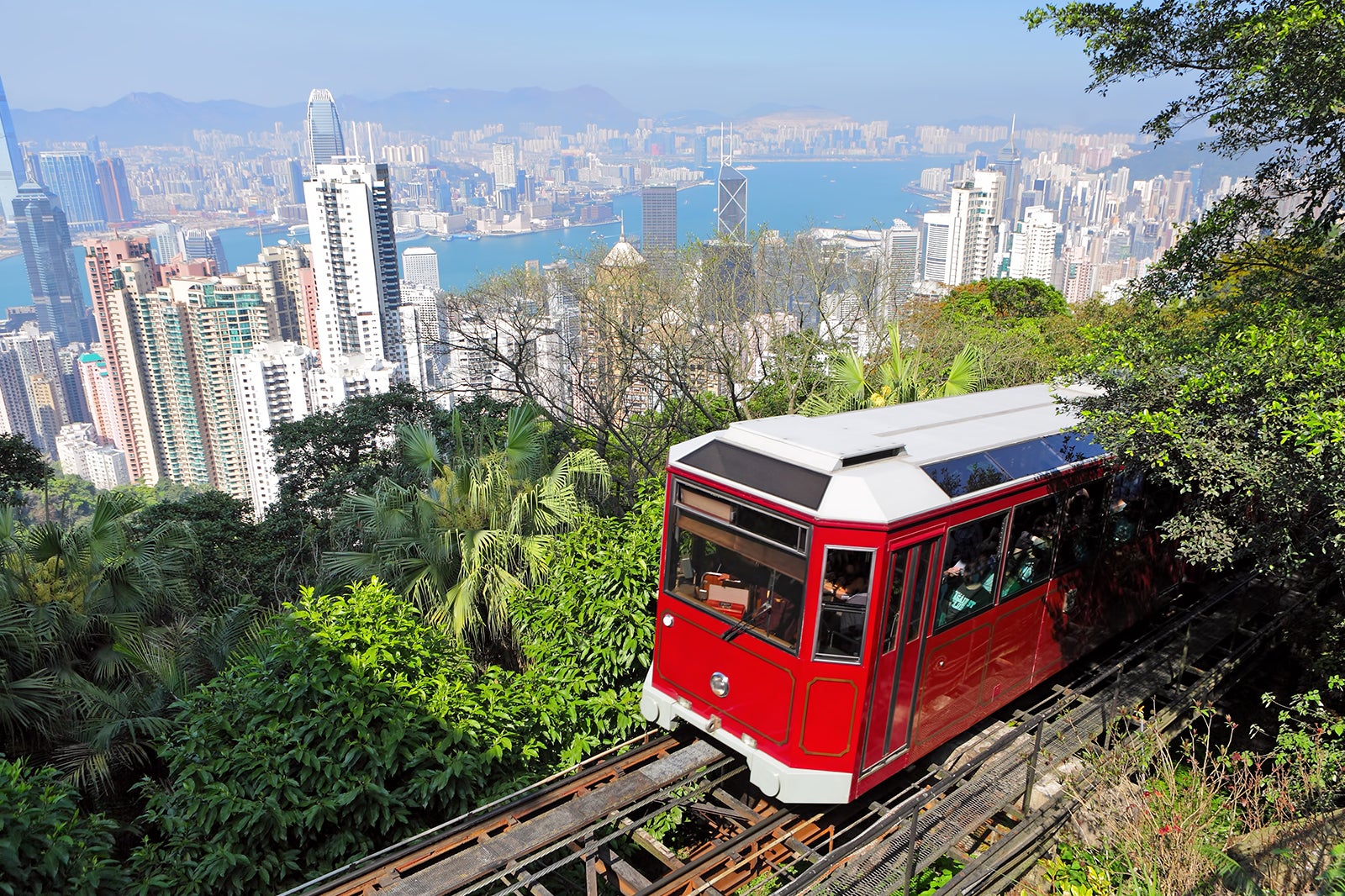 Peak Tram Historical Gallery
The Peak Tram Historical Gallery, located in the Peak Tram Lower Terminus, is where you can learn about life in Hong Kong back in the 19th and 20th centuries. The museum displays more than 200 artefacts related to the tram, which are spread out across 15 exhibition halls.
The gallery also features a replica of the first generation Peak Tram carriage and the 1926 Haulage Room. It's a good place to stop by before boarding the tram to The Peak Hong Kong's summit.
地点: Peak Tram Lower Terminus, Garden Road, Hong Kong
开放时间: Daily from 7am to midnight
电话: +852 2849 7654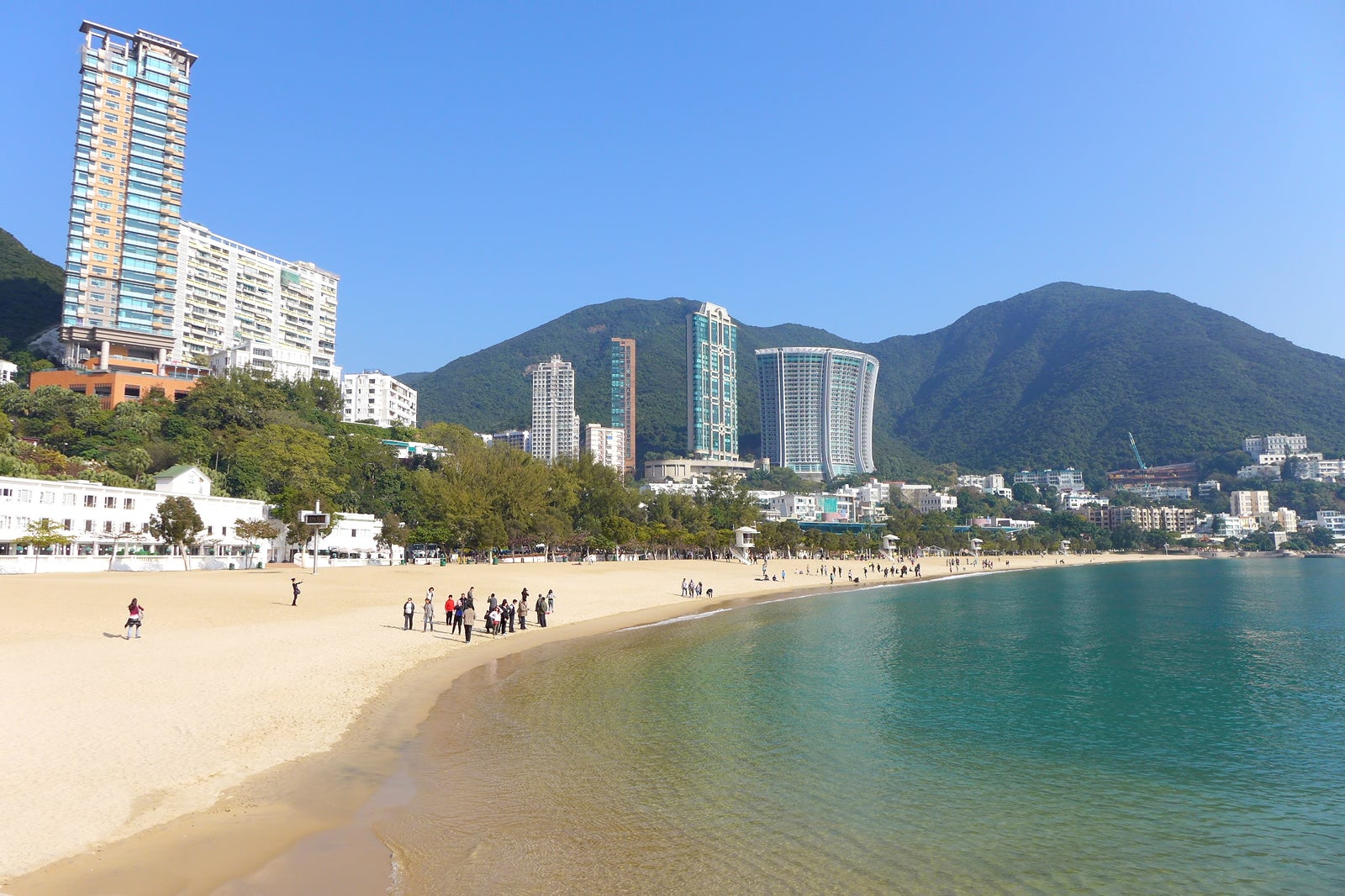 Repulse Bay is a public beach on Hong Kong Island's southern district, about 20 minutes away from Central Hong Kong. While the beach is home to an upmarket residential area, it's also one of the most popular areas in Hong Kong for dining, family picnics, sunbathing, and water sports.
This crescent-shaped beach is fronted by clear blue waters, with moderate temperatures year-round. The soft sands make for pleasant strolls in the early mornings and cooler days, while summertime sees crowds of sunbathers on the beach.
地点: Beach Road, Repulse Bay, Hong Kong Island
照片来源:Wing1990hk (CC BY-SA 3.0) 已修改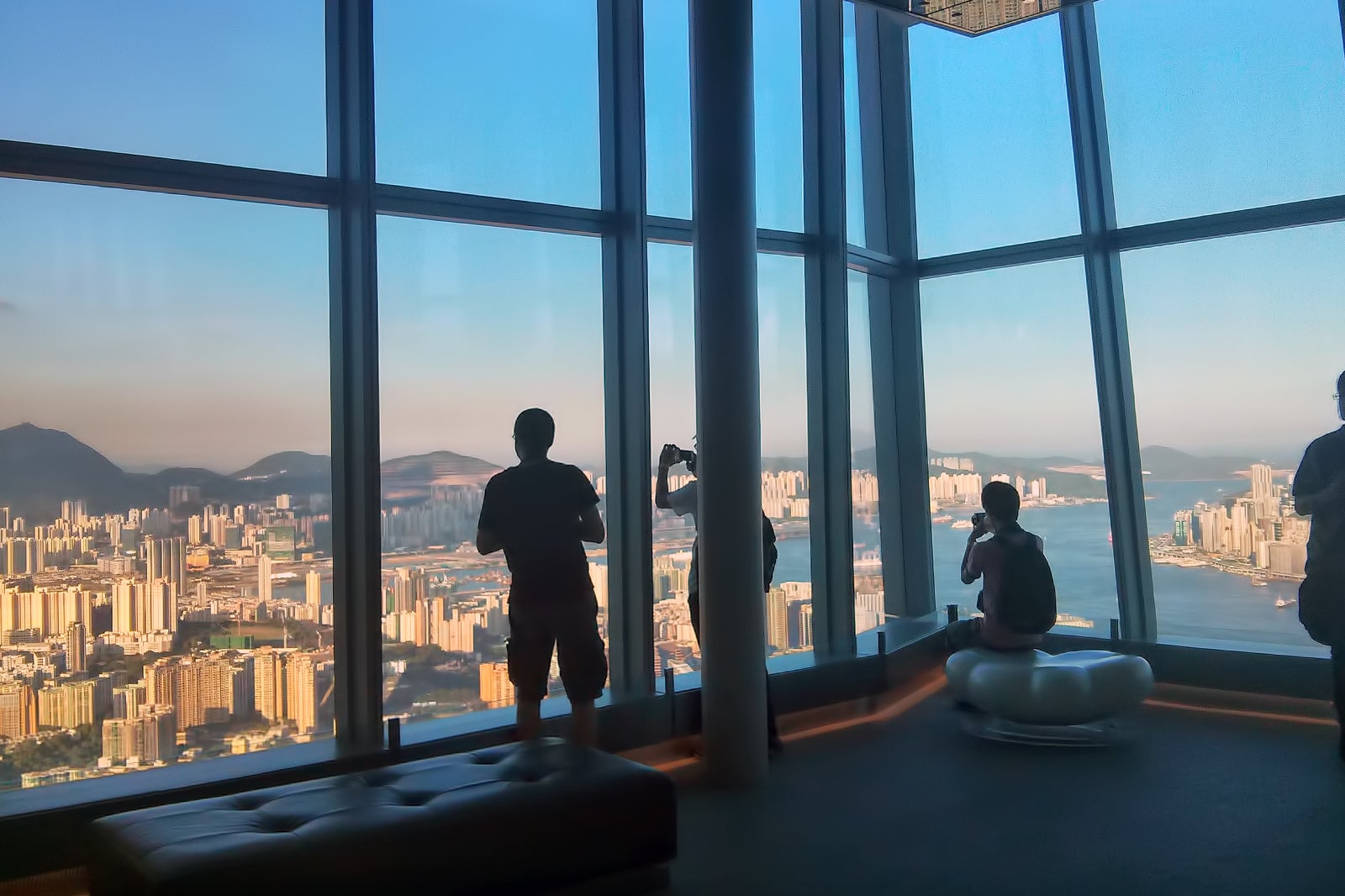 Sky 100 Hong Kong is a viewpoint on the 100th floor of the International Commerce Centre (ICC). While it's fully indoors, you'll be able to enjoy incredible panoramic views of Hong Kong Island, Kowloon and the sprawling suburbs of the New Territories.
Standard tickets cost around HK$188 (HK$169 for online booking) per adult and HK$128 (HK$115) per child between 3 and 11 years old. Couples who prefer to visit the observation deck in the evening can opt for Sky 100's Night Package for 2, which costs HK$240 (online booking only).
地点: 100/F, International Commerce Centre, 1 Austin Road West, Kowloon, Hong Kong
开放时间: Sunday–Thursday from 10am to 9pm, Friday–Saturday from 10am to 10.30pm
电话: +852 2613 3888
照片来源:Staeiou (CC BY-SA 3.0) 已修改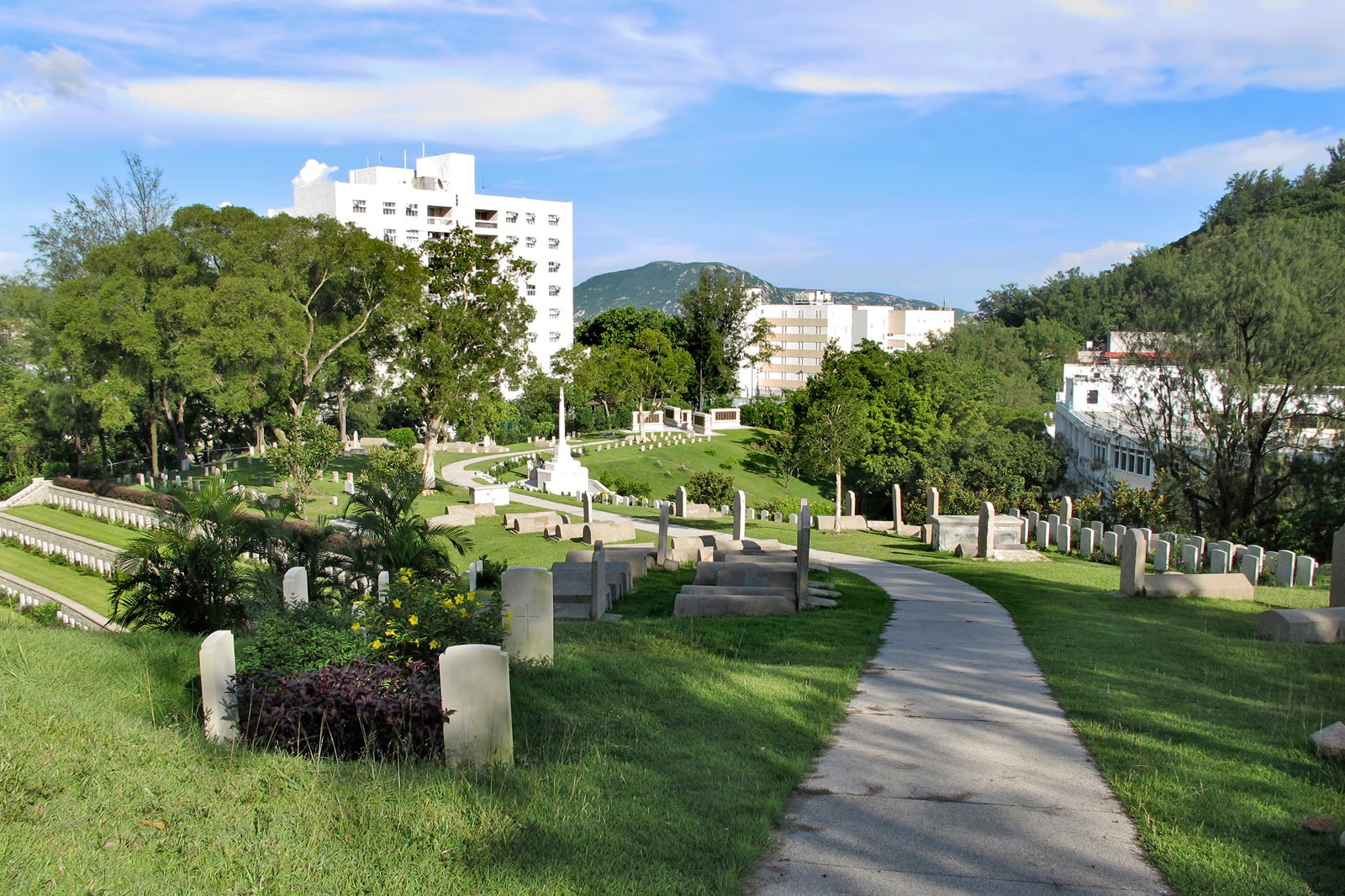 Stanley Military Cemetery
The Stanley Military Cemetery is a colonial-era site near St. Stephen's Beach in Stanley. Between 1841 and 1866, this plot of land was used to bury deceased British soldiers and their families, though the site also served as the final resting place for those who lost their lives during World War II.
Hundreds of white tombstones dot the green space, many of which don't contain the names of the deceased. You can explore the Stanley Military Cemetery for free – enjoy beautiful views of surrounding hills and trees, as well as the South China Sea.
地点: Wong Ma Kok Road, Stanley, Hong Kong
开放时间: Daily from 8am to 5pm
照片来源:WiNG (CC BY-SA 3.0) 已修改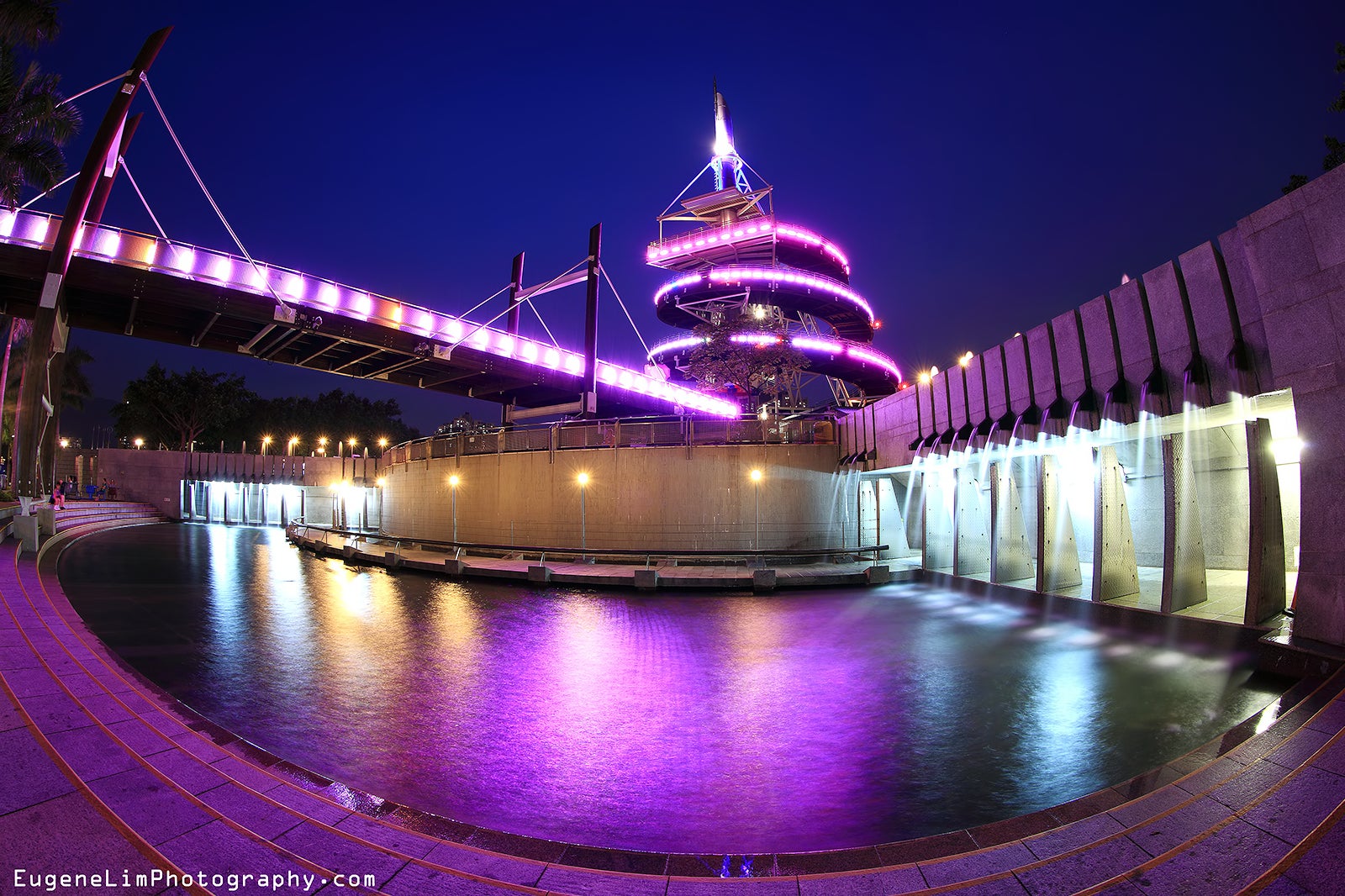 Tai Po Waterfront Park covers an area of 22 hectares in the New Territories, making it one of Hong Kong's largest parks. Onsite facilities include a 32.4-metre spiral staircase lookout tower with telescopes for you to check out the surrounding high-rises.
The park also has a 1.2-km-long promenade, gardens, sitting areas, and a 600-seat amphitheatre. You can also enjoy some outdoor activities at Tai Po Waterfront Park – there's a cycling track along Tolo Harbour, along with a jogging trail dotted with exercise stations.
地点: Dai Hei Street, Tai Po, New Territories, Hong Kong
开放时间: Daily from 8.15am to 11.45pm
电话: +852 2664 2107
照片来源:Eugene Lim (CC BY 2.0) 已修改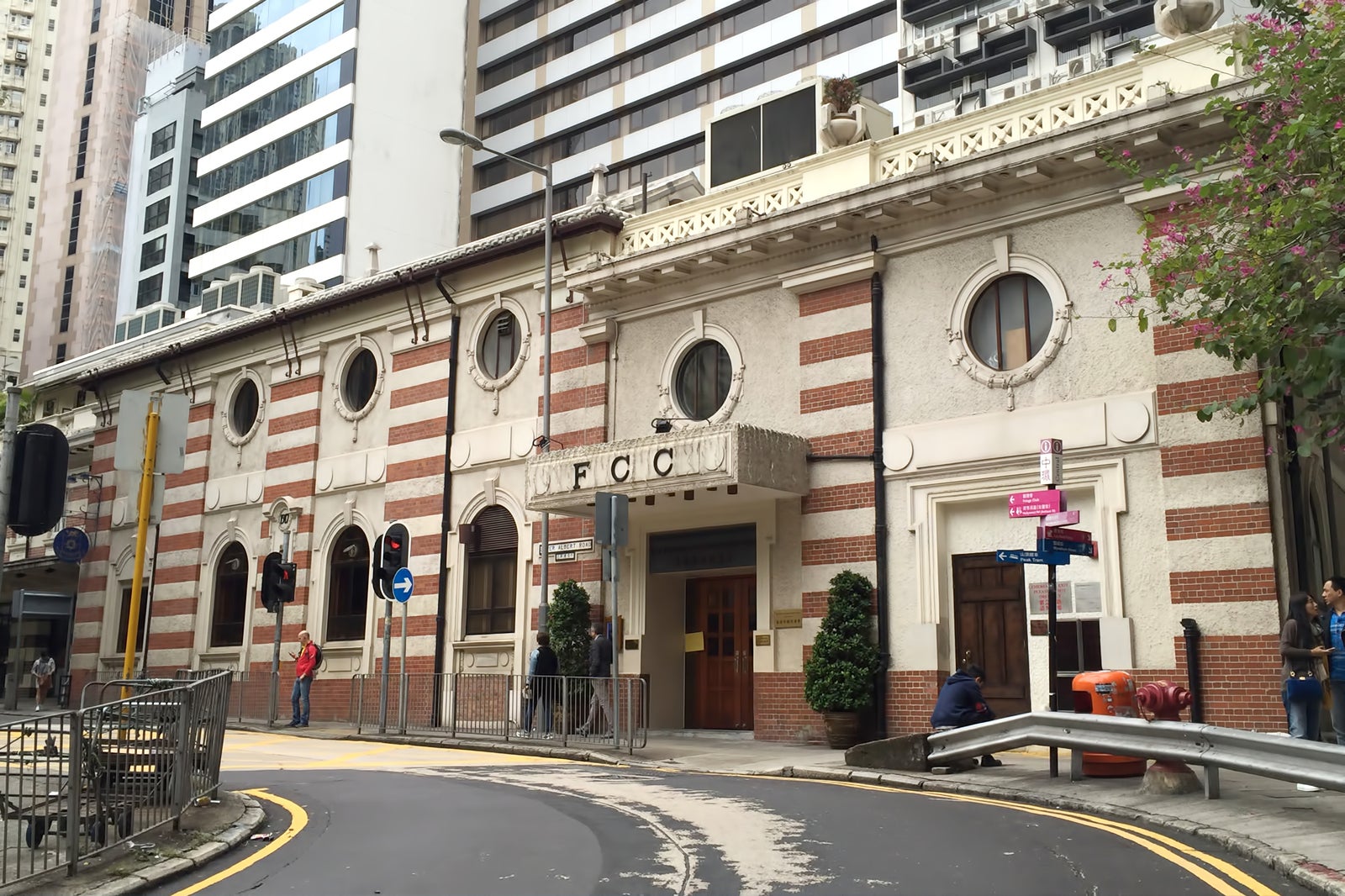 The Fringe Club & The Foreign Correspondents' Club
Fringe Club is a brick and stucco colonial-style structure dating back to 1913. Originally was used as a cold-storage warehouse for ice and dairy products, it's one of Hong Kong's most popular venues for art and crafts exhibitions, live theatre and music. The building also features a rooftop beer garden and a cosy restaurant.
Located next to Fringe Club is the Foreign Correspondents' Club (FCC), a popular social and intellectual space, where journalists and photographers rendezvous with businessmen, bankers, authors and artists.
地点: Central, Hong Kong Island, Hong Kong
照片来源:Smuconlaw (CC BY-SA 4.0) 已修改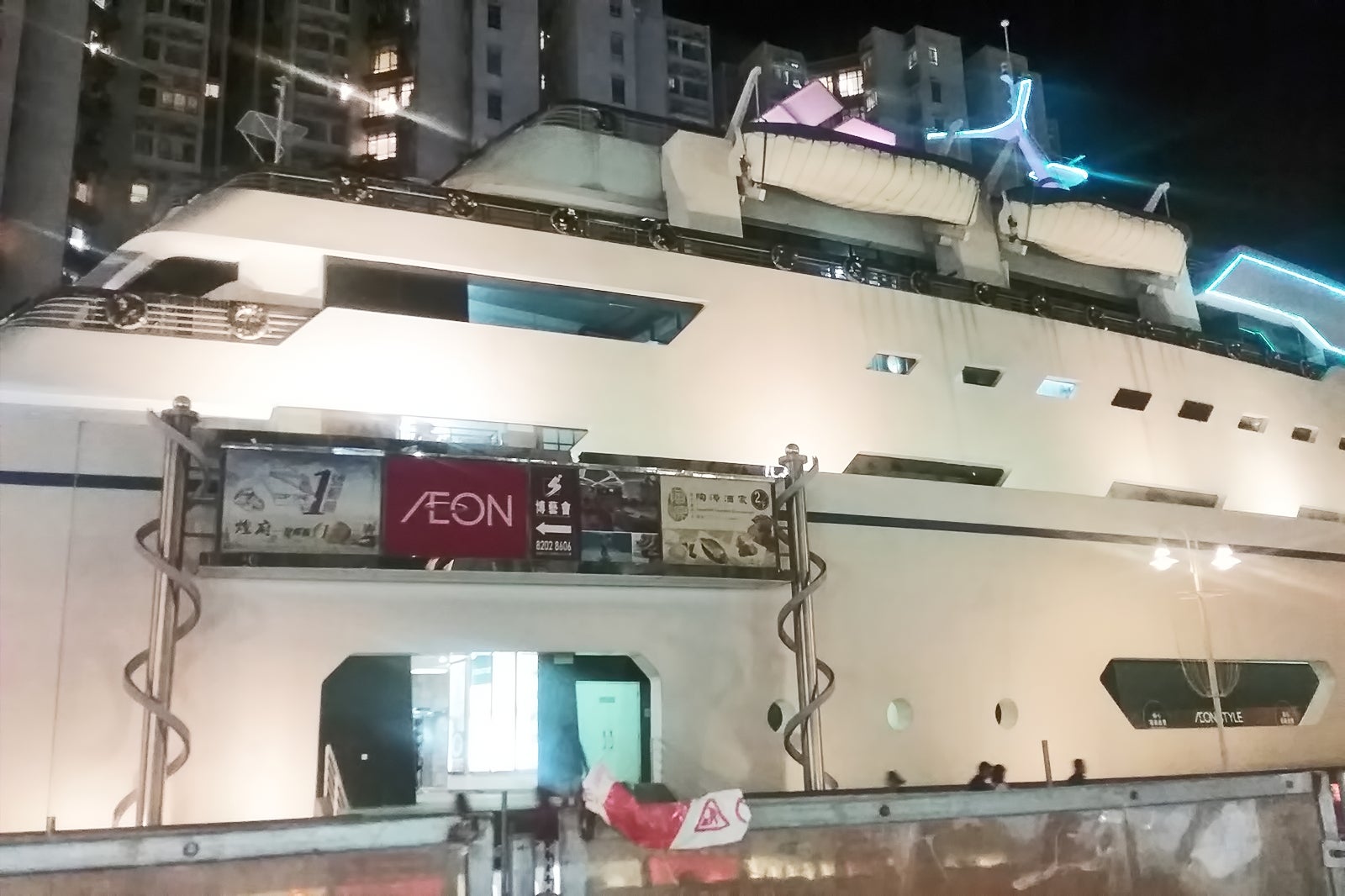 The Whampoa Hong Kong is a ship-shaped entertainment centre and shopping complex anchored in Whampoa Docks. It spans almost 110 metres in length, and houses department stores, 300 shops and restaurants, as well as a small theme park.
The Whampoa Hong Kong offers great views of Kowloon and Victoria Harbour. You can get to this unique shopping mall by ferry to the Hung Hom Ferry Pier.
地点: 10 Shung King St, Whampoa Garden, Hong Kong
开放时间: Daily from 10am to 10pm (hours may vary)
电话: +852 2121 8344
照片来源:LAW minga Whaiso (CC BY-SA 4.0) 已修改