14 Best Local Restaurants in Bali
Best Restaurants Serving Local Balinese Cuisine
Among the most popular local places to eat in Bali are warungs – simple roadside dining spots that often serve their own speciality cuisine. Some modern restaurants have borrowed and fused the word 'warung' into their name but the ones we've listed below are authentic and are more focused on serving (oftentimes cheap) local food.
These selections offer a break away from Bali's trendy and upscale restaurants. They're mostly budget options with no fuss about fancy interior design, silverware or cushioned chairs. If you don't mind getting in line and practising a bit of your Indonesian or Balinese, dining without air conditioning and often with toilet paper rolls for napkins, then you're in for an ultimate local dining experience in Bali.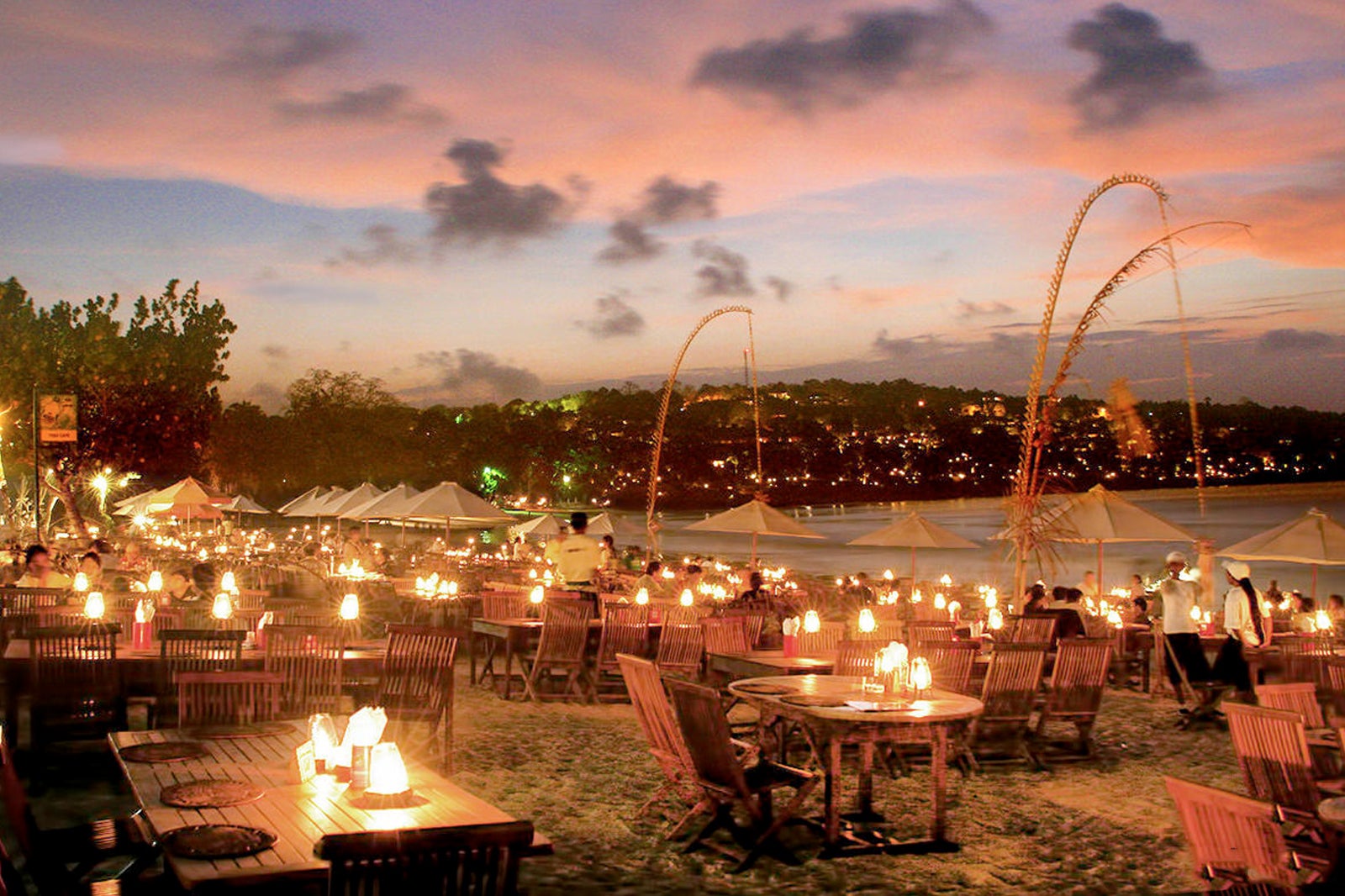 Jimbaran seafood cafes
Sunsets and seafood galore
Whenever you're craving for some local style seafood in Bali, head to Jimbaran fishing village that's just south of the Ngurah Rai International Airport. It's home to one of the island's main panoramic beaches for enjoying a dinner against beautiful sunsets.
All restaurants offer menus focusing on seafood and some have live showcases where you can take your pick and have them cooked to your preferences with a selection of barbecue sauces. There are over a dozen seafood cafes to choose from with candlelit tables set out on the sand. Some offer expanded seafood selections such as barracuda, mahi-mahi and kingfish, while others have fried rice, chop suey and other western and Asian favourites on their menus.
地点: Jalan Four Seasons, Muaya Beach, Jimbaran, Badung, Bali 80361, Indonesia
开放时间: Daily from 3pm to 11pm (hours may vary)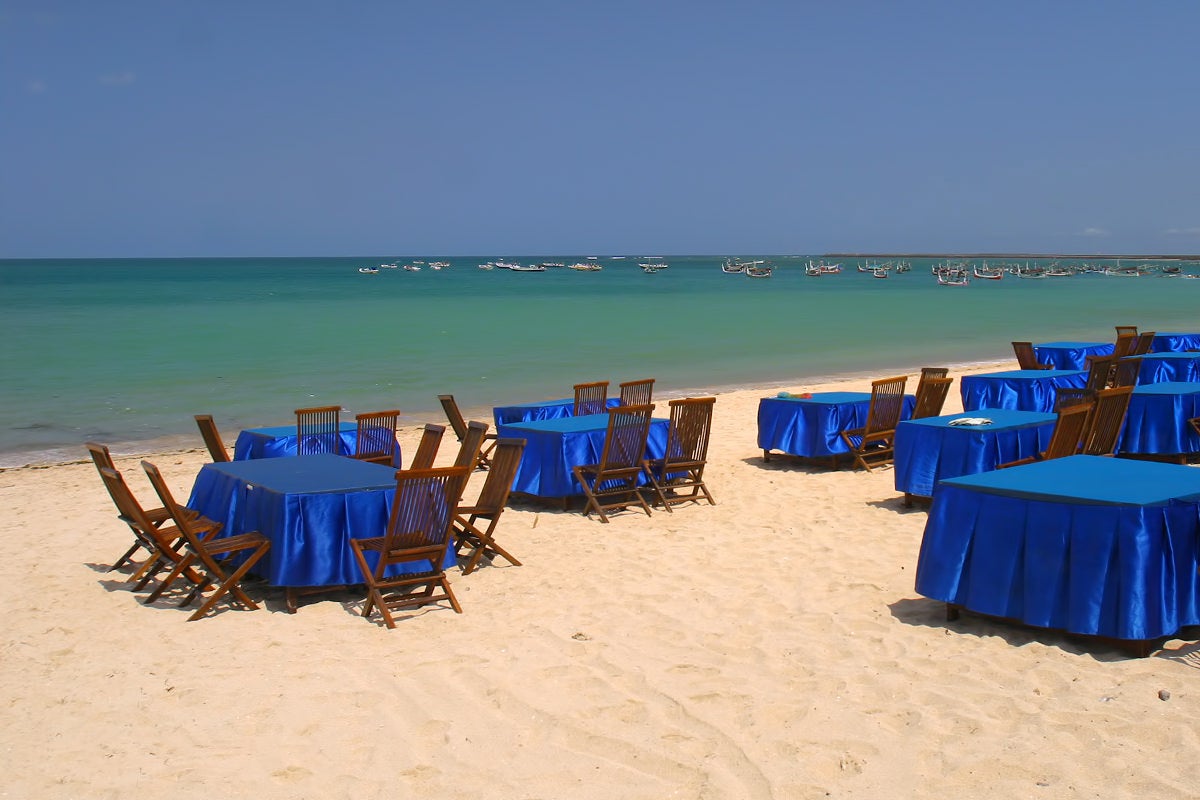 Kedonganan seafood restaurants
Finer seafood restaurants north of Jimbaran
The Kedonganan seafood restaurants line the coastal stretch just south of the traditional fishing village in Kedonganan. There are over a dozen different 'seafood cafés' to choose from. Pick one restaurant that suits your preference (you can check out each of their table setups along the beach), and see their live displays and the fresh seafood available.
Some of the restaurants feature live dance or music performances, ranging from bands on stage or strolling from table to table, to traditional Balinese dancers complemented by a bamboo orchestra. These restaurants have an incredibly varied selection of seafood on offer, but popular dishes include grilled lobster or crab, served with steamed rice, sautéed water spinach and Jimbaran-style sambal sauces and dips on the side.
地点: Jalan Pantai Kedonganan, Jimbaran, Badung, Bali 80361, Indonesia
开放时间: Daily from 4pm to midnight (hours may vary)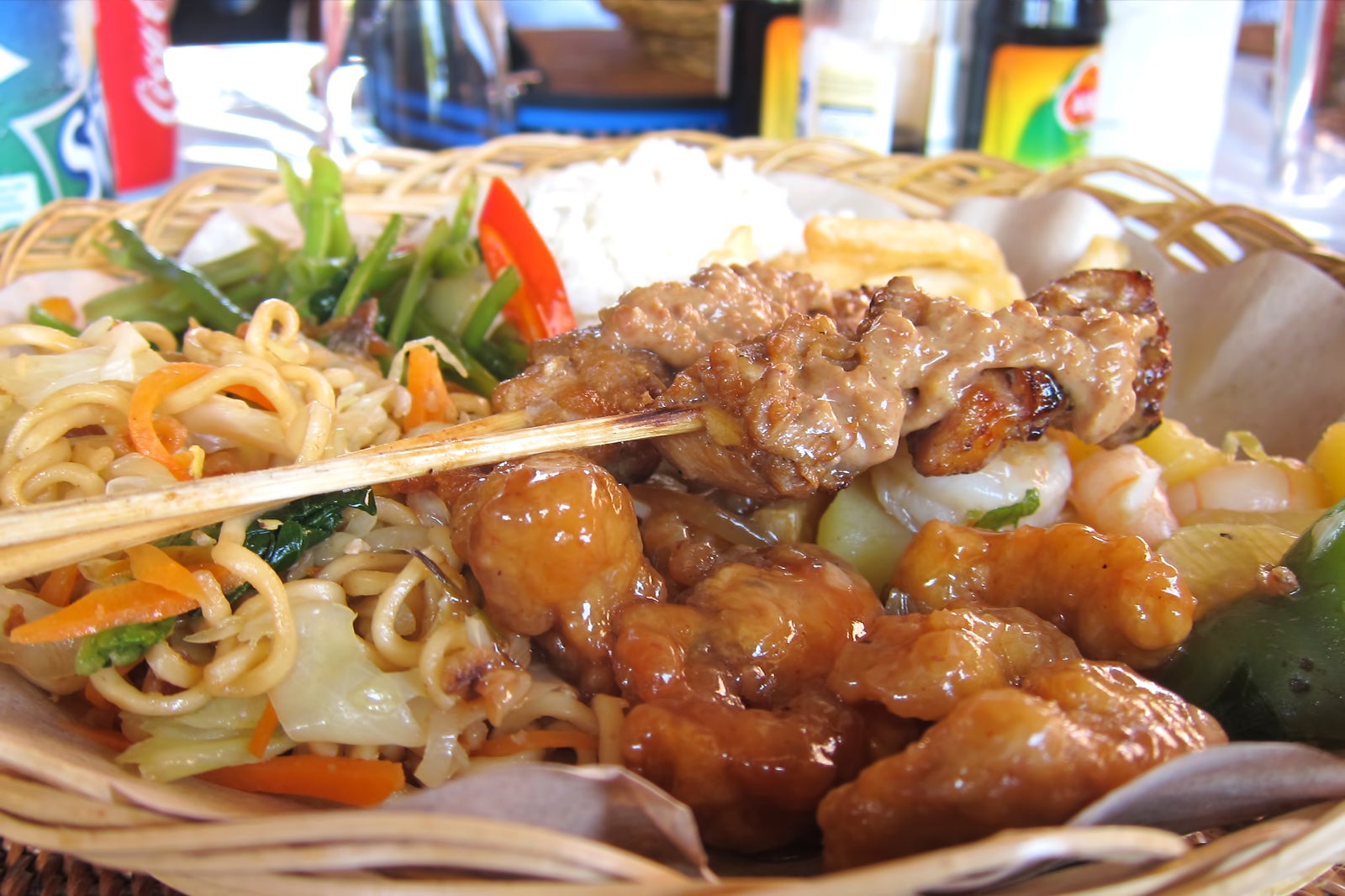 Rumah Makan Kedaton Kuta
Varied Balinese dishes to choose from
Rumah Makan Kedaton has many branches throughout Bali and is where you can enjoy an upgraded version of a warung. The restaurant typically gets busy during lunch hours when locals working in nearby offices or hotels either rush in for a dine-in spot or queue up for takeaways.
The common serving is nasi campur mixed rice plate, in which you can pick from many different meats and salads, and satays and fish from the glass display to add up to your plate. The end mix is checked at the counter and added to your bill. It's a great way to experience the variety of one of Bali's most iconic and popular dishes.
地点: Jalan Raya Kuta No.62/3, Kuta, Badung, Bali 80361, Indonesia
开放时间: Daily from 8am to 9pm
电话: +62 (0)361 763712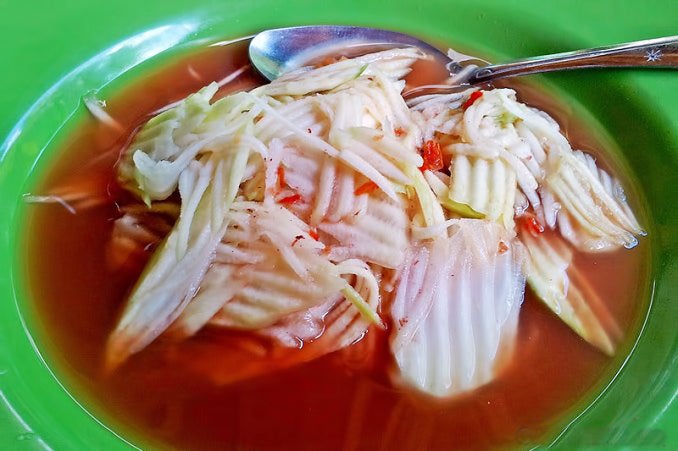 Warung Rujak Gula Bali
A traditional Balinese snack haven
Warung Rujak Gula Bali serves varieties of traditional Balinese favourites. Among them is rujak, a fruit salad that comes in different types but with typically spicey characteristics.
Other delicacies are tipat cantok, bulung or seaweed salad served with thin fish stock, and numerous Balinese desserts such as kolak or sweet gelatinous boiled bananas, bubur sumsum smooth rice porridge, daluman glass jelly drinks, and mashed steamed cassavas served with thick palm sugar-infused coconut milk.
地点: Jalan Merdeka Raya VI No.11, Kuta, Badung, Bali 80361, Indonesia
开放时间: Daily from 8.30am to 5.30pm
电话: +62 (0)821 4596 4892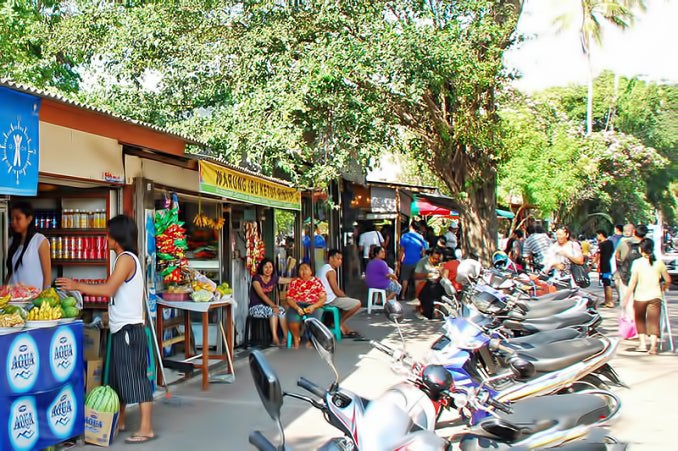 Warung Nasi Bali Men Weti
Until noon only
Warung Nasi Bali Men Weti on Pantai Segara in Sanur is where weekending locals and holidaying Jakartans love to brunch – on spicy nasi campur mixed rice. Right by the coast, this simple warung has wooden benches and chairs around the footpath.
A plate commonly comprises Bali spiced roast chicken called betutu, deep-fried crispy chicken skin, Balinese chicken sate lilit or wrapped satay, spicy chicken soup, half egg topped with hot tomato sambal, blanched cassava leaves, shredded coconut lawar mix, fried peanuts and a special sambal dip that consists of sliced shallots, chilli and salt. You'll also have other selections of seafood to choose from. The warung often closes by noon.
地点: Jalan Segara Ayu, Sanur, Denpasar, Bali 80228, Indonesia
开放时间: Daily from 7am to 10am (hours may vary)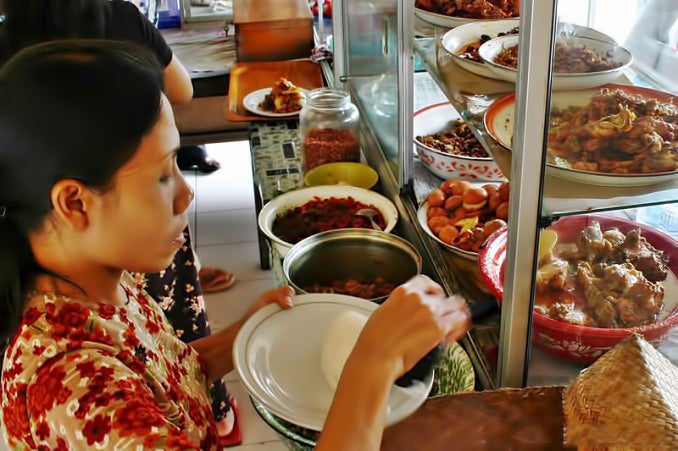 Nasi Ayam Kedewatan
A local favourite in the Ubud outskirts
Nasi Ayam Kedewatan Bu Mangku is a favourite lunch spot among drivers, guides and staff of the neighbouring hotels in Kedewatan. It serves nasi ayam or chicken rice, a similar dish to nasi campur. Expats and visitors also frequent the spot after getting an acquired taste of the dish.
The place is clean and the Balinese owners have upgraded their venue to feature cosy and homey setups on their own traditional Balinese household compound. You won't find this kind of authentic atmosphere elsewhere. Your standard rice dish consists of sauced chicken strips, deep-fried crackling entrails, half pindang or sweet-boiled eggs, chicken satay, stir-fried snake beans in shredded coconut and the optional spicy chilli sambal dip.
地点: Jalan Raya Kedewatan No.18, Kedewatan, Gianyar, Bali 80571, Indonesia
开放时间: Daily from 8am to 6pm
电话: +62(0)361 974795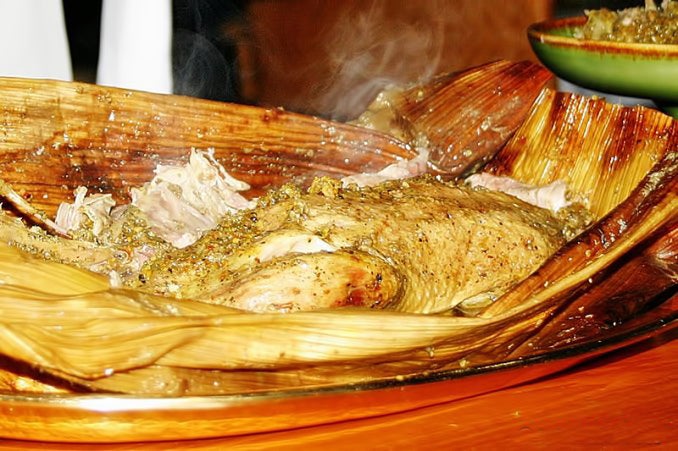 Ayam Betutu Gilimanuk
Juicy, slow-cooked chicken and duck
Ayam Betutu Gilimanuk serves chicken or duck, stuffed, marinated and wrapped in banana leaves with rich Balinese spices, then slowly cooked covered in coal for hours. The meat is succulent and easily slips off the bone. The main ingredients include almost all the spices known in the Balinese kitchen: chilli, pecans, onions, lemongrass, galangal, nutmeg, turmeric, lime leaves, ginger and coriander, a bit of sugar and salt, and other few variations – extremely spicy, so beware!
There are many other Balinese delights on the menu that you can also try, such as crispy fried paddy eels, lawar and traditional ares soup. After this fiery experience, you'll find relief in their soothing coconut ice creams.
地点: Jalan Raya Tuban No.2X, Tuban, Badung, Bali 80361, Indonesia
开放时间: Daily from 8.30am to 10pm
电话: +62 (0)361 757535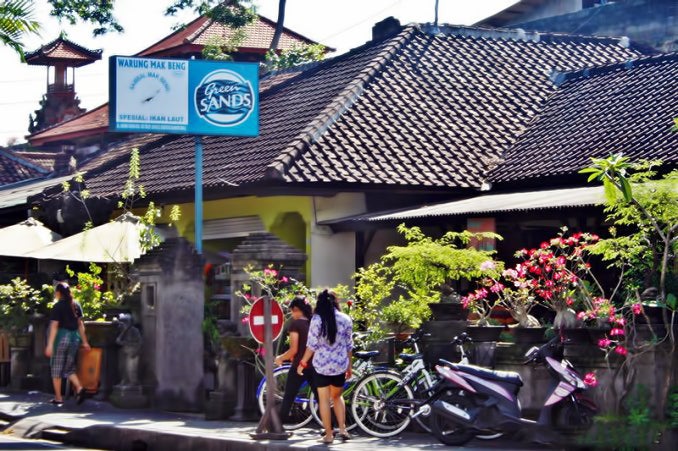 Warung Mak Beng
Legendary fish soup from Sanur
For a typically Balinese bouillabaisse, or sop ikan locally, head to Warung Mak Beng in Sanur that serves rice dishes regularly with their tasty soup made from daily caught fish. It opens late and closes early and offers a limited menu of fish soup, fried fish and an assortment of sambal chilli dips. The stock used is a spicy infusion, served hot. If that's too much for you to handle, go for the fried selections.
The queue usually gets long during lunchtime, and don't be surprised to see people waiting for others before them to finish. The high spiciness levels match its sometimes hot setting – no air conditioners, only fans and seaside breezes.
地点: Jalan Hang Tuah No.45, Sanur, Bali 80227, Indonesia
开放时间: Daily from 8am to 10pm
电话: +62 (0)361 282633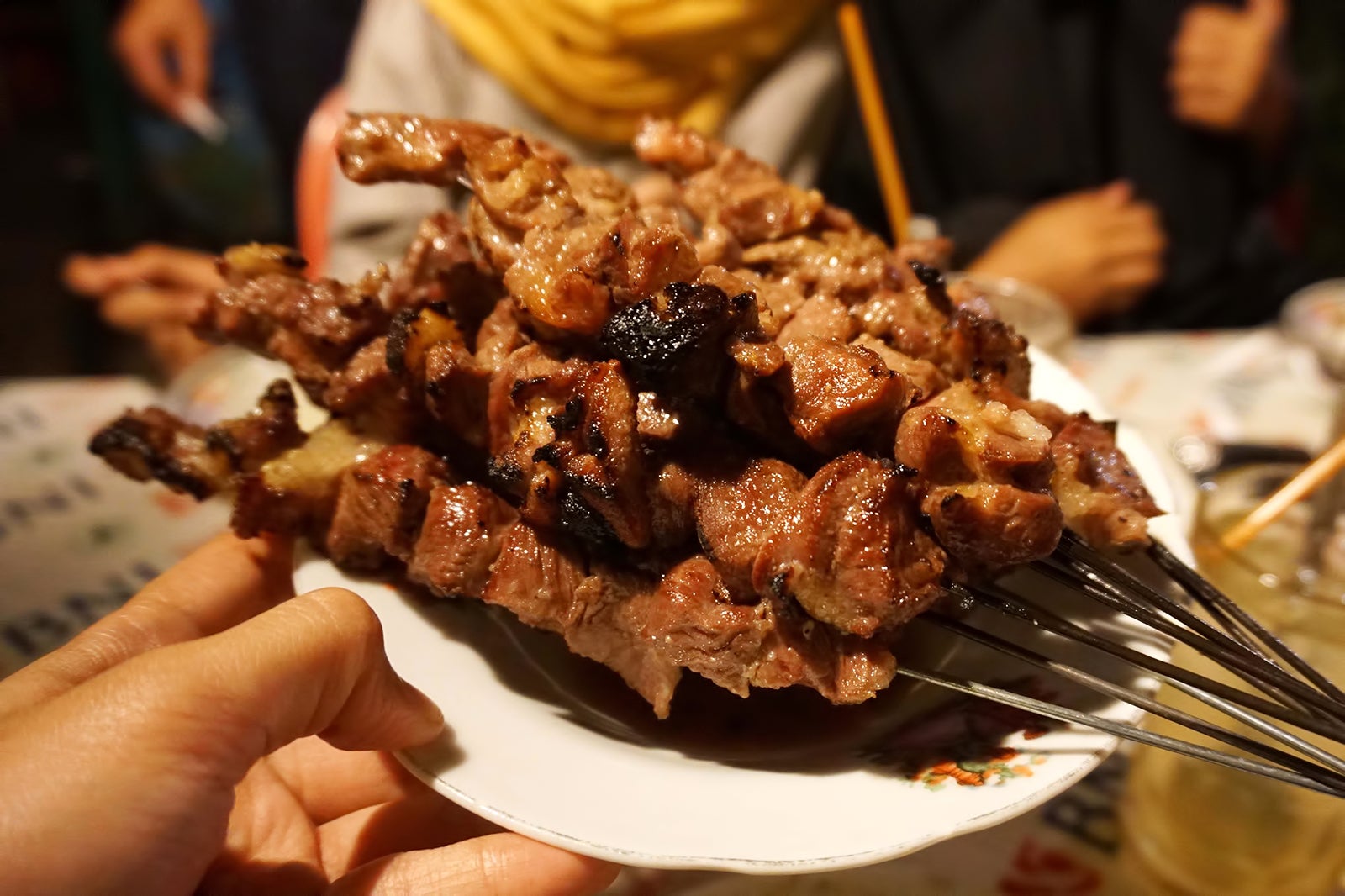 Sate Plecing Arjuna
A different kind of satay
Sate Plecing Arjuna offers satays galore, run by a Balinese family of Hokkien-Chinese descent who owe their success to a secret family recipe. This little warung on the corner of Jalan Arjuna in Denpasar always seems to be packed with diners during lunchtimes and over the weekends, with others patiently queuing for the next vacant table.
The little warung has become a Denpasar legend, with humble beginnings decades ago. What makes it special is the type of sauces it presents the satays with, namely a thin dash of soy and a blend of chillies, mixed together to form a sweet and spicy sauce. Servings of satays come with a plate of steamed rice and a bowl of meatball soup.
地点: Jalan Arjuna No.47, Dauh Puri Kaja, Denpasar, Bali 80232, Indonesia
开放时间: Daily from 9am to 4.30pm
电话: +62 (0)878 6778 9002
Babi Guling Pak Malen
Bali's favourite roast pig
Babi Guling Pak Malen is one of the best choices for the local-favourite spit-roast pig known as babi guling. Right on the traffic light corner of Seminyak's Sunset Road, Pak Malen has become a landmark for hungry diners. It can get very busy at lunchtime. You'll see the main display of the usual roast pig together with all the succulent trimmings.
Your plate comes with a serving of steamed rice, surrounded by pork meat and crispy crunchy skin (the best part!), pork satay and succulent sayur urap – snake bean and shredded coconut salad mix. They usually have everything sold out by the early afternoons.
地点: Jalan Sunset Road No.554, Seminyak, Badung, Bali 80361, Indonesia
开放时间: Daily from 8.30am to 7pm
照片来源:Rollan Budi (CC BY-SA 2.0) 已修改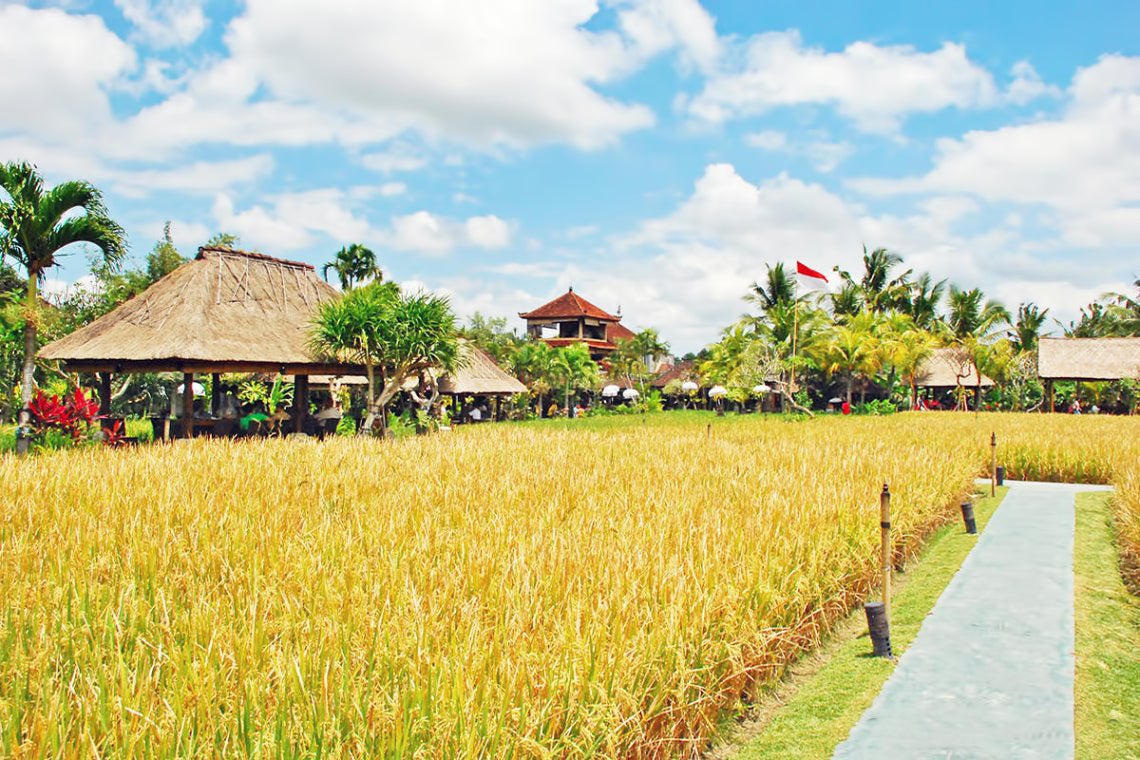 Bebek Tepi Sawah
A more refined Balinese dining experience
For some scenic dining among rice paddies and with a selection of authentic Balinese dishes, try Bebek Tepi Sawah Restaurant up in Peliatan, on the outskirts of Ubud. The restaurant adjoins the Bebek Tepi Sawah Villas and comprises a privately-owned rice field that's dotted with several raised thatched roof bamboo pavilions in different sizes. These can accommodate groups of varying sizes and there are even smaller corners for candlelit dinners.
You can enjoy a scenic lunch or a soothing dinner when the rice fields are lined with oil torches and when nature sounds blend with live tunes of traditional Balinese gamelan. Speciality dishes include crispy fried duck and smoked chicken served with stir-fried water spinach and sambal chilli sauce.
地点: Jalan Raya Goa Gajah, Banjar Teges, Peliatan, Ubud, Bali 80571, Indonesia
开放时间: Daily from 10am to 10pm
电话: +62 (0)815 5807 0210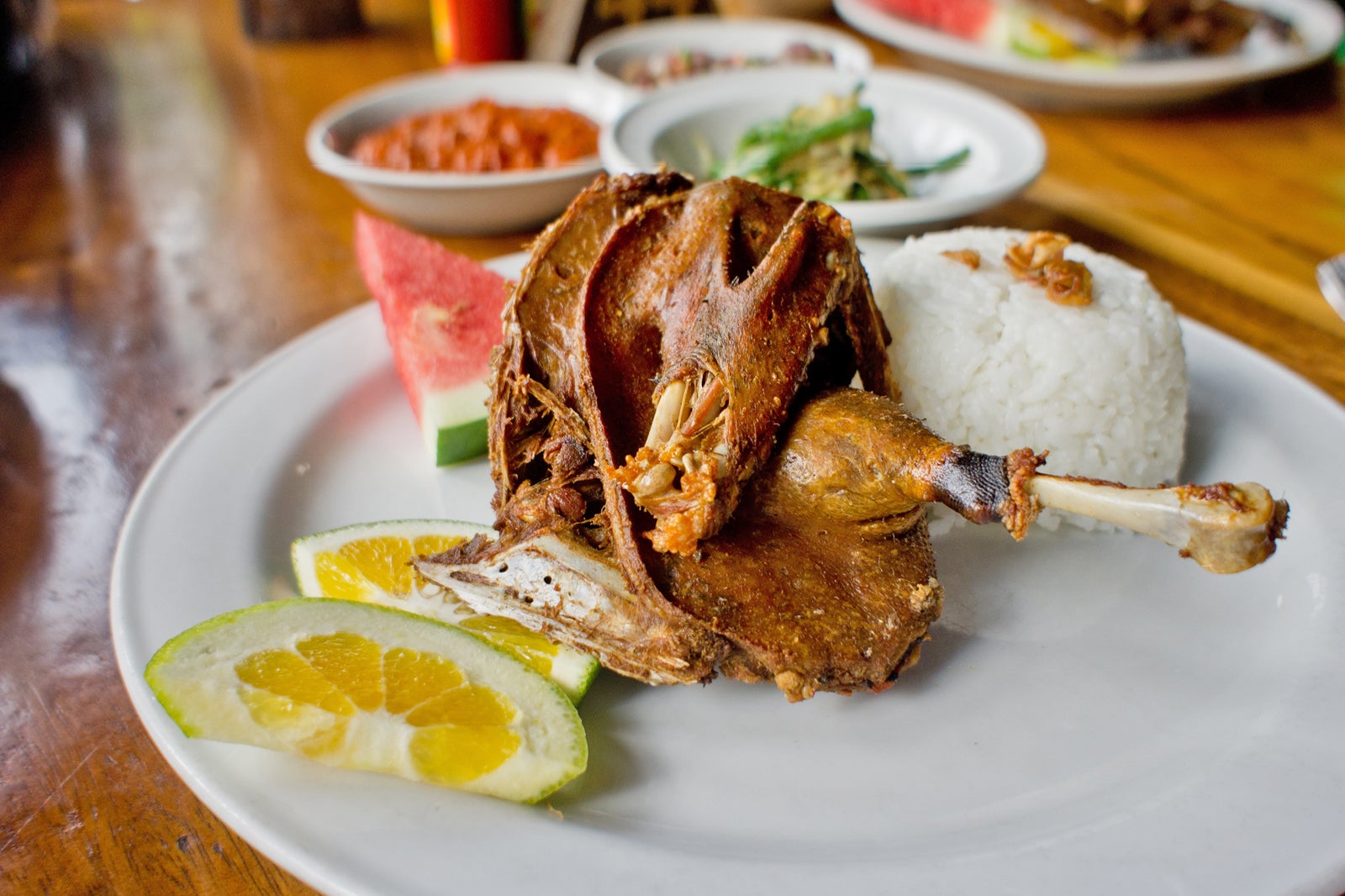 Bebek Bengil
One of Ubud's local dining hotspots
Also fondly known as the Dirty Duck Diner, Bebek Bengil is one of central Ubud's well-known and longstanding restaurants. It offers a speciality dish that it calls 'Bali's original crispy duck since 1990'. Here, you can also enjoy a range of satay selections as well as smoked duck and chicken that you must order a day in advance with your booking. Be seated indoors or out on breezy pavilions with views over green paddies.
The menu also lets you dive into a great selection of international and Indonesian dishes, too. A standard serving of the signature duck dish usually comes with a choice of sautéed potatoes and a side salad or steamed white or yellow (turmeric-infused) rice and Indonesian vegetables.
地点: Jalan Hanoman, Padang Tegal, Ubud, Gianyar, Bali 80571, Indonesia
开放时间: Daily from 10am to 10pm
电话: +62 (0)361 975489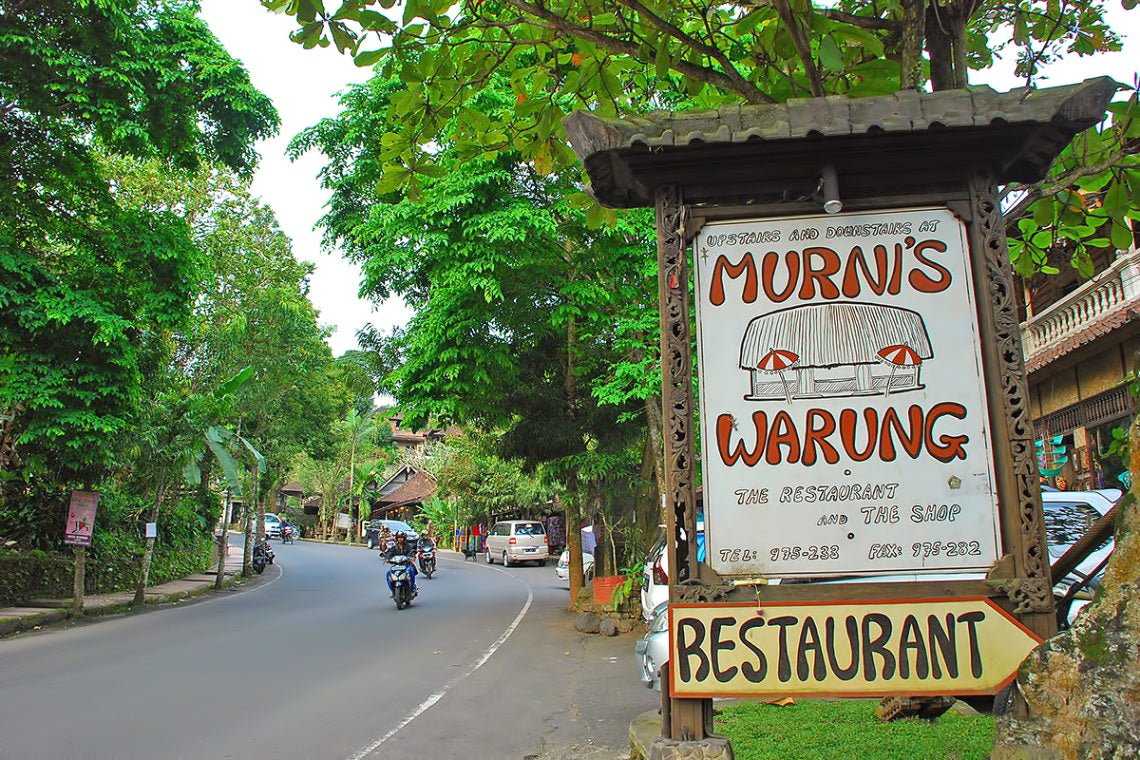 Murni's Warung
An Ubud classic
Murni's Warung served Ubud's earliest international visitors since the 70s. It continues to serve great local coffee and traditional Balinese cuisine today. The main dining area overlooks a small valley. You can easily spot the warung and its adjoining antique shop right near the Campuhan bridge.
A must-try at Murni's is its rendition of bebek betutu, Bali's popular slow-smoked and juicy duck, which is served with fragrant turmeric rice and traditional Balinese urap fresh salad mix. For a truly refreshing drink, go natural with young coconut and lime juice. A lounge bar on the second level, surrounded by exotic antiques, offers some great cocktail selections with the view.
地点: Jalan Raya Campuan, Ubud, Gianyar, Bali 80571, Indonesia
开放时间: Daily from 8am to 11pm
电话: +62 (0)361 975233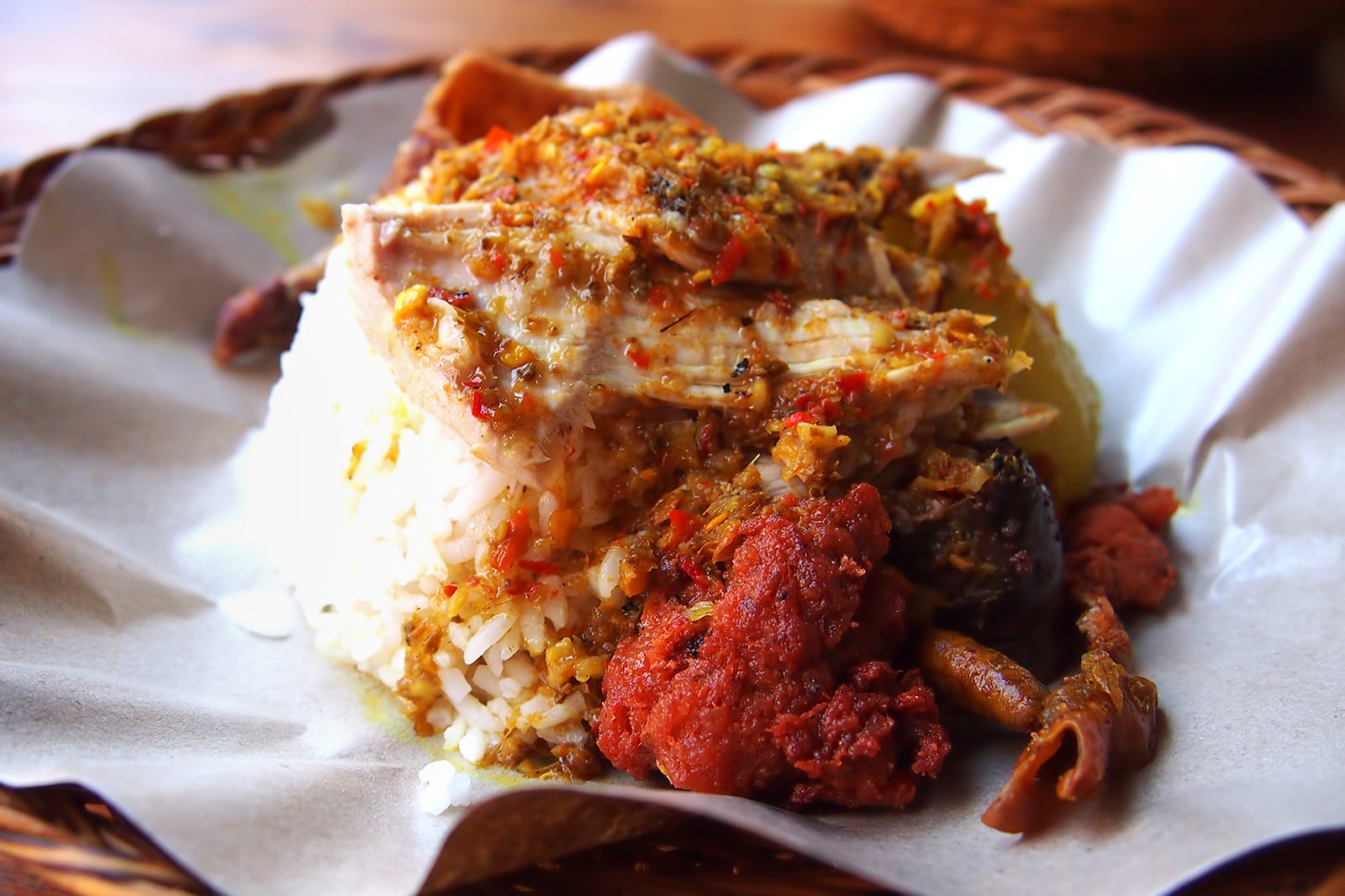 Babi Guling Ibu Oka
A local, all-time favourite
Warung Babi Guling Ibu Oka is a local warung enterprise in Ubud that serves Balinese roast pig, babi guling. It's quite small yet seems always packed during lunchtime. You can easily find it right behind the banjar or community hall and across the road from Ubud's Puri Saren royal palace.
Fondly referred to as simply Warung Ibu Oka, it only serves one dish – a woven plate of rice topped with strips of juicy roast pork, lawar (a mixture of shredded vegetables, coconut and chillies), some fried urutan or blood sausages and a wedge of crackling pig skin that's usually the most favoured bit. Prices can be relatively high for a warung, all thanks to its high popularity.
地点: Jalan Suweta No.1, Ubud, Gianyar, Bali 80571, Indonesia
开放时间: Daily from 11am to 3pm
电话: +62 (0)361 976345