11 Best Things to Do in Bologna
What's Bologna Most Famous For?
Bologna is famed as a foodie's paradise. It's the capital city of the Emilia-Romagna region where some of Italy's well-known pasta dishes, meats, cheeses and wines come from. But it also offers a wealth of historical and cultural sightseeing – none more so than its impressive 38 kilometres of Middle Age historical porticoes as listed by UNESCO.
Most of Bologna's basilicas and piazzas are downtown, navigable by foot via a network of walking streets. From Piazza Maggiore, climb up Asinelli Tower for panoramas over the city. Window shop through the Quadrilatero, or follow the aroma of freshly baked goods to historical markets where you can also sample Mortadella, among Bologna's prized cured meats. Be it for pleasing the eyes or taste buds, this will get you discovering the best of Bologna.
What are the best things to do in Bologna?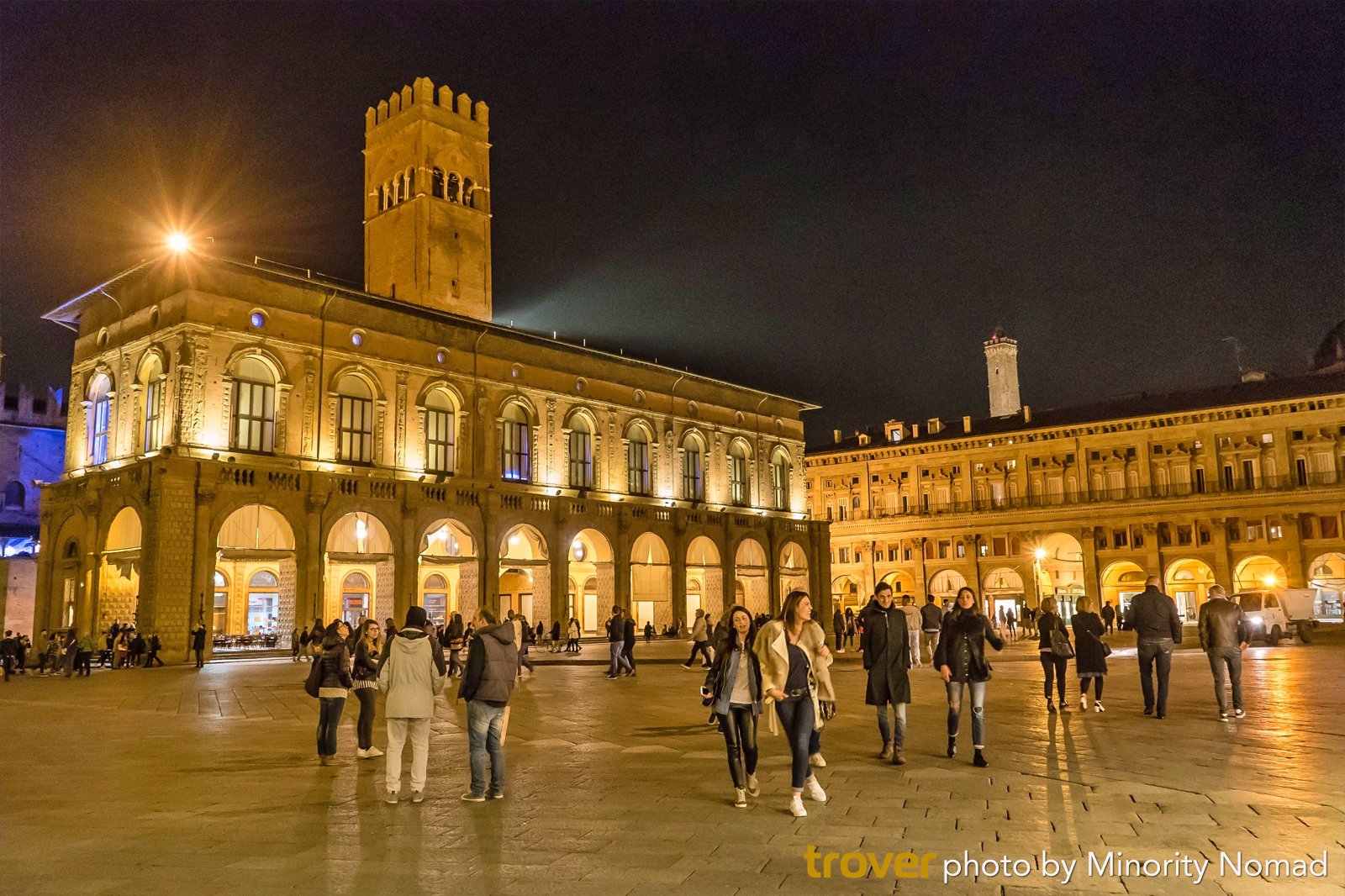 Start Your Day at Piazza Maggiore
Stand inside the Crescentone for immersive views
Enjoy your first glimpse of Bologna at the city's main square, Piazza Maggiore. The piazza is buzzing with pedestrians and surrounded by grand Renaissance buildings like the majestic San Petronio Basilica and Palazzo dei Banchi. In the summer, its rectangular platform known as the Crescentone is usually laid out with seats before a huge screen, transforming it into a grand open-air cinema. Get to the square along Via Rizzoli, with a stop at the 16th-century Fountain of Neptune.
地点: Piazza Maggiore, Bologna, Italy
开放时间: 24 hours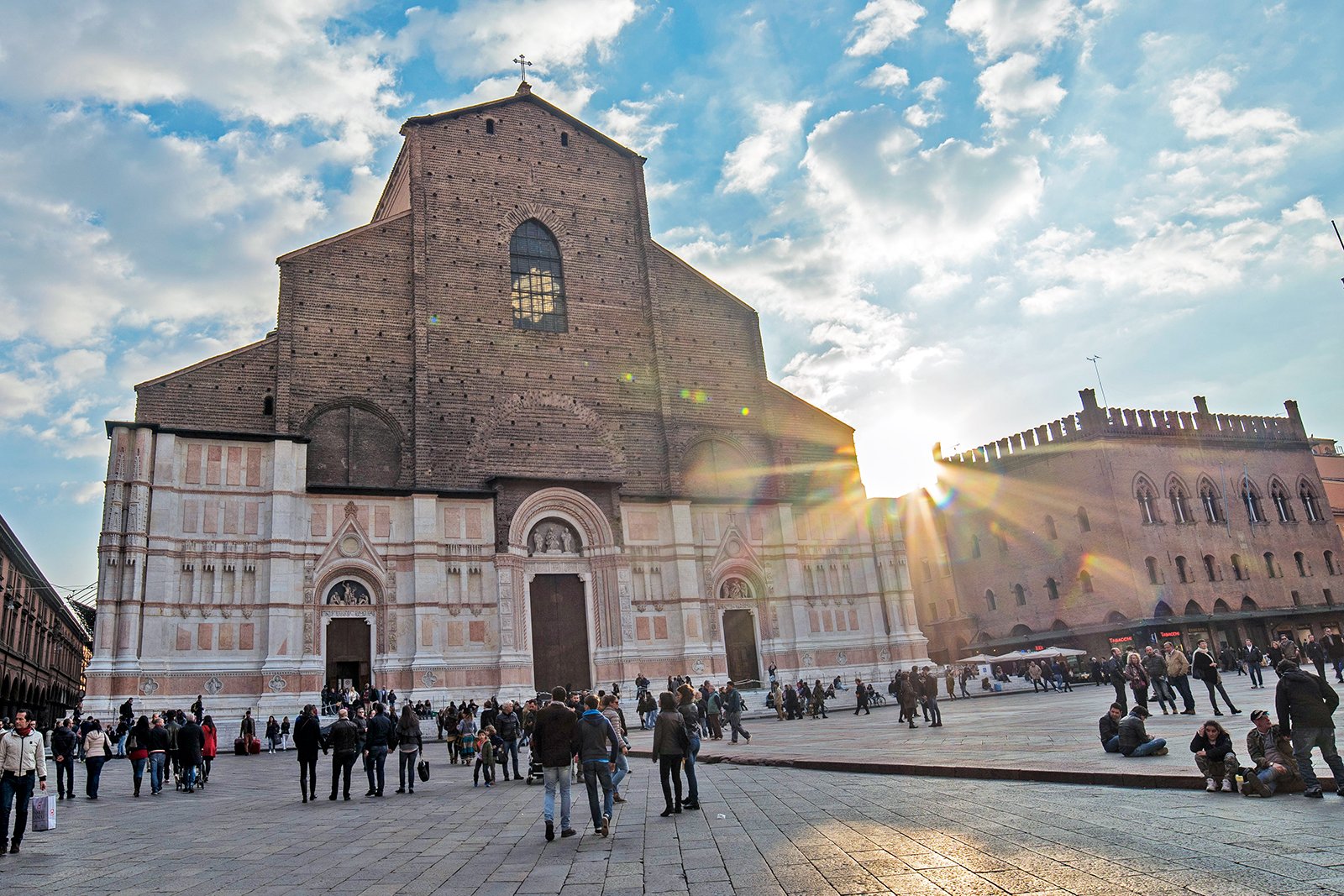 Must-See: Basilica di San Petronio
Home to Cassini's great meridian line
Right off the south side of Piazza Maggiore, you can visit one of Bologna's grand historical landmarks, Basilica di San Petronio. The marble façade of this 17th-century church is visibly half finished from its midsection up (it has remained so since olden times). Its sheer interiors comprise colourful and frescoed walls with high ceilings and stained-glass windows. Several naves are supported by large pillars, with its main altar under an elaborate ciborium. Don't miss Cassini's 67-metre-long meridian line, traced into the marble floor. The basilica is free to access but remember to dress appropriately.
地点: Piazza Galvani, 5, Bologna, Italy
开放时间: Daily from 7.45am to 6.30pm
电话: +39 (0)51 231415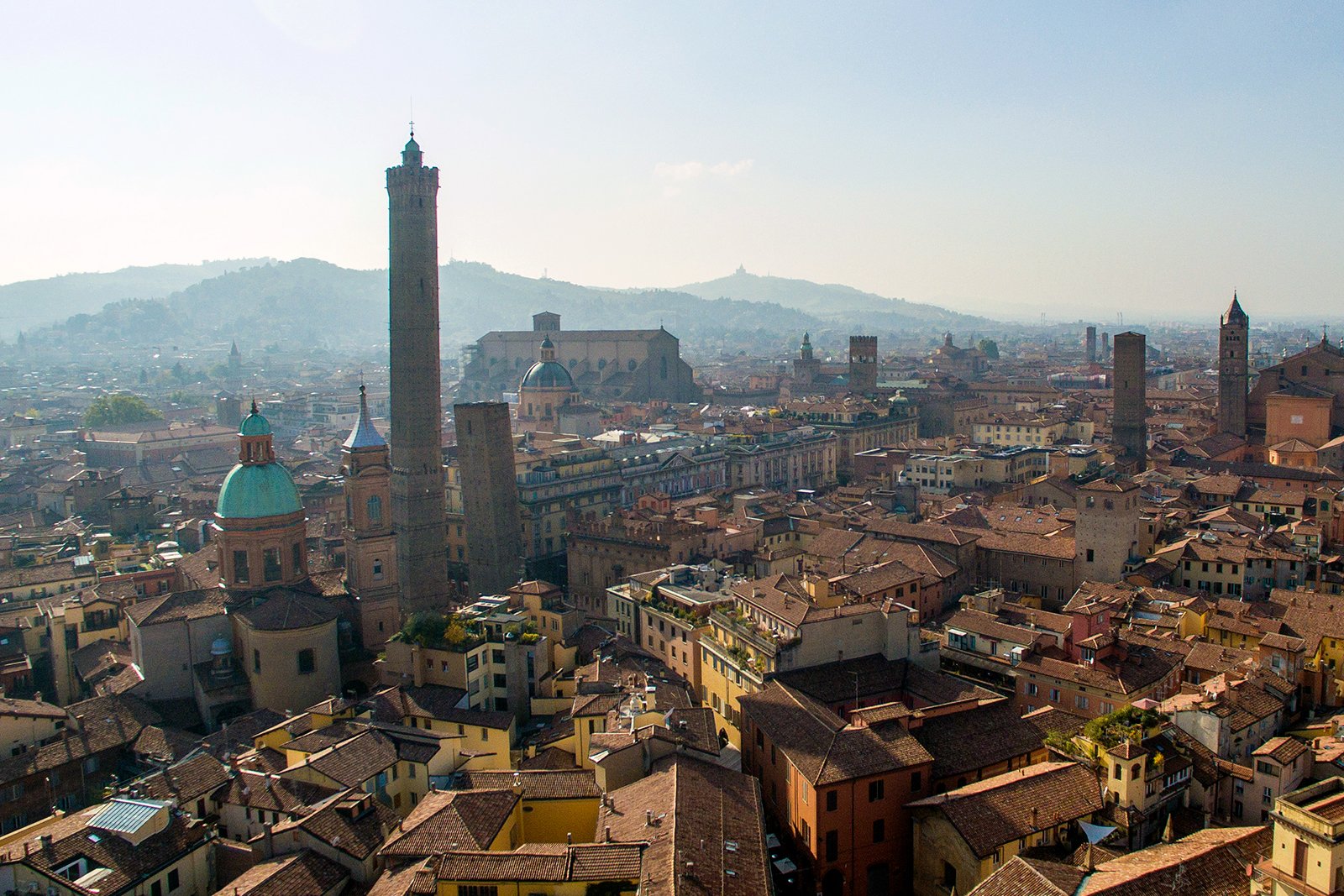 Climb Asinelli Tower
For superb panoramas over Bologna
Bologna's skyline features a collection of high-rising historical towers – the tallest being the Asinelli. Together with the nearby Garisenda Tower, they're referred to by locals as the city's Le Due Torri (Two Towers). They're around a 5-minute walk from Piazza Maggiore, from where you can pre-book your visit from the tourist office for around €5. You need to go up the 500 steps of Asinelli's spiralling staircase to reach the top. The effort's worth the prize view but make sure you're in good shape for the climb.
地点: Piazza di Porta Ravegnana, 40126 Bologna, Italy
开放时间: Daily from 9.30am to 17.45pm
电话: +39 (0)51 239660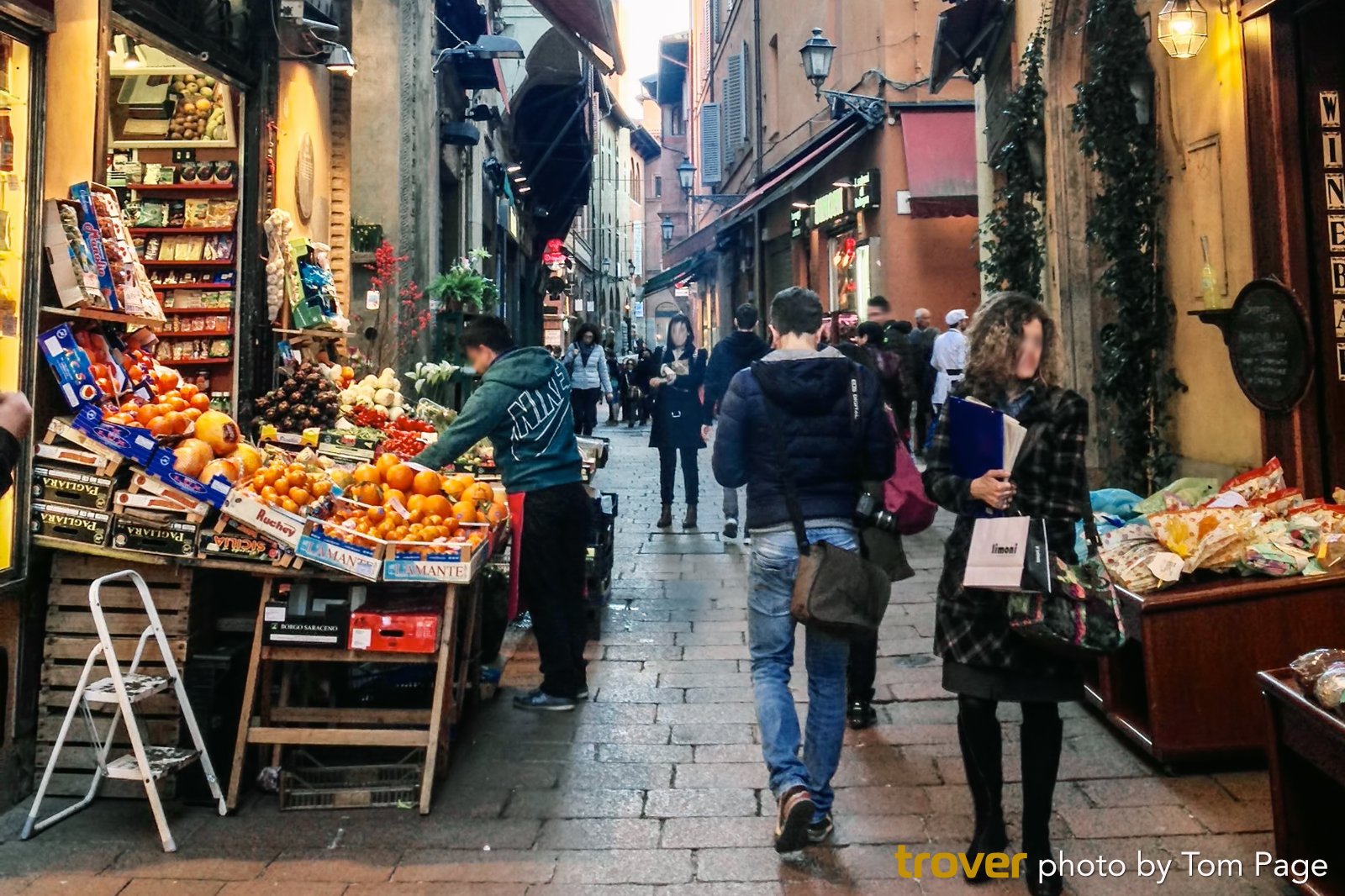 Shop in the Quadrilatero
Bologna's main shopping district
The Quadrilatero is a small area in downtown Bologna where walking streets connect some of the city's best shopping spots. These include the glossy and upscale shopping mall, Galleria Cavour, which houses boutiques of luxury brands such as Prada, Louis Vuitton and Gucci. Bologna's revived and modernized historical market, Mezzo di Mercato (Middle Market), is as popular for dining as it is for shopping. You can browse through 3 levels of different stalls selling meats and fish, fresh fruits and vegetables, or settle for an Aperol spritz at DeGusto or express pizza at RossoPomodoro (from €6).
地点: Via Clavature, 12, Bologna, Italy
开放时间: Daily from 8.30am to 12am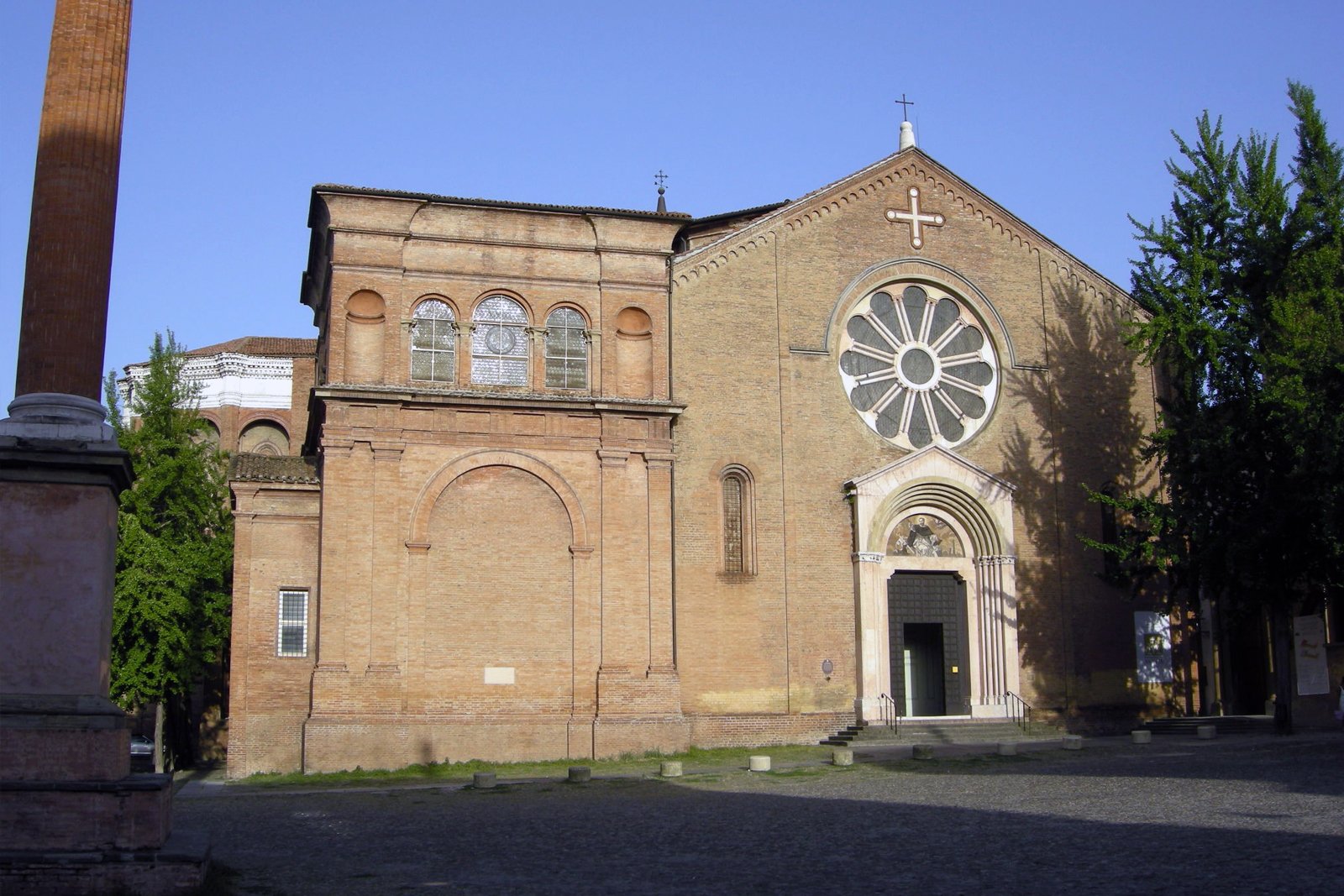 Must-See: San Domenico Basilica
Discover a hidden chapel and Michelangelo's sculptures
San Domenico Basilica is one of Bologna's great churches, around a 5-minute walk south from Piazza Maggiore. You'll pass the eastern side of San Petronio's basilica via Piazza Cavour, before hitting the piazza that's uniquely pebble-paved as it was in medieval times. The 13th-century church boasts Romanesque features with a great rose window – it looks amazing from the inside. You'll find several chapels as well as shrines among the rows of sculptures, 3 of which were the works of a young Michelangelo. Access is free.
地点: Piazza San Domenico, 13, Bologna, Italy
开放时间: Monday - Friday from 9am to 12pm and from 3.30pm to 6pm; Saturday from 9am to 12pm and from 3.30pm to 5pm; Sunday from 3.30pm to 5pm
电话: +39 (0)51 640 0411
照片来源:sailko (CC BY-SA 3.0) 已修改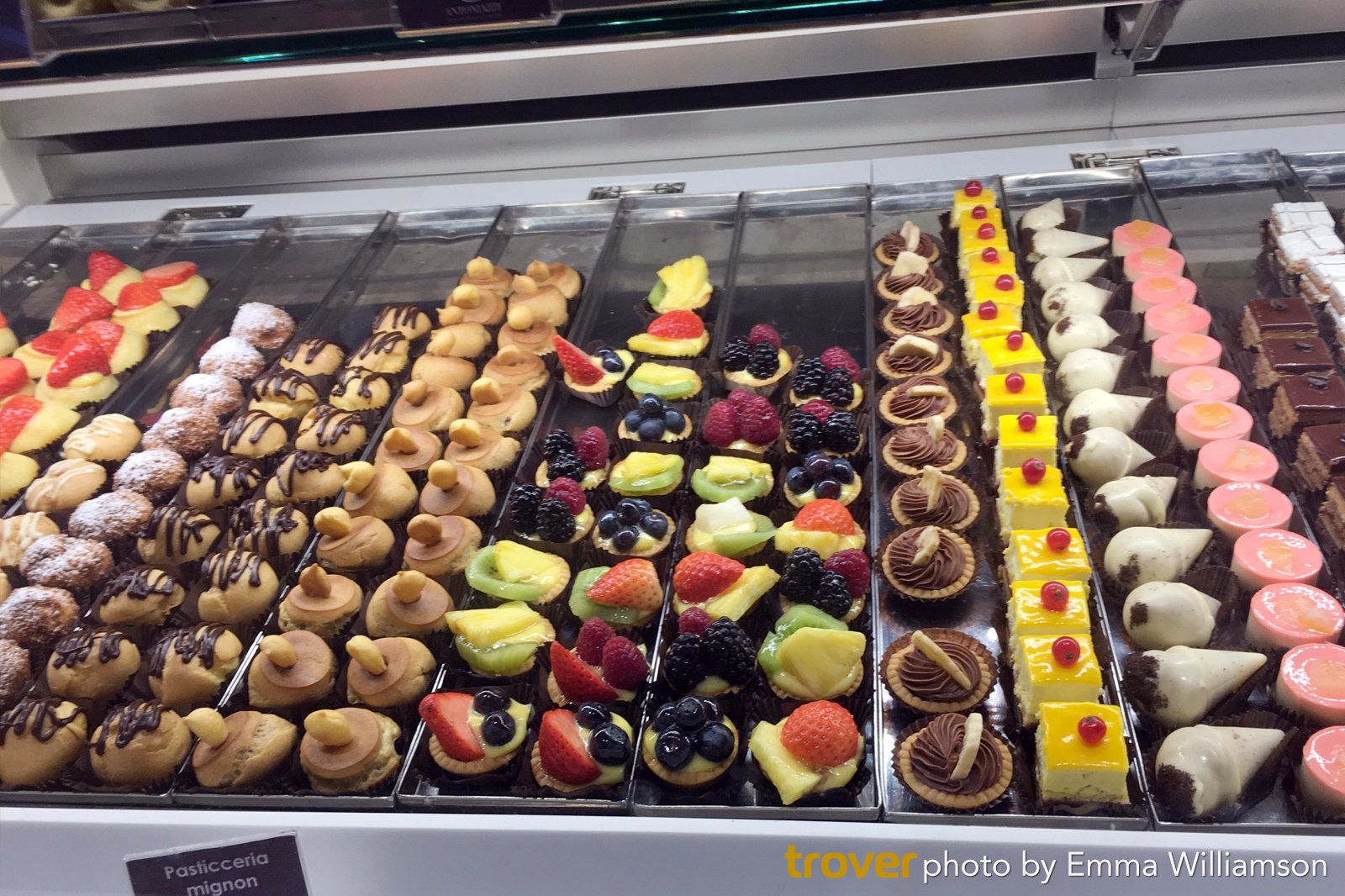 Snack at Mercato delle Erbe
Enjoy seafood tapas with wine
If you're into discovering the authentic and local food market scene of Bologna, Mercato delle Erbe (Herb Market) has much to offer. You can shop for fresh produce, with a bit of dining and sightseeing thrown in. Although considered the city's oldest street market, Mercato delle Erbe was revamped into its current courtyard-like marketspace form, with fruits and vegetables in its centre and with small shops around selling anything from Mortadella to dried pastas. Further out, you can choose from several small restaurants for coffee or a bite, such as pizza, risotto, porchetto, or just a tiramisu.
地点: Via Ugo Bassi, 25, Bologna, Italy
开放时间: Monday – Saturday from 7am to 12am
电话: +39 (0)51 230186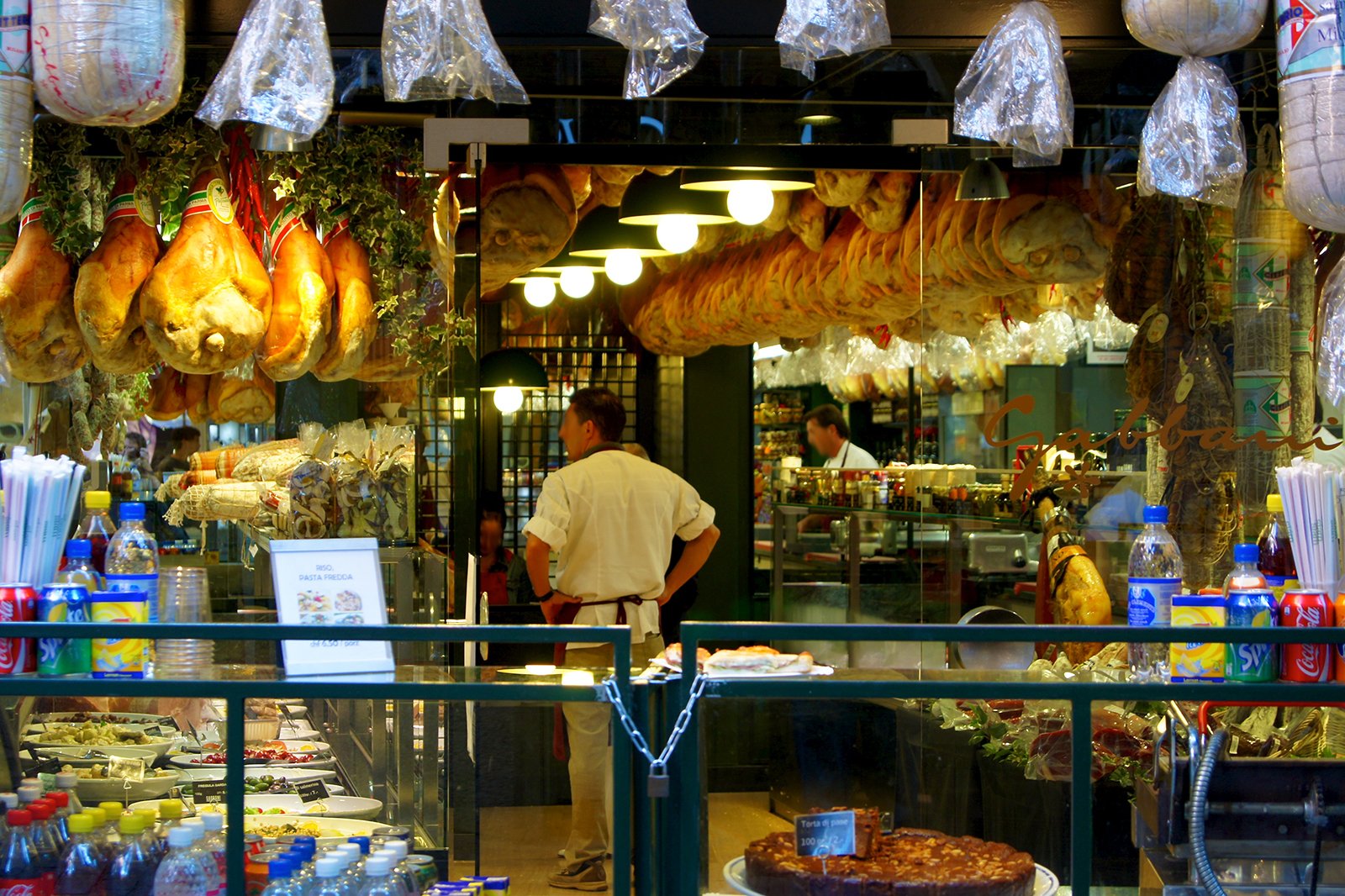 Eat Mortadella at Salumeria Simoni
Bologna is a great place for meat lovers
Bologna hosts some of the region's best varieties in the Emilia Romagna region's heritage collection of cured meats. One is Mortadella (which is interestingly known to the world simply as Bologna). Among the best places in town to try this, together with a wide range of other cured meats and sausages, is Salumeria Simoni. This well-known deli and charcuterie also stocks some of the best parmesan in town (around €21 per kg). It's right next to Mercato di Mezzo, or a short stroll east from Piazza Maggiore.
地点: Via Drapperie, 5/2a, Bologna, Italy
开放时间: Monday – Saturday from 8am to 1.30pm and from 4.30pm to 7pm
电话: +39 (0)51 231 880
照片来源:Luca Mascaro (CC BY-SA 2.0) 已修改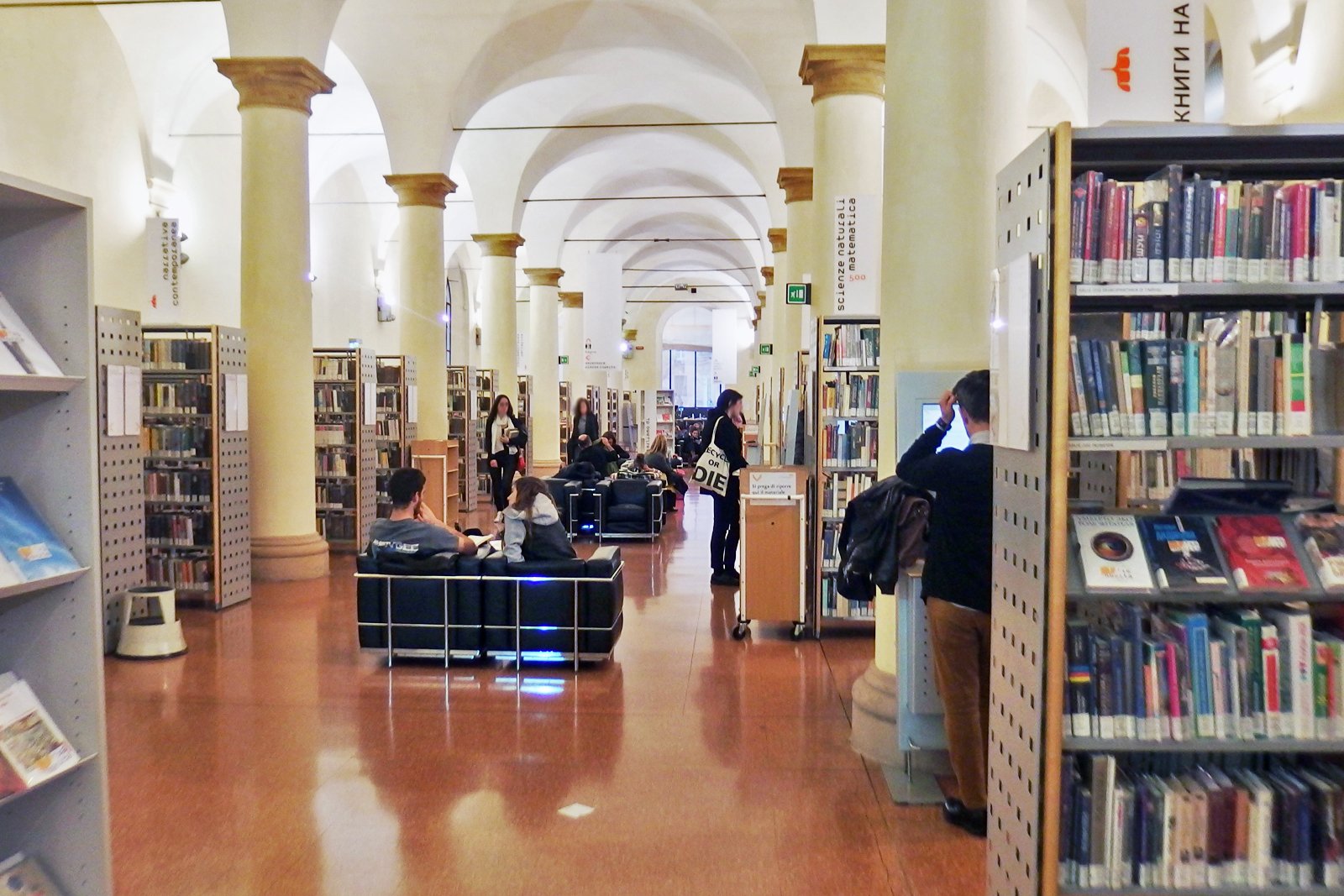 Browse Bologna's Historical Libraries
Learn about Italian history, art and literature
There are over a dozen historical libraries in Bologna. They're either part of universities, housed in a historical palace, or serve as conservatories. You can visit the grand Archiginnasio of Bologna next to San Petronio that features 16th-century frescoes, and the fantastic cultural space that is the central Salaborsa library, that's inside the Palazzo d'Accursio at Piazza Maggiore. The International Museum and Library of Music on Strada Maggiore (around a 10-minute walk from the piazza) has over 80 historical music instruments and documents by some of the world's great composers on display. Some libraries like the Salaborsa are free to access, while others require an admission from around €3.
照片来源:Palickap (CC BY-SA 4.0) 已修改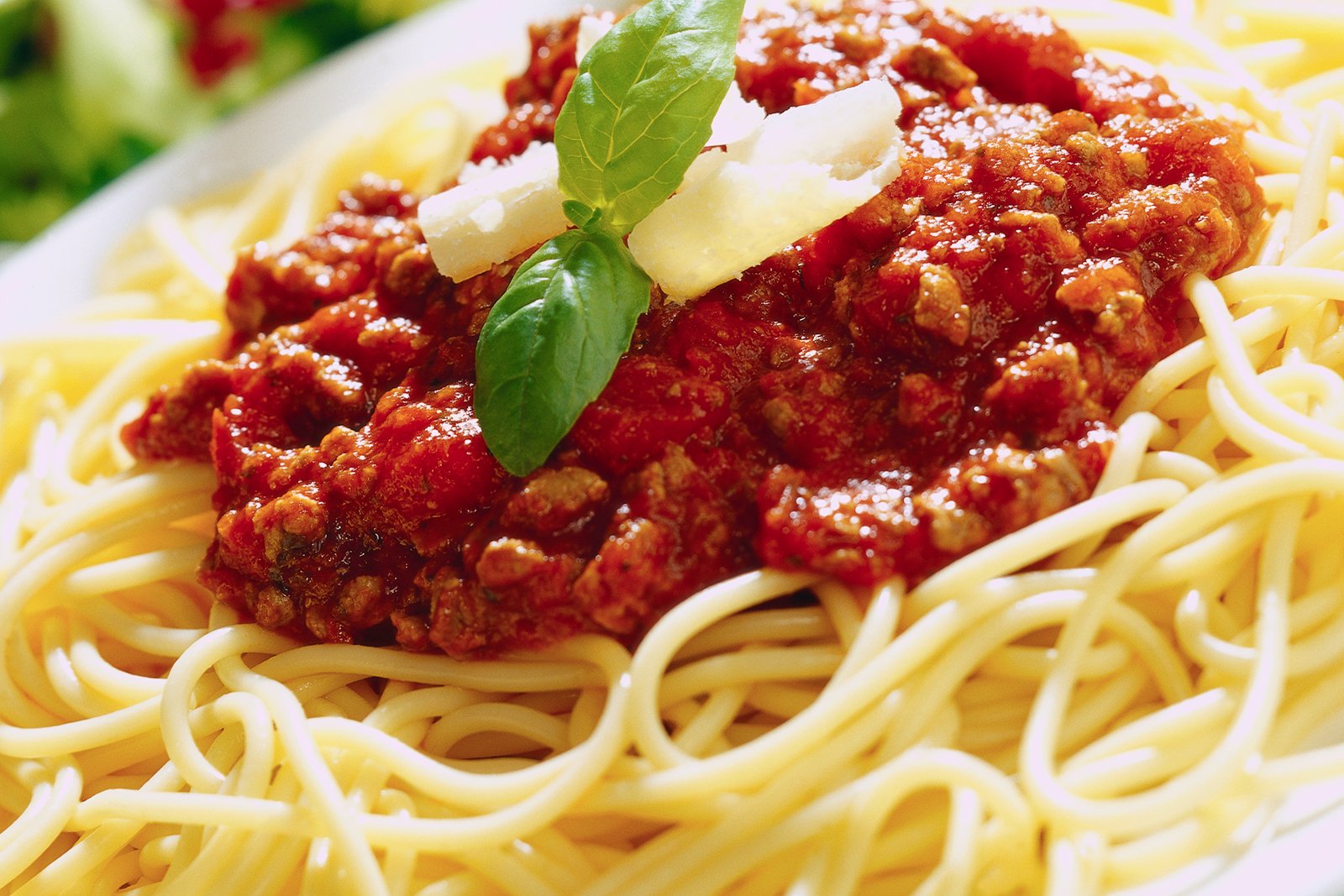 Eat Spaghetti Bolognese
Enjoy iconic Bolognese cuisine at a trattoria
You'll face a hard time looking for Spaghetti Bolognese at a traditional Osteria here because the world-famous pasta dish is known as "ragù alla Bolognese" and usually poured over tagliatelle, tortellini and gnocchi – and hardly ever on spaghetti. For authentic ragù-based Bolognese dishes, try the Broccaindosso Osteria near the eastern border of the city, which serves great tagliatelle and passatelli (bread crumb pasta) from around €15. To the relief of most visitors though, a lot of the touristy restaurants downtown do serve spaghetti Bolognese.
地点: Via Broccaindosso, 7/A, Bologna, Italy
开放时间: Daily from 12pm to 2.30pm and from 7.30pm to 1am
电话: +39 (0)51 234153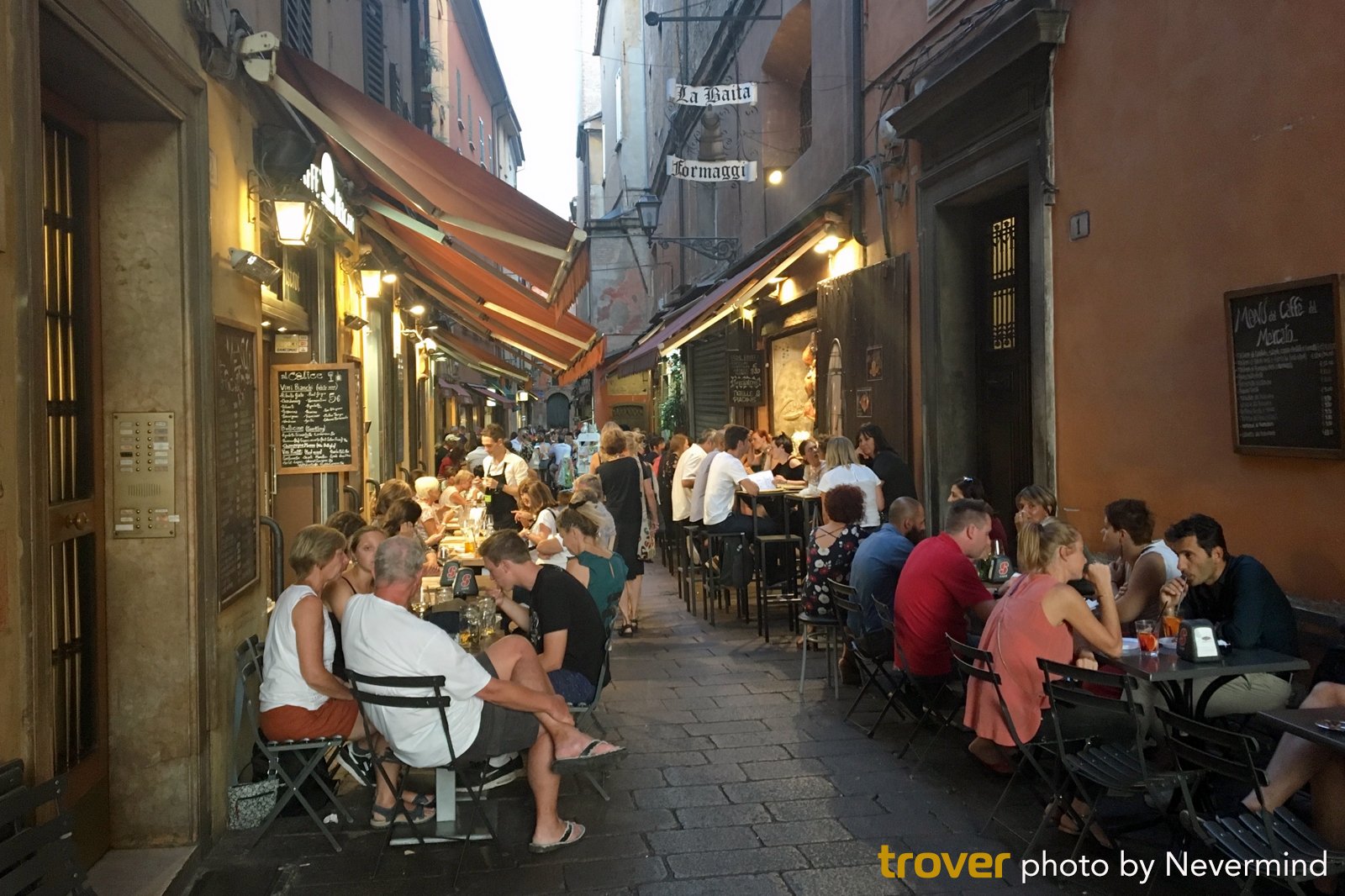 Dinner and Drinks at Osteria del Sole
Sit back with a Chianti at the oldest pub in town
Osteria del Sole is a pub right behind Palazzo dei Bianchi on Piazza Maggiore. It's considered one of Bologna's oldest, having been open since 1465. It's usually packed, and is a great spot to head to if you wish to mingle with a friendly, local crowd. Their wine list isn't the longest around, but you can find a good and affordable selection of Chianti, such as Fattoria del Cerro from the Montepulciano hillsides of Tuscany, for around €2.50 a glass. The best part is, you can bring your own cold cuts that you bought from local charcuteries, such as at Mercato di Mezzo next door.
地点: Vicolo Ranocchi, 1/d, Bologna, Italy
开放时间: Monday – Saturday from 10.30am to 9.30pm
电话: +39 347 968 0171
End Your Day Watching Opera at Teatro Comunale
A live performance is a fitting end to your day in Bologna
Visit one of Italy's major historical theatres, around a 10-minute walk northeast from Piazza Maggiore along Via Rizzoli. From the outside, it looks just like any palazzo in the city, with a grand colonnade spanning the length of its façade. However, step inside, and you'll be immersed in the grandeur of its interior – the convex auditorium has rows of boxes across four levels above its main ground seating area. Look up and marvel at its beautifully decorated and chandeliered ceiling. Symphony and opera tickets are from €52. After shows, sitting at a terrace outside on Piazza Giuseppe Verdi offers a good vantage point for people watching in the evenings.
地点: Largo Respighi, 1, Bologna, Italy
开放时间: Performances usually start around 8pm (theatre museum open Tuesday – Friday from 12pm to 6pm, and Saturday from 11am to 3pm)
电话: +39 (0)51 529958
照片来源:Lorenzo Gaudenzi (CC BY-SA 4.0) 已修改