21 Best Temples in Singapore
Most Popular Places of Worship in Singapore
Singapore is a place where you have total freedom to follow the precepts of your religion. There are many temple and churches in Singapore: Christianity, Islam, Judaism, Hinduism, Buddhism, and Taoism. All have their places of worship in the City of the Lion. These beautiful buildings are interesting to explore and can be found all over Singapore island.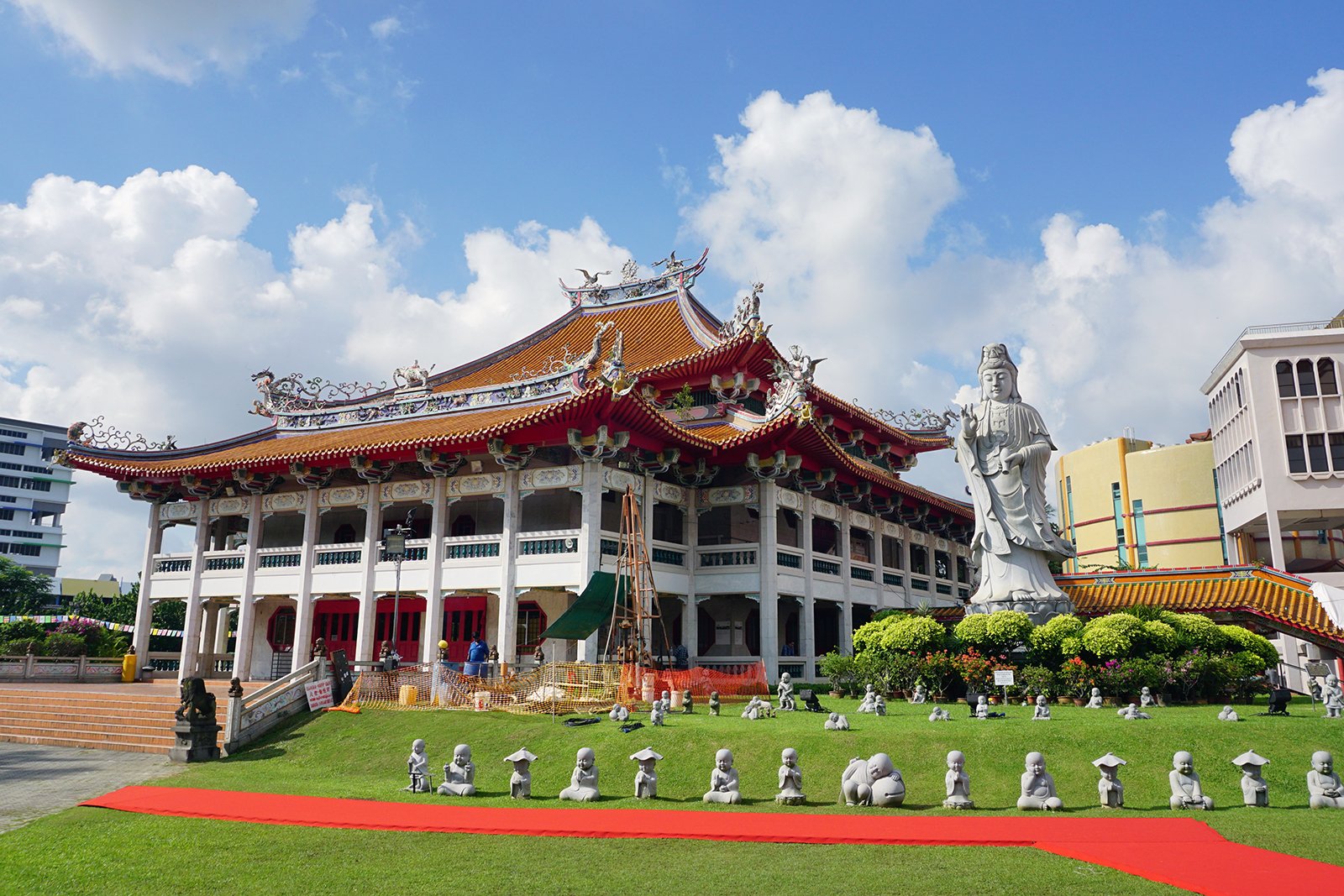 Bright Hill Temple (Khong Meng San Phor Kark See Temple)
Bright Hill Temple is one of the largest temples in Singapore, A modern construction covering 12 hectares, this impressive edifice features many grand halls, fine Chinese statues, shrines and decorations. There is also a large turtle pool, a serene garden and a crematorium in the temple grounds. There are many funerals and cremations at Bright Hill Temple on a daily basis, so it's advised to dress respectfully.
地点: 88 Bright Hill Road, Singapore 574117
电话: +65 6849 5300
照片来源:Anandajoti Bhikkhu (CC BY 2.0) 已修改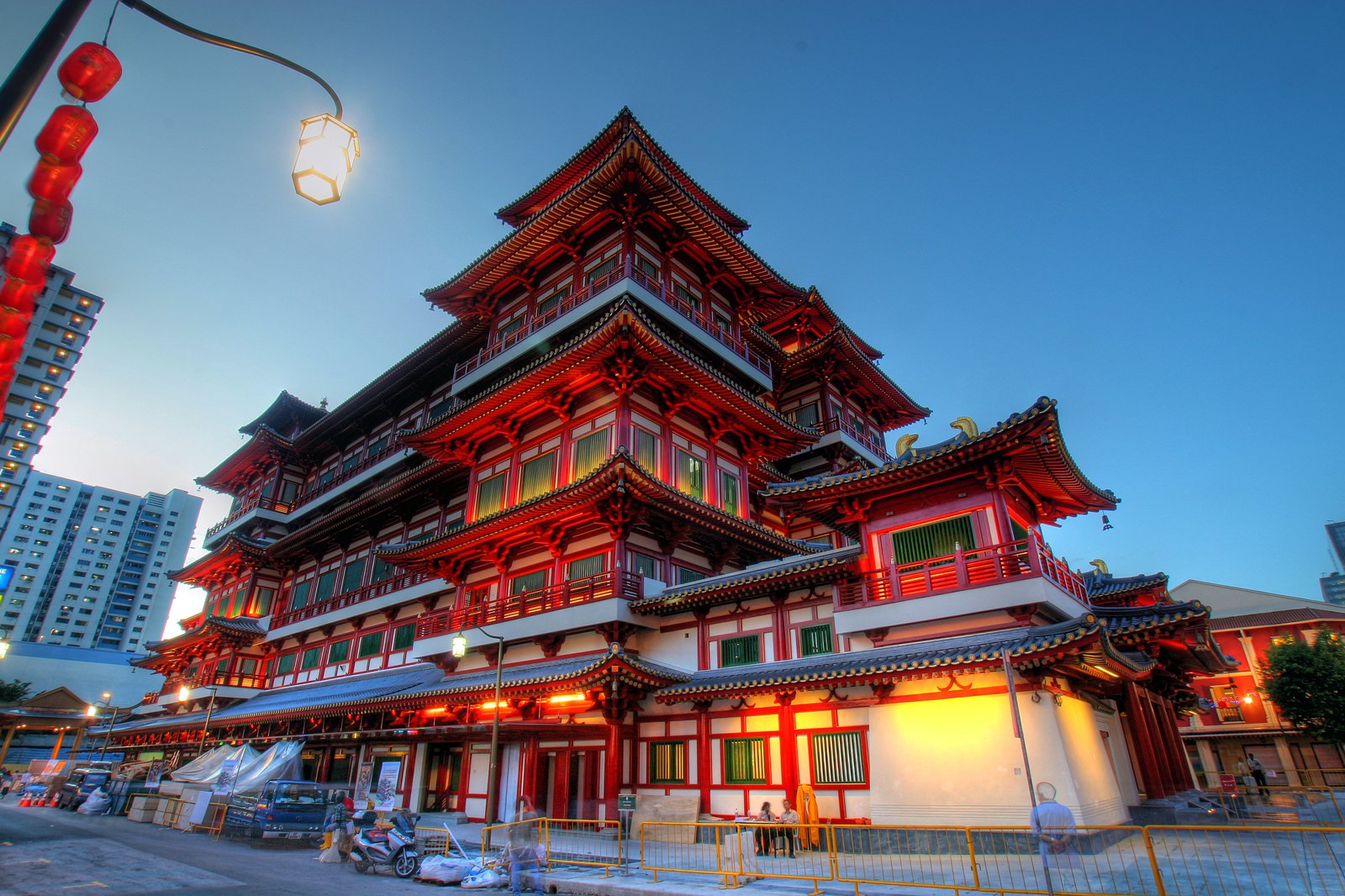 Buddha Tooth Relic Temple
The Buddha Tooth Relic Temple is a remarkable 4-storey temple in Chinatown. When entering the gate, you'll immediately notice the stunning main hall with its high ceiling. The bell tower and drum tower are on the same floor. However, the main focus for most visitors is the solid gold two-metre stupa on the fourth floor which is the place where the sacred relic is kept.
Continuing up to the roof, you'll find a pagoda that has a large prayer wheel. The temple is built in a style based on the Buddhist mandala and integrated with the Buddhism of the Tang dynasty.
地点: 288 South Bridge Road, Singapore 058840
开放时间: Daily from 9am to 6.30pm
电话: +65 6220 0220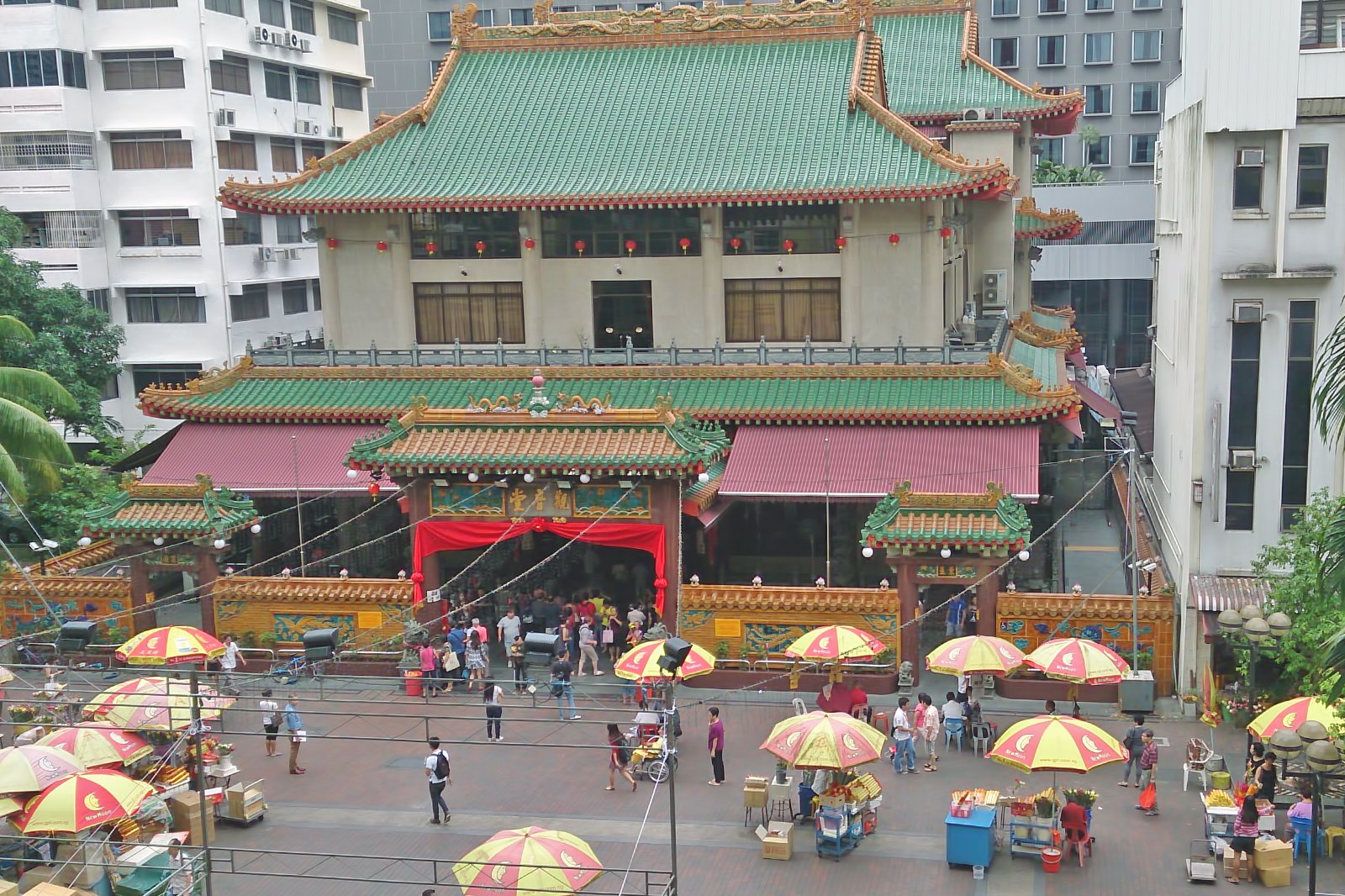 Kwan Im Thong Hood Cho Temple
Located on Waterloo Street, Kwan Im Thong Hood Cho Temple is a famous Chinese temple that's dedicated to Kwan Im, the Goddess of Mercy.
Each day, large numbers of worshippers come to pay respect and ask for her blessing. This major temple features Chinese-style roofs, granite tiles and the use of red, golden and yellow throughout the building.
地点: 178 Waterloo Street, Singapore 187964
电话: +65 6337 3965
照片来源:ProjectManhattan (CC BY-SA 3.0) 已修改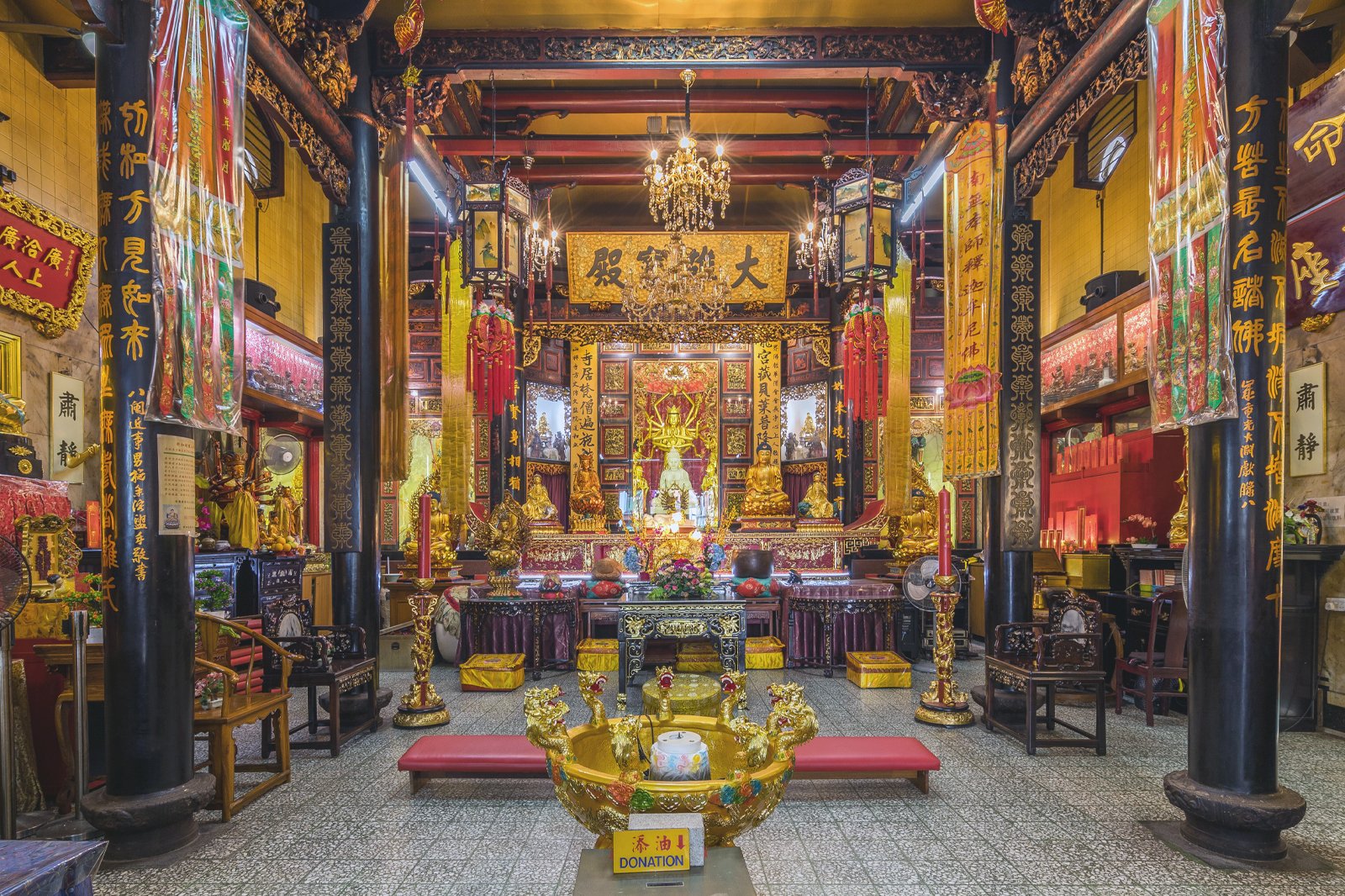 Leong San See is a Taoist temple located right across from a Thai Buddhist temple and was built to honour Guanyin (sometimes referred to as Guanyim), the Chinese Goddess of Mercy.
She is popular among childless couples who come to pray for its blessings. Bold reds and yellows are used throughout this temple and its main structure resembles a Chinese palace. It's within walking distance from the Farrer Park MRT station.
地点: 371 Race Course Road, Singapore 218641
开放时间: Daily from 6am to 6pm
电话: +65 6298 9371
照片来源:Basile Morin (CC BY-SA 4.0) 已修改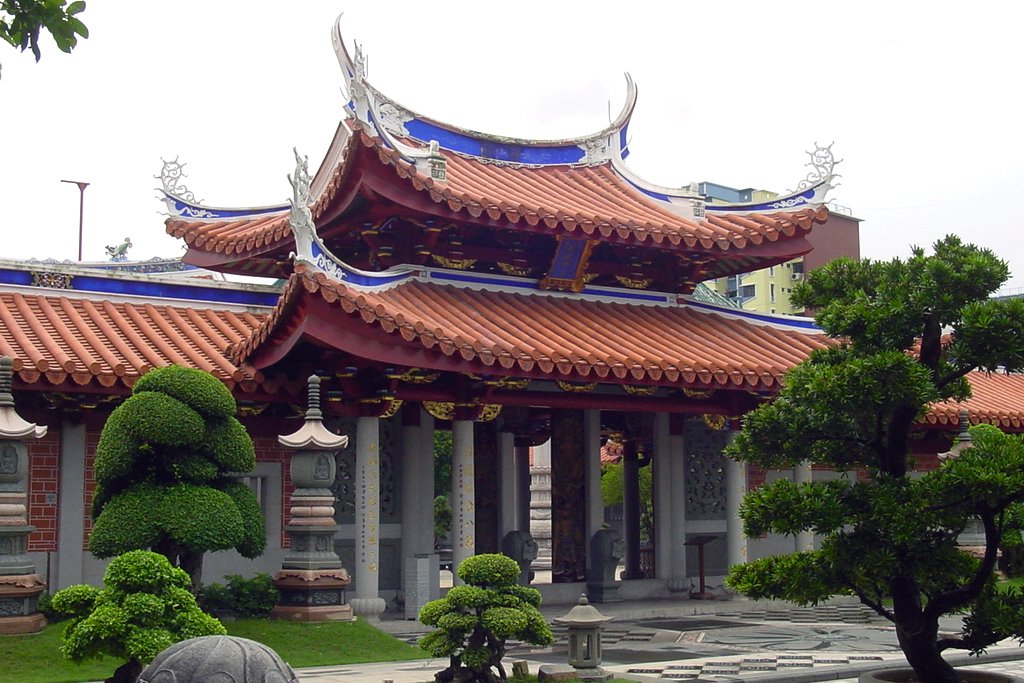 Siong Lim Temple was built in 1908, and is now classified a national monument in Singapore. The temple, which commemorates Buddha's birth and death, has a highly decorated gateway, accessible only by bridge, which opens into a courtyard. Inside the temple you will find huge incense burners and a beautifully carved Buddha imported from Thailand. The temple grounds also hold a monastery, a smaller temple and a rock garden.
地点: 184E Jalan Toa Payoh, Singapore 319941
电话: +65 6259 6924
照片来源:TteckK (CC BY-SA 3.0) 已修改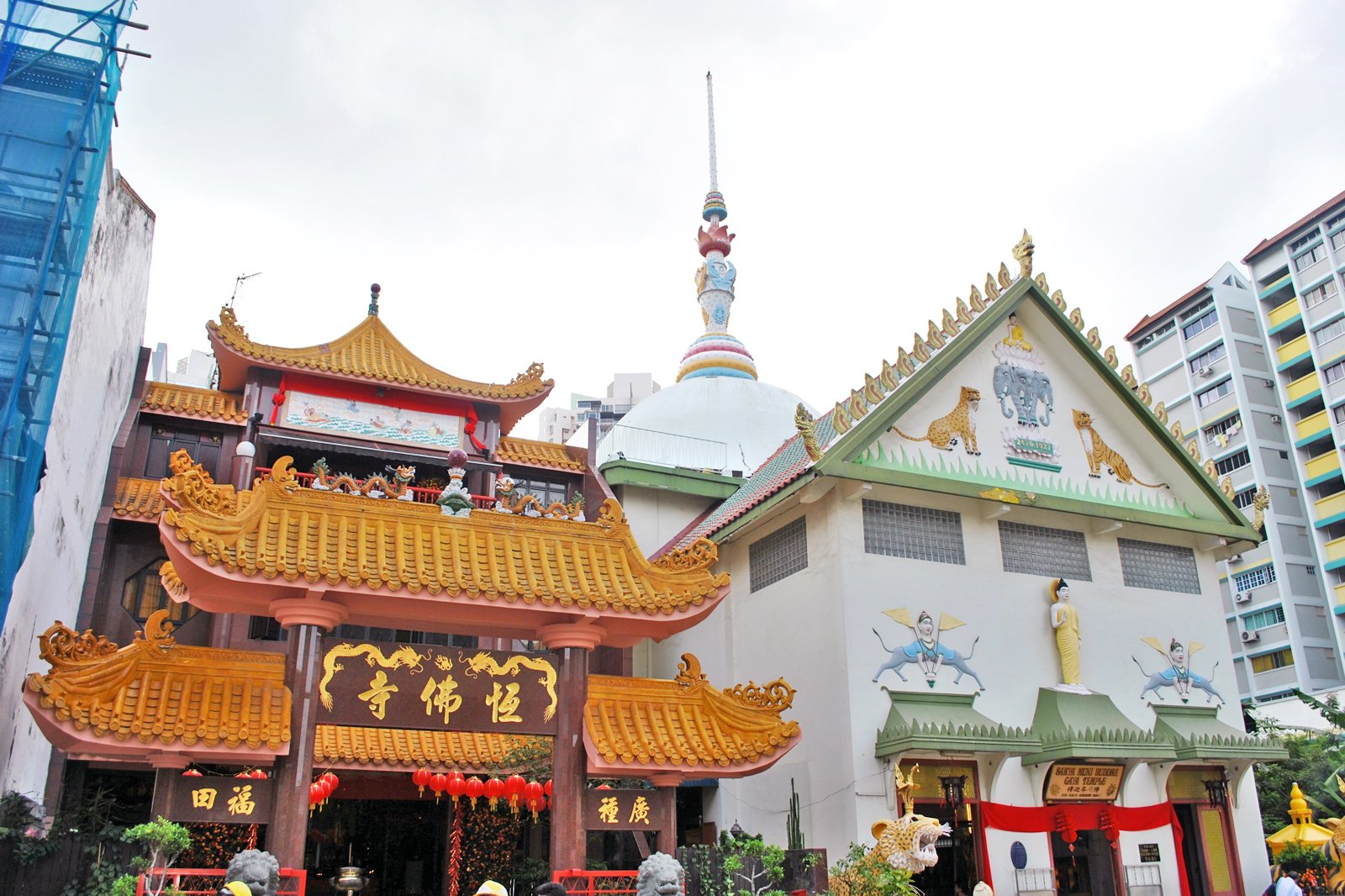 Temple of 1,000 Lights (Sakyamuni Buddha Gaya Temple)
Sakyamuni Buddha Gaya Temple was established by the Thai monk, Vuthisara, in 1927. The architecture is mainly in Thai style with a large 15-metre-high Buddha statue seated inside the temple as well as many smaller images. The Buddha image is surrounded by numerous light bulbs, which is why many people call it the Temple of 1,000 lights. Sakyamuni Buddha Gaya Temple is located close to the Farrer Park MRT station.
地点: 366 Race Course Road, Singapore 218636
开放时间: Daily from 8am to 4.45pm
电话: +65 6294 0714
照片来源:Elisa.rolle (CC BY-SA 4.0) 已修改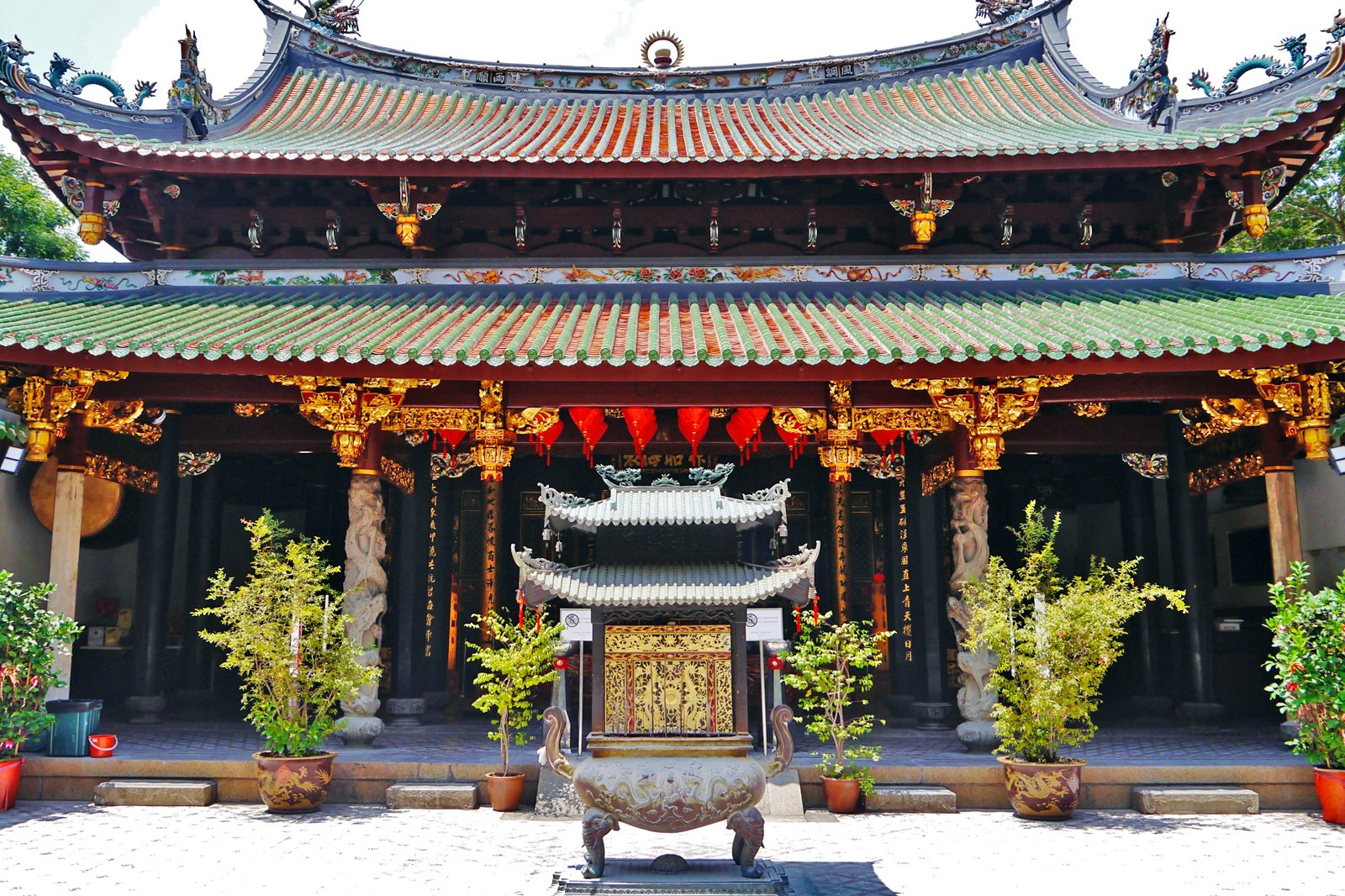 Thian Hock Keng, or the Temple of Heavenly Happiness, is the oldest and probably most interesting Chinese temple in Singapore. Built circa 1820, this Taoist-Buddhist temple was dedicated to to Ma Zu Po, the Mother of Heavenly Sages and the protector of sailors. You can find this colourful temple along Telok Ayer Street, in the middle of Chinatown
The temple, formerly at the waterfront before Singapore embarked on its land reclamation, was where many sailors and early settlers came to offer thanks for a safe journey by sea. The temple boasts elaborately painted doors, as well as highly-decorated beams and gold-leafed panels.
地点: 158 Telok Ayer Street, Singapore 068613
开放时间: Daily from 7.30am to 5.30pm
电话: +65 6423 4616
照片来源:Zairon (CC BY-SA 4.0) 已修改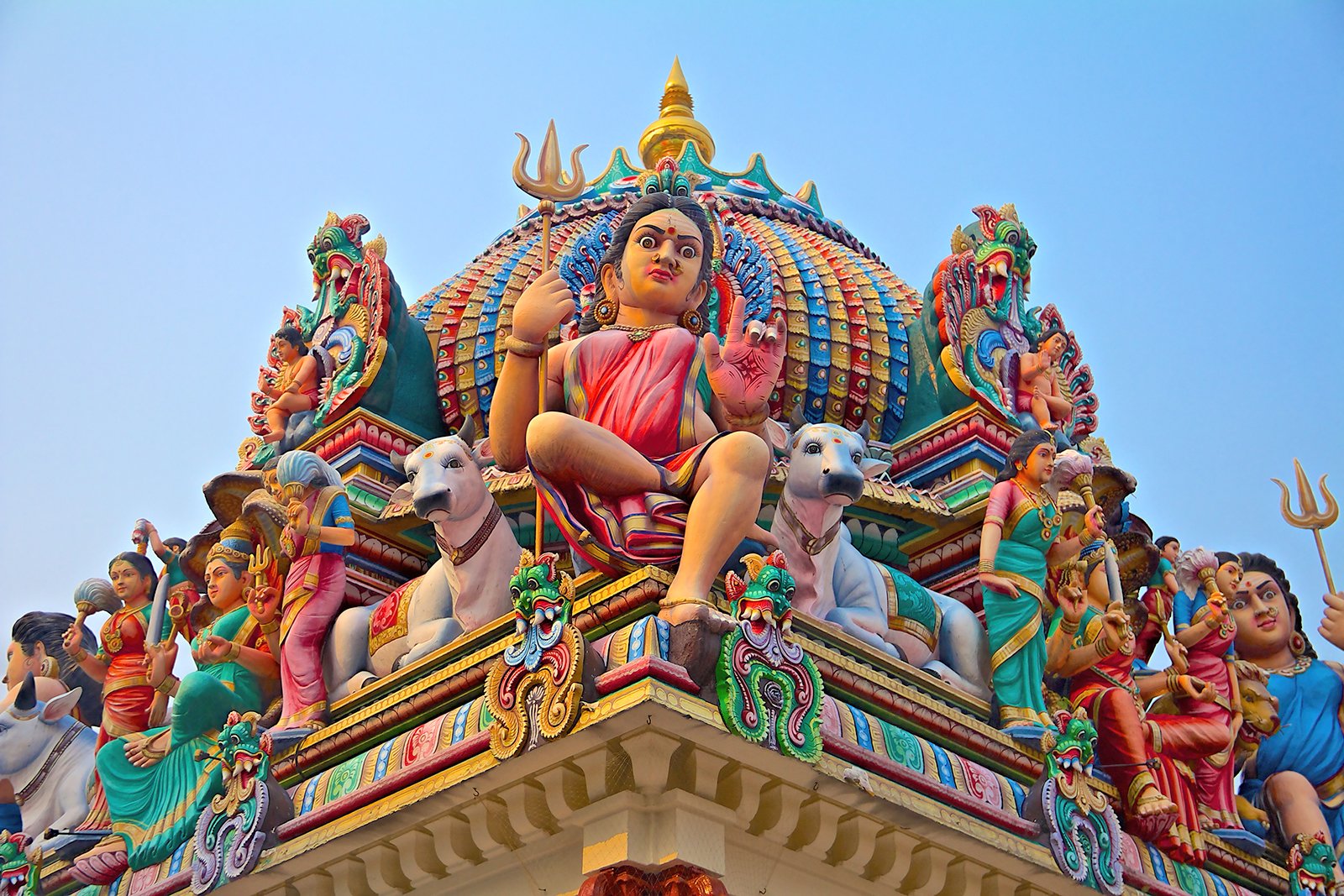 The oldest shrine in Singapore, Sri Mariamman Temple is one of the most prominent places of worship for Tamil Hindus in the country. It was built to honour Goddess Mariamman – the deity of disease and protection. Originally erected by Naraina Pillai, an Indian trader from Penang, in 1827, the temple was modified to its present structure in 1862, although it has undergone several renovations since. Apart from being a place of worship, the temple has also acted as an asylum for new immigrants that belong to South Indian Tamil Hindu community.
地点: 244 S Bridge Road, Singapore 058793
开放时间: Daily from 7am to 12pm and 6pm and 9pm
电话: +65 6223 4064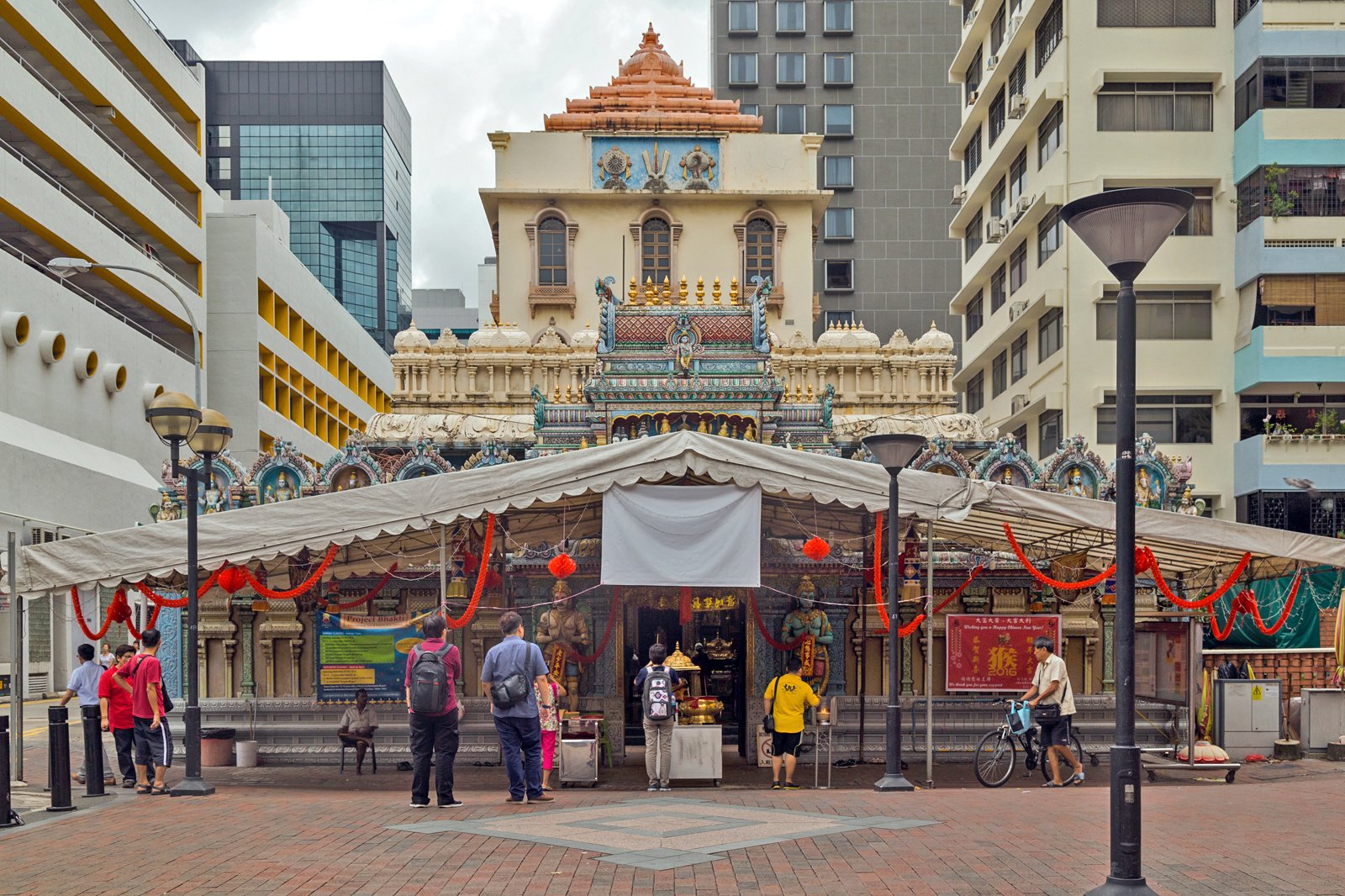 Sri Krishnan is a Hindu temple dedicated to Sri Krishna and his consort Rukmini. Check out the impressive statues above the main entrance. The effigies of Hindu deities cover the roof and are presented in bold colours. It's easy to find right next door to Kwan Im Thong Hood temple close to Bugis MRT.
地点: 152 Waterloo Street, Singapore 187961
电话: +65 6337 7957
照片来源:Marcin Konsek (CC BY-SA 4.0) 已修改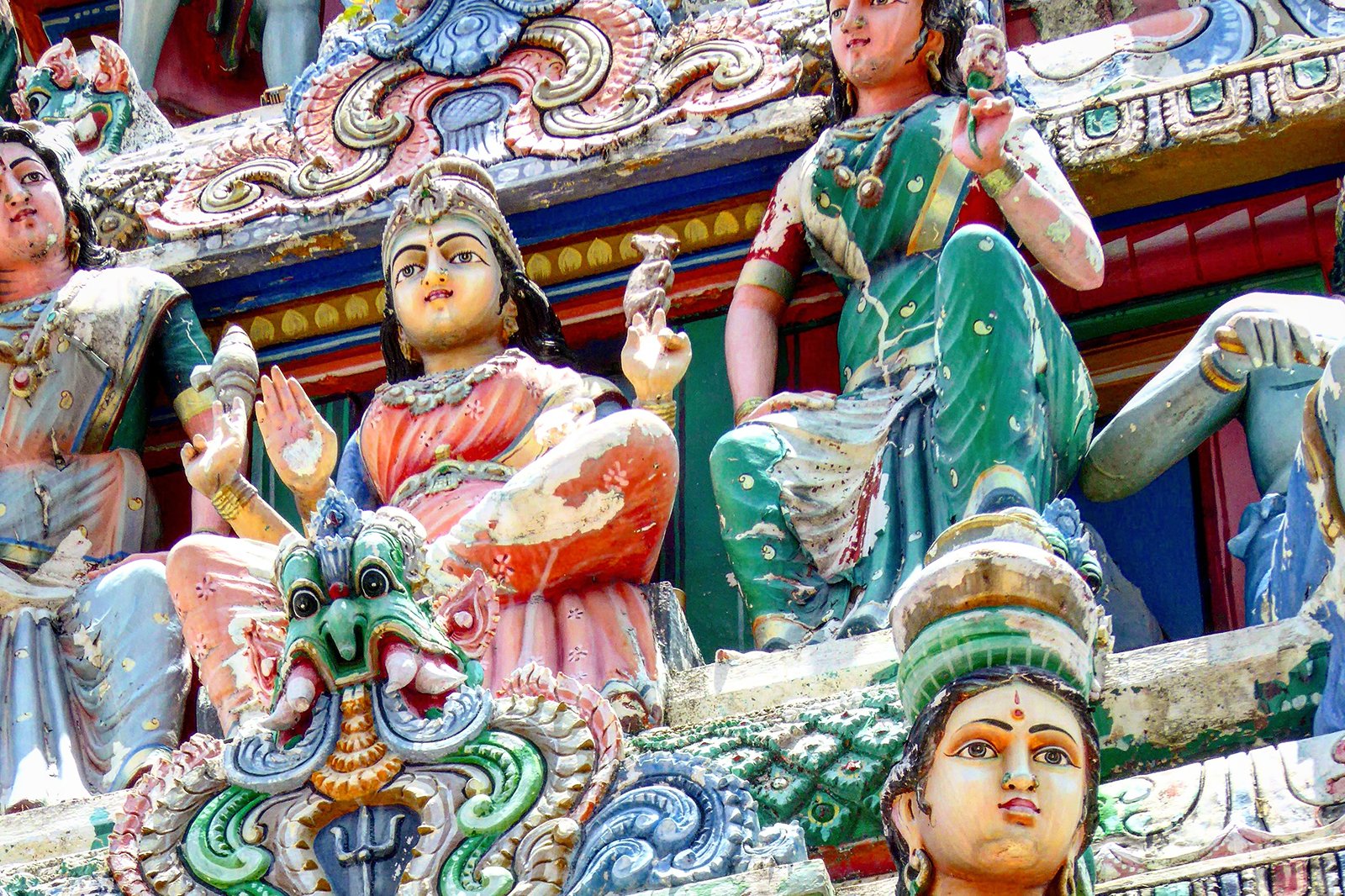 Sri Srinivasa Perumal Temple
This Hindu temple was built in 1855 and is dedicated to Perumal (or Vishnu). Visitors will be impressed by the legend of Vishnu's nine reincarnations on the Gopuram. It was declared a national monument in 1978.
地点: 397 Serangoon Road, Singapore 218123
开放时间: Daily from 6.30am to midday and 6pm to 9pm
电话: +65 6298 5771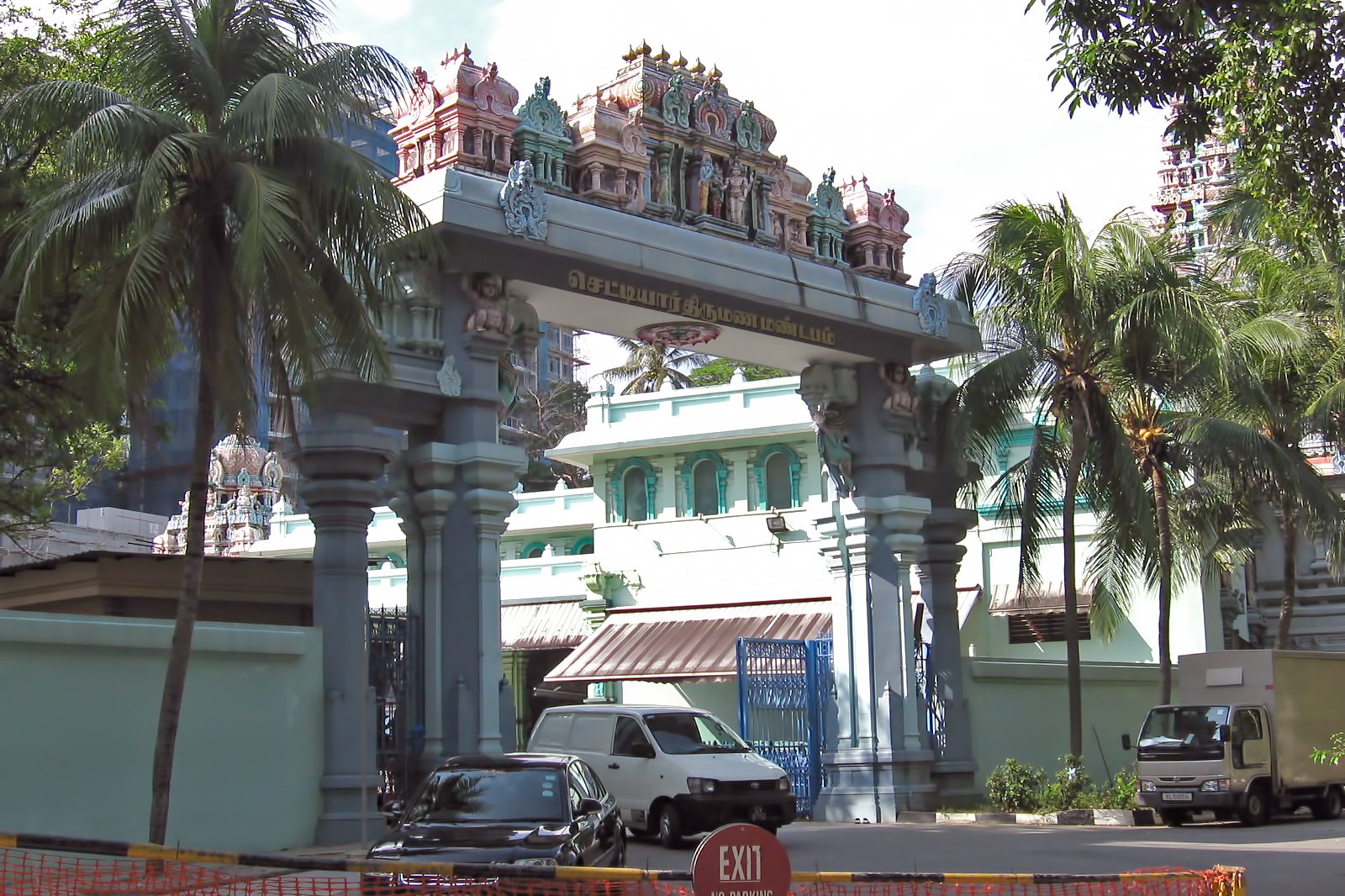 Sri Thandayuthapani Temple
Sri Thandayuthapani Temple, also known as the Chettiar Hindu Temple, was built on the site of a former temple dating back to the 1850s. Constructed in the South Indian style, it has a number of shrines with glass-panelled roofs that are angled to catch the rays of the sun when it rises and sets. Sri Thandayuthapani Temple is where the culminations of the Thaipusam and Navarathiri Festivals are held every year. The annual Thaipusam procession in February sees Hindu devotees bearing kavadi, or portable shrines pierced to the body, as a sign of faith and penance. The procession begins at the Sri Srinivasa Perumal Temple in Little India and ends at the Sri Thandayuthapani Temple.
The Navarathiri Festival, held in October, is the Hindu "9 Lights" celebration of the goddesses Dhurga, Lakshmi and Saraswathi. The Sri Thandayuthapani Temple is the focal point of the 9-day celebrations, which include dancing, music, joyous worship and a dramatic procession on the final night.
地点: 15 Tank Road, Singapore 238065
电话: +65 6737 9393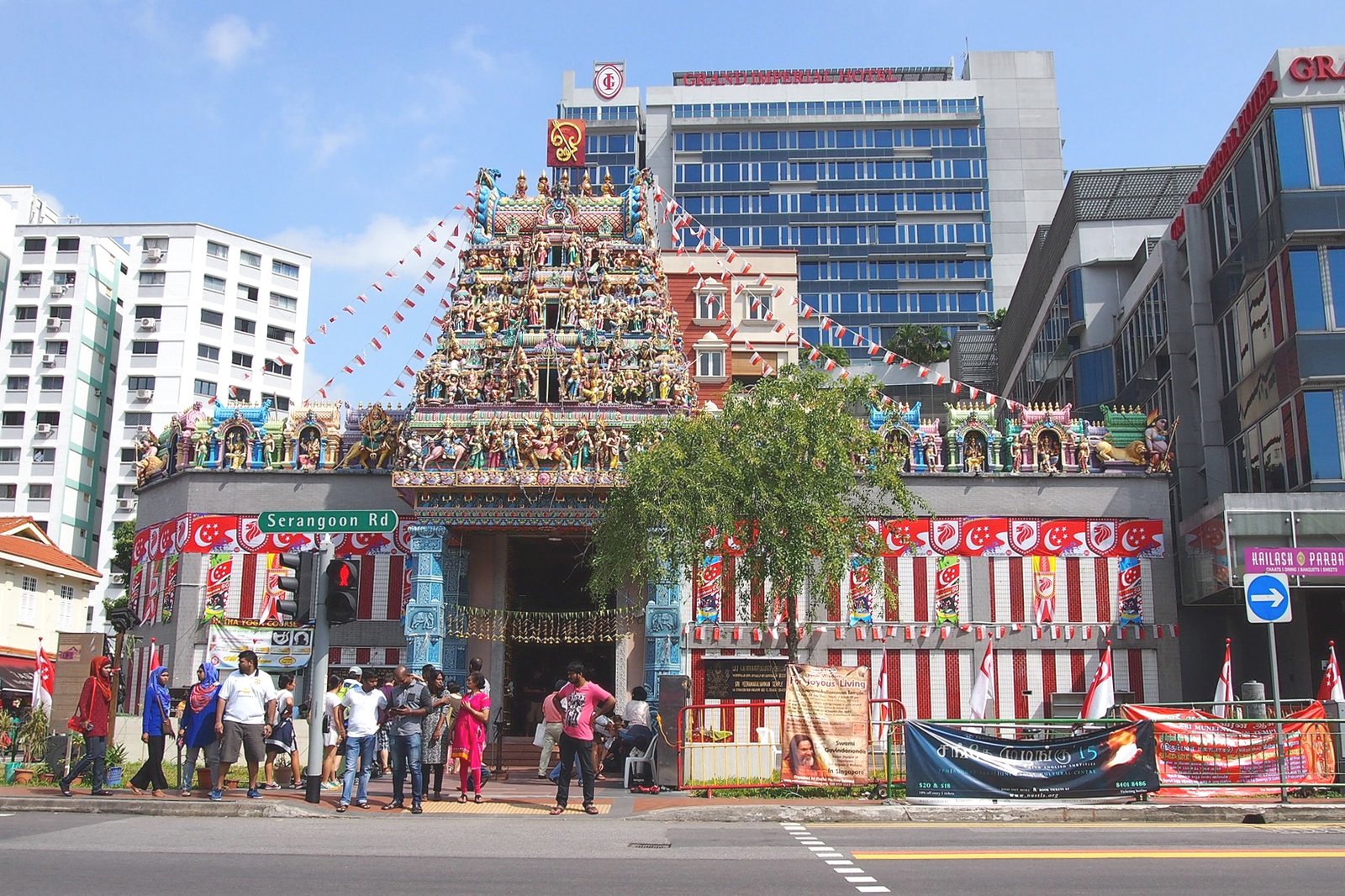 Sri Veeramakaliamman Temple
Sri Veeramakaliamman Temple was built in 1881 to honour Hindu goddess Kali. Nowadays, it's one of the busiest temples in Little India. The temple is filled with interesting reliefs with bold use of colour. Admission is free. As with all Hindu temples, please remember to remove your shoes when entering.
地点: 141 Serangoon Road, Singapore 218042
开放时间: Daily from 8am to 12.30pm and from 4pm and 8.30pm
电话: +65 6295 4538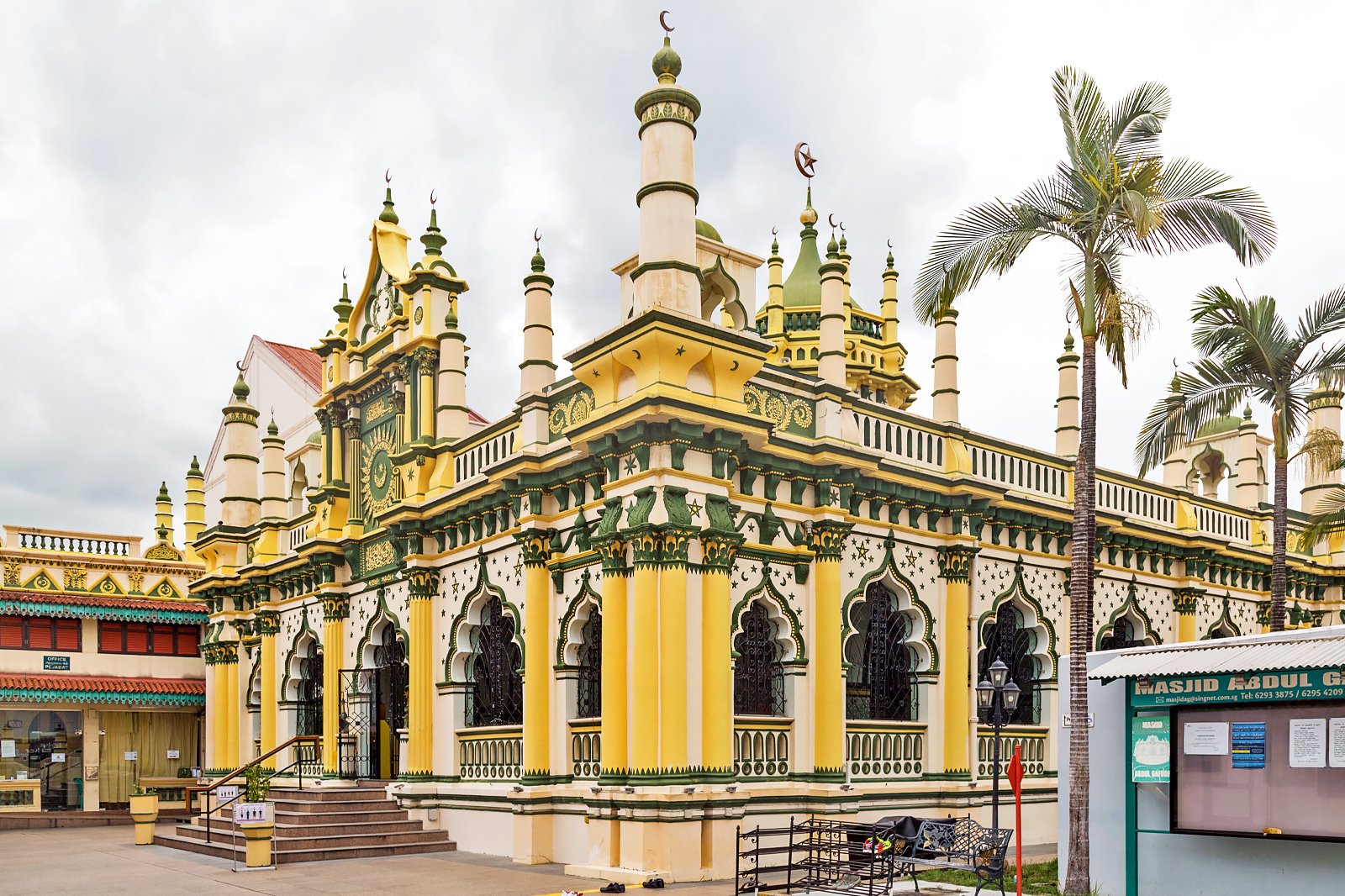 The original Abdul Gafoor Mosque was built in 1859 by a southern Indian lawyer's clerk named Shaik Abdul Gafoor Shaik Hyder to serve many of Indian Muslim merchants. The mosque has subsequently been through many restorations. The current one was completed in 2003. The mosque is a mixture of Arabian, South Indian and Roman styles with its many arches and central onion dome.
地点: 41 Dunlop Street, Singapore 209369
开放时间: Daily from 7am to midday and 2.30pm to 4.30pm
照片来源:Marcin Konsek (CC BY-SA 4.0) 已修改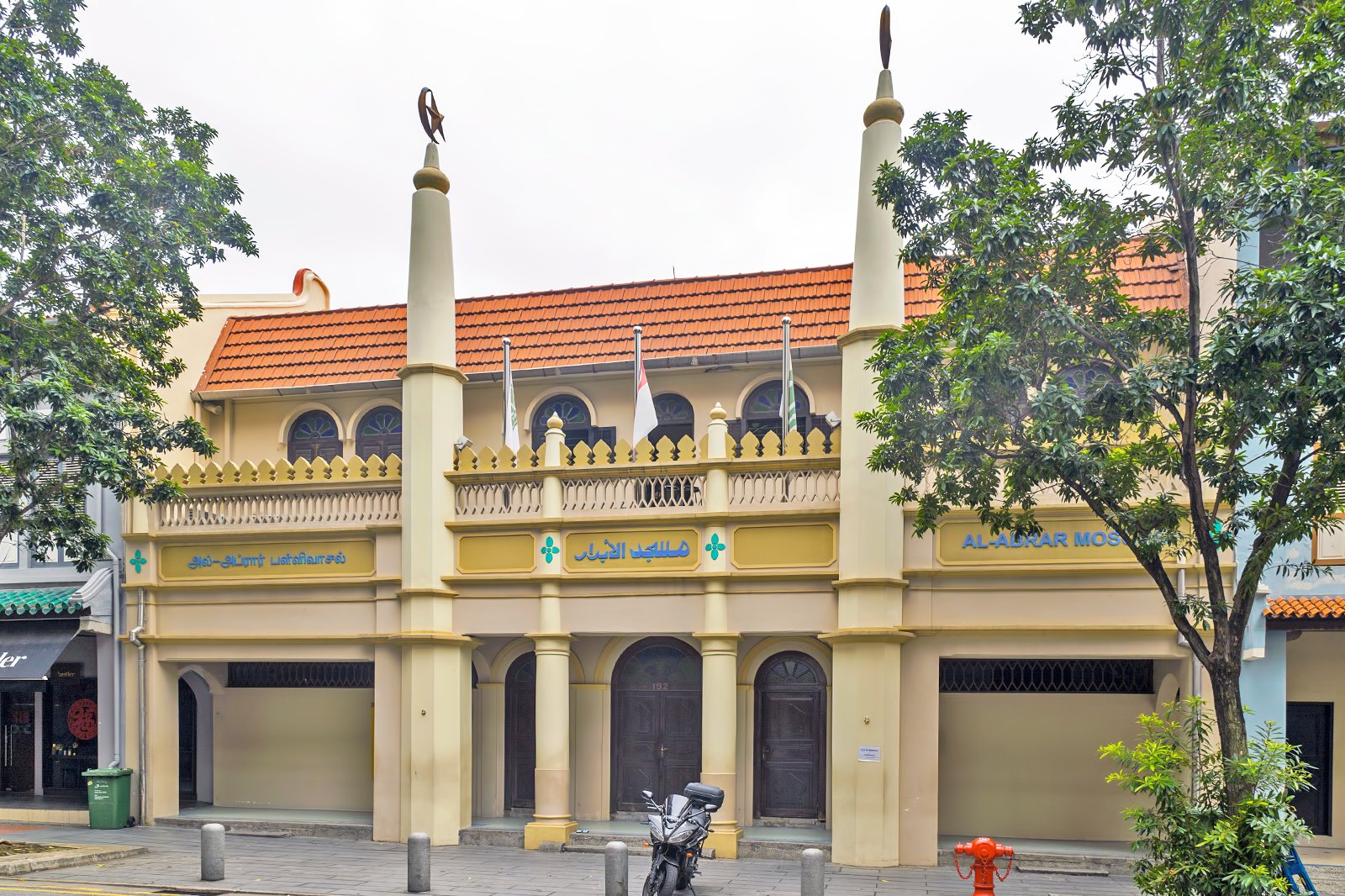 Al-Abrar Mosque was built in 1827, and was originally just a small building so many people took to calling it the 'hut mosque' as its nickname. The present building was erected in the 1850s and went though a major renovation in 1980s. You can find Al-Abrar Mosque in downtown Singapore, close to the Telok Ayer MRT station.
地点: 192 Telok Ayer Street, Singapore 068635
电话: +65 6220 6306
照片来源:Marcin Konsek (CC BY-SA 4.0) 已修改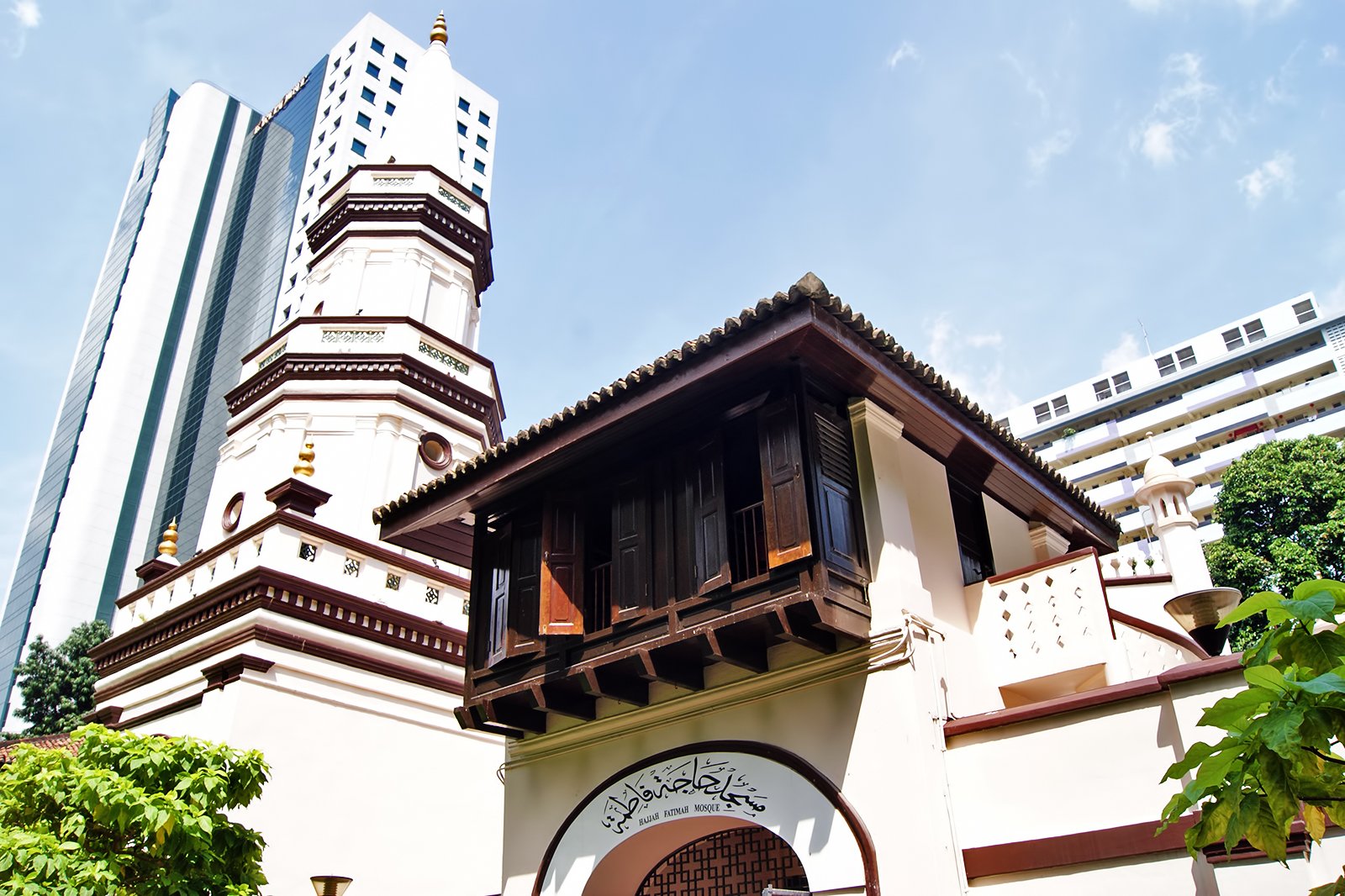 Hajjah Fatimah Mosque was built in 1846 and named after a charitable Malay woman who donated money to build it. The beautiful design is a mix of Malay and colonial styles. At the back of the Mosque you'll find a number of old tombstones, including Hajjah Fatimah's.
地点: 4001 Beach Road, Singapore 199584
电话: +65 6297 2774
照片来源:Jack at Wikipedia (CC BY-SA 2.0) 已修改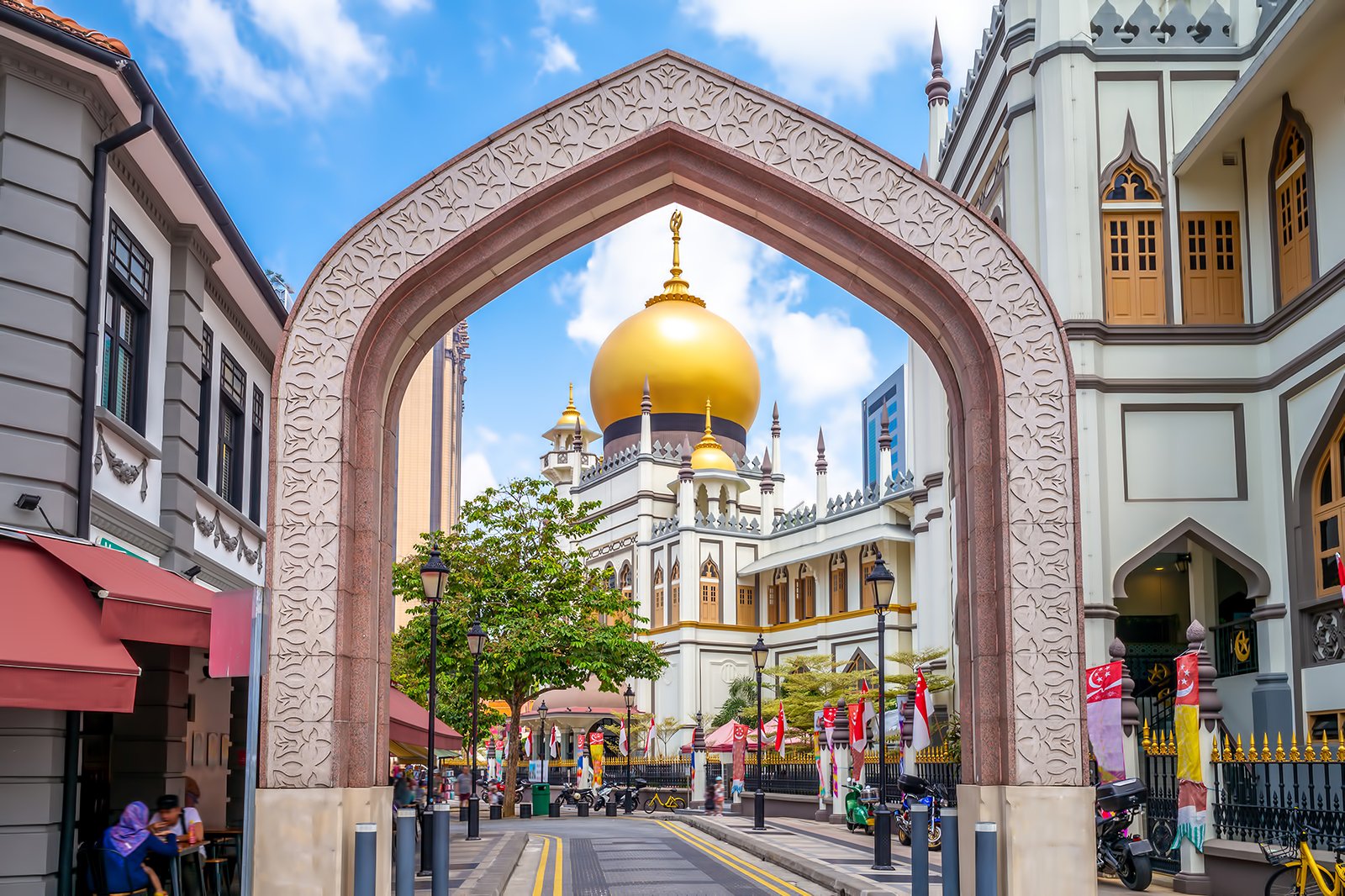 One of the biggest mosques in Singapore, the Sultan Mosque is situated at North Bridge Road, near the ethnic quarter of Arab Street. It was originally built by Sultan Hussain Shah of Johore in 1824.
In 1928, the original structure was replaced by the current mosque, which was designed by Denis Santry. The Sultan Mosque has a massive golden dome and a large prayer hall.
地点: 3 Muscat Street, Singapore 198833
开放时间: Daily from 9am to 1pm and from 2pm to 4pm
电话: +65 6293 4405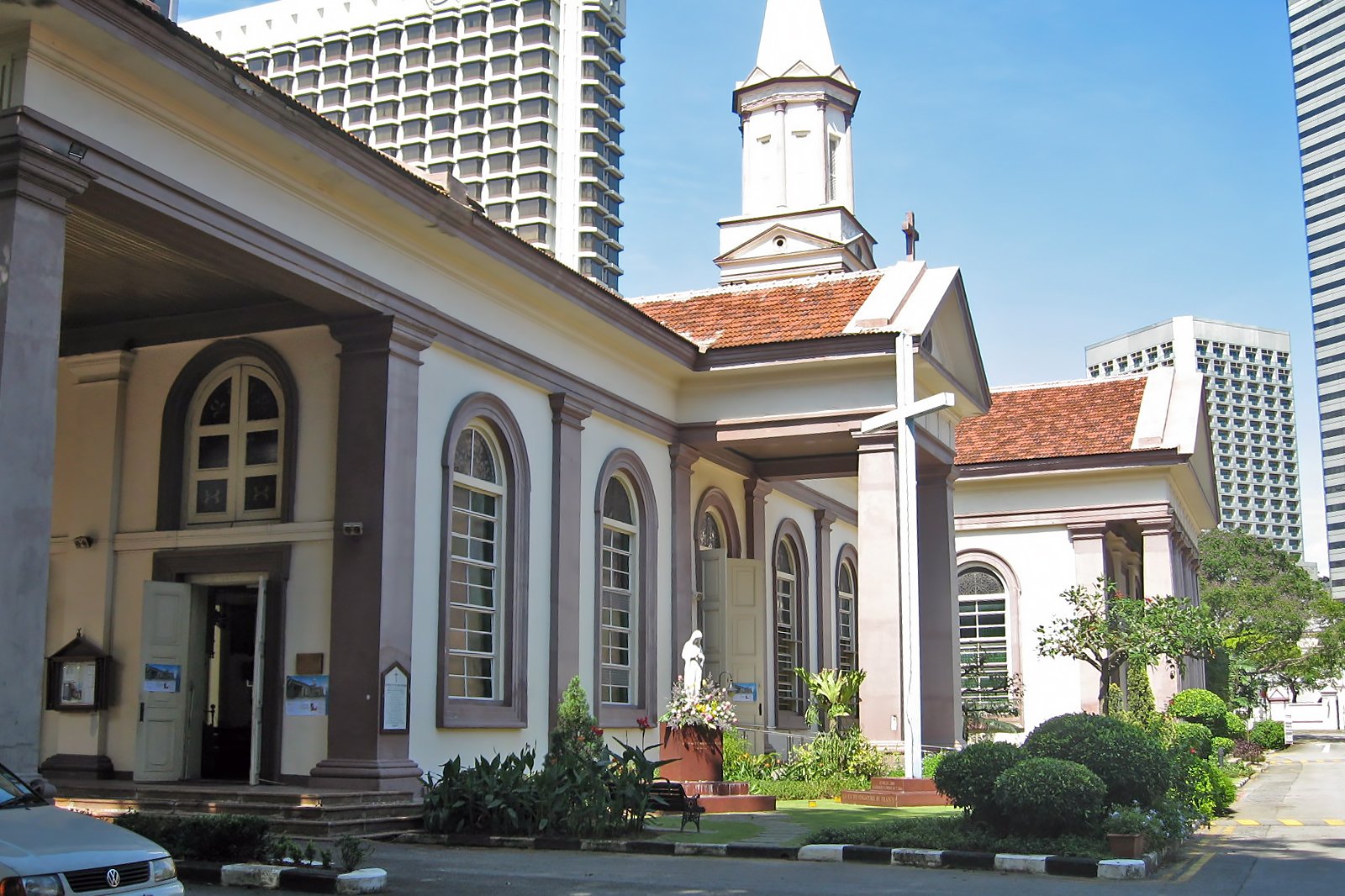 Cathedral of the Good Shepherd
The Cathedral of the Good Shepherd is one of the oldest Catholic churches in Singapore, dating back to 1843. Its construction actually triggered all-out competition between two great colonial architects of the time, D L Sweeney and J T Thomson. Thomson's design was eventually chosen, and a 3rd architect, Charles Dyce, added a tower and a spire 1 year later. Located on Queen Street, the church is now a designated national monument.
地点: A Queen Street, City Centre, Singapore 188533
电话: +65 6337 2036
照片来源:Terence Ong (CC BY-SA 3.0) 已修改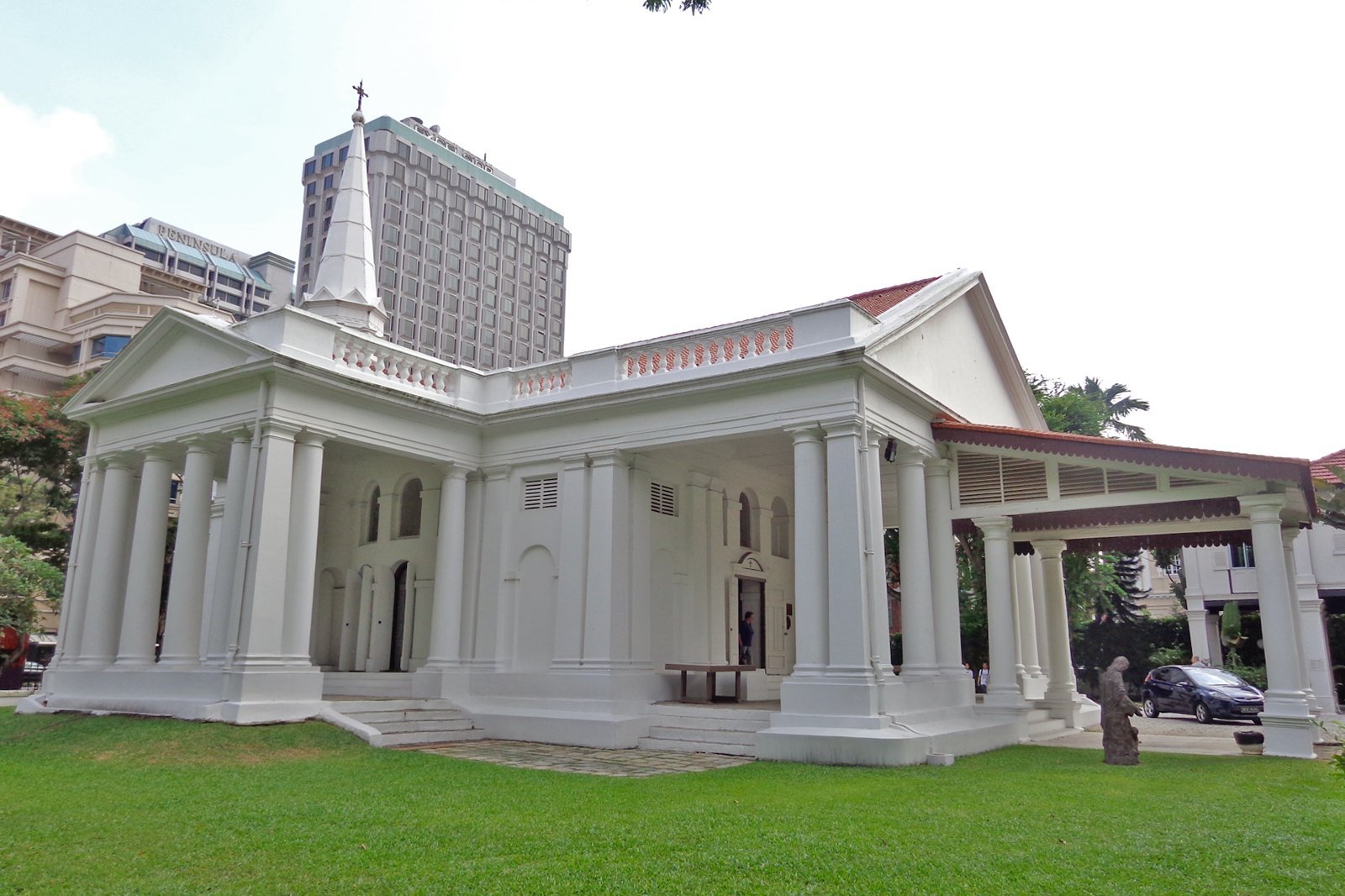 Church of St Gregory the Illuminator
Church of St Gregory the Illuminator is an Armenian church built in 1835. It is dedicated to St Gregory, the first monk of the Armenian church. Now a national monument, the church is considered a masterpiece and was designed by colonial architect, George Coleman.
地点: 60 Hill Street, Singapore 179366
电话: +65 6334 0141
照片来源:Iloilo Wanderer (CC BY-SA 4.0) 已修改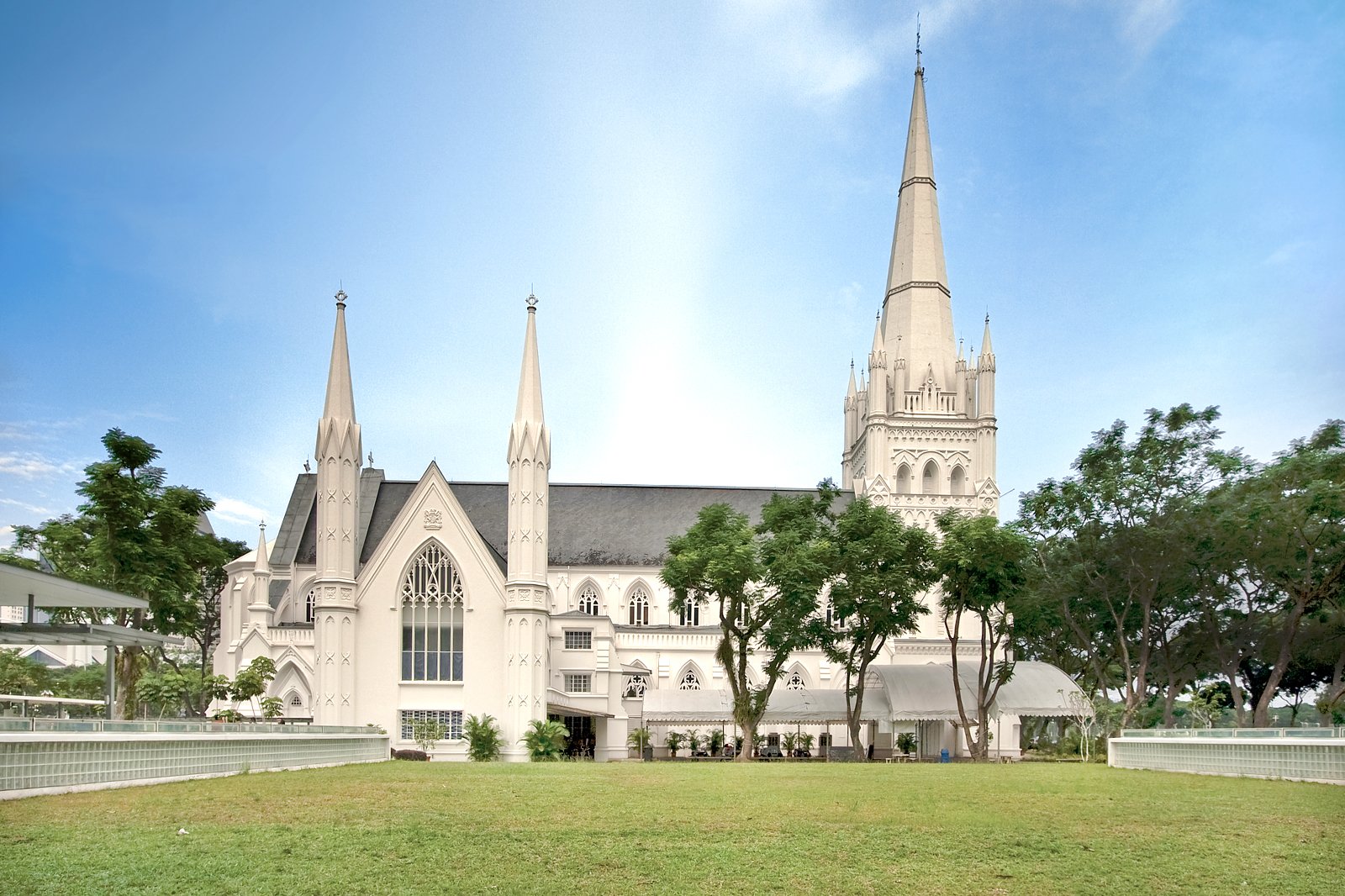 This elegant Anglican cathedral at St Andrew's Street was built after its predecessor, a church built by G D Coleman in 1938, was destroyed in 1852 by lightning strikes. The present cathedral was designed by Ronald MacPherson in 1856. A visitors centre at the church displays photos, pictures, artefacts and a video of the church's history. Guided tours are also available.
地点: 11 Street Andrew's Road, Singapore 178959
电话: +65 6337 6104
照片来源:Someformofhuman. (CC BY-SA 3.0) 已修改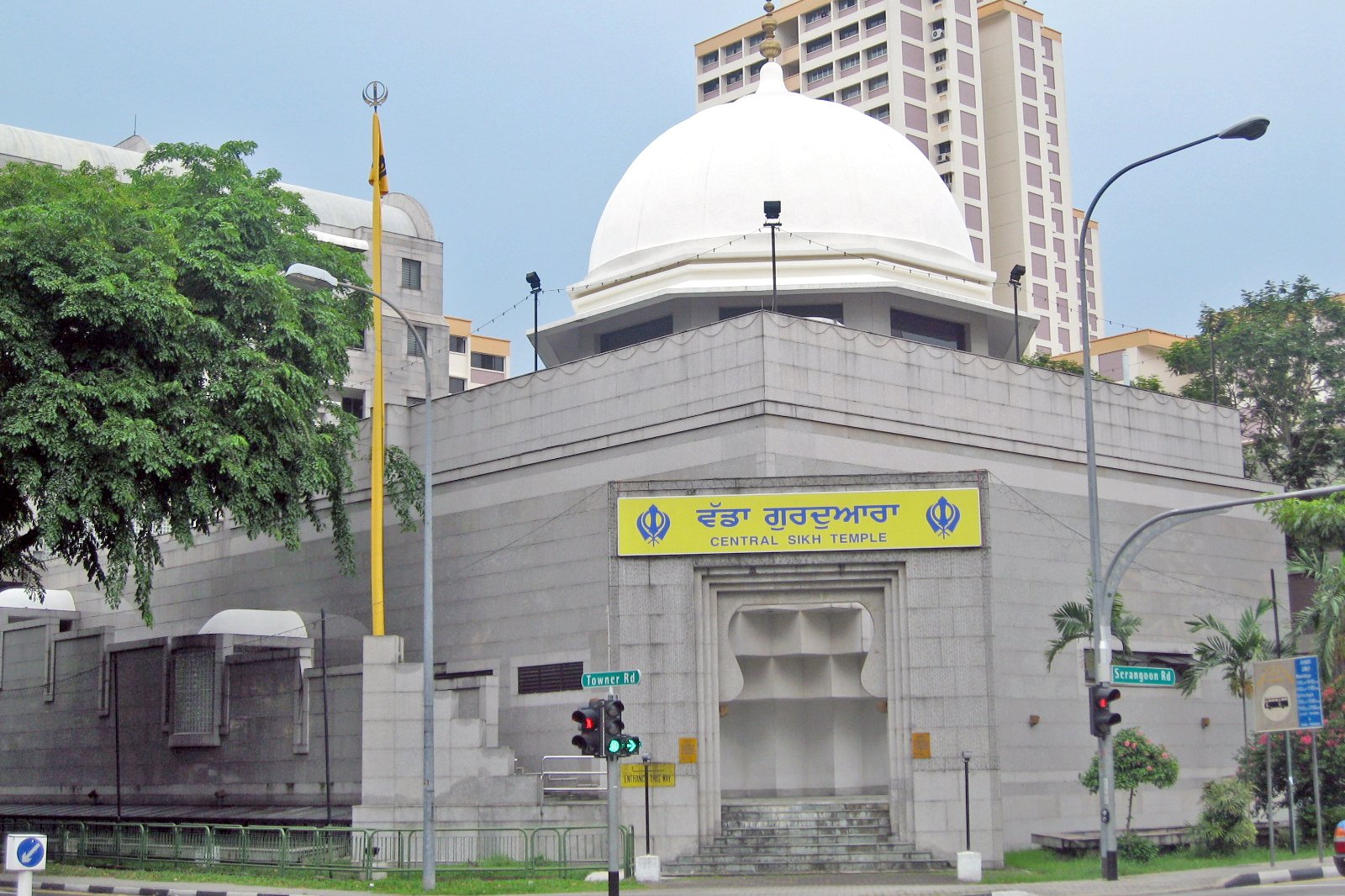 The Central Sikh Temple at Towner Road is where many of Singapore's 15,000 Sikhs come to worship. It was built to commemorate the 518th birthday of Guru Nanak, the first Sikh guru, and houses the Granth Sahih, or holy book. A striking building of white marble, the Central Sikh Temple won the Singapore Institute of Architects' Design Award in 1986.
地点: 2 Towner Road, Singapore 327804
电话: +65 6299 3855
照片来源:Terence Ong (CC BY-SA 3.0) 已修改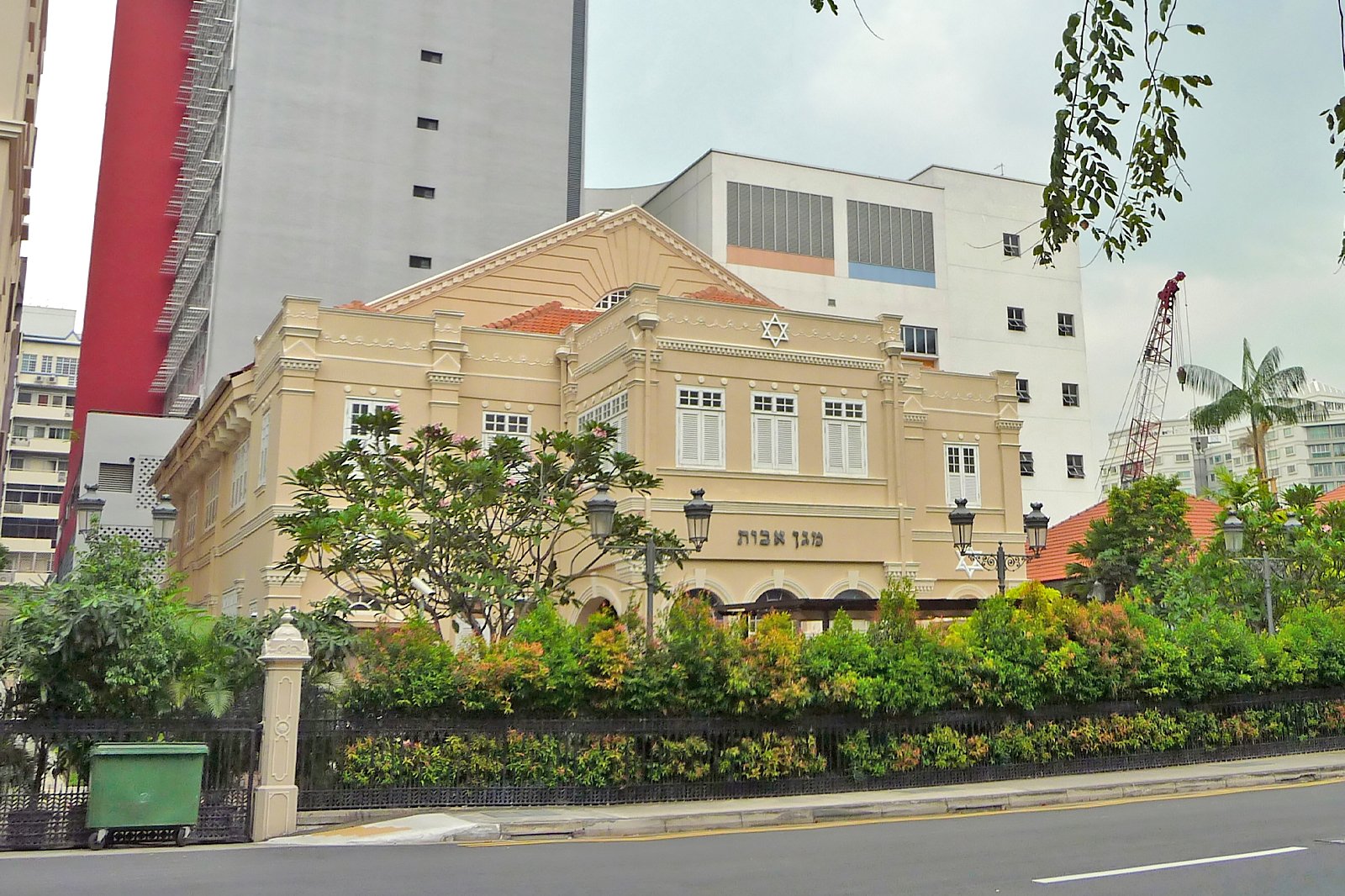 Maghain Aboth Synagogue at Waterloo Street was built by Singapore's small but significant Jewish community. Its architecture veers towards the Victorian. Built in 1878, it's widely known as one of the oldest Jewish places of worship in Southeast Asia.
地点: 24/26 Waterloo Street, Singapore 187968
电话: +65 6337 2189
照片来源:Ondřej Žváček (CC BY-SA 3.0) 已修改